Odd Fellows and Rebekahs continue to serve despite diminished numbers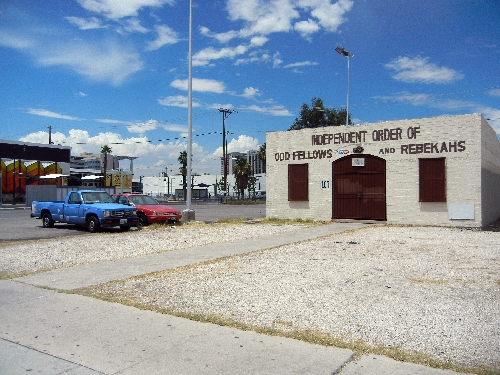 Decades ago, the local chapter of the Independent Order of Odd Fellows and Rebekahs was located in downtown's booming Glitter Gulch.
At that time, there were more than 300 members ready and willing "to improve and elevate the character of man."
Odd Fellows began with people in 17th-century England contributing a portion of their wages to a community fund to be used during times of sickness, job loss and death, among other projects that would benefit all of mankind. They did good without publicizing it, which was considered "odd."
This practice was brought across the pond when the Independent Order of Odd Fellows was founded April 26, 1819, in Baltimore.
The international fraternity has about 10,000 lodges located in 25 countries, according to the group's website. There are 13 lodges located in Nevada, two of which are in Southern Nevada.
The cream-colored tiny lodge at 109 N. Ninth St., has been there since 1939. Now, the crumbled corner of East Fremont and North Ninth streets is home to boarded-up apartments for seniors, empty parking lots and a worn-out casino. The revitalized entertainment district's success, only a stone's throw away, has yet to spill over to this part of Fremont East.
The organization says it would cost too much to move, so members are trying to fix up the building.
It's not exactly a secret society, but one news report dubbed the group "a society with secrets." You have to be a member to attend meetings. The group's website compares its function to the Sam's Club chain. "They try to give the members a sense of ownership and belonging. Their stores are not located in shopping centers but are accessible and not obvious. You have to be a member to get in, and you are in on something special."
Valerie Hartlage has been an Odd Fellow since 2002 and a Rebekah since 1987. She serves as the district deputy grand master for the Odd Fellows in Las Vegas and the noble grand for the Rebekahs. She also is the state's vice president for the Rebekahs.
"The lodge has covered windows because we don't want people looking in," Hartlage said. "We're not doing anything secretive, but we have some ritualistic work we do sometimes that is for members only."
That includes a handshake.
It isn't religious, but you have to believe in a supreme being to join, Hartlage added. The group meets twice a month.
Odd Fellows and Rebekahs became the "Three Link Fraternity," which stands for friendship, love and truth. Odd Fellows may belong to Rebekah lodges, and only a few years ago, Rebekahs were allowed to become Odd Fellows. The international organization spends more than $775 million on relief projects annually.
Las Vegan Helen Leonard has watched the local membership at the Oasis Rebekah and Artesia Odd Fellow lodges dwindle down to a few dozen members. The group takes a recess in July and August when it gets too hot.
The 83-year-old Rebekah, who joined the organization in 1946 because her mother belonged, said she attributes the loss in membership mostly to the economy and changes in how society views volunteer work. Times have changed during her 65 years of service, she said.
"Younger people have to work, I feel, to raise a family and pay the bills, and they don't have time to attend meetings or do charitable work," said Leonard, who serves as assembly secretary on the state level and treasurer of the local lodge. " People just don't have the time or energy or the money."
The local group has helped the Salvation Army and the Arthritis Foundation, planted trees and sponsored a retirement home in Reno for 50 years until it became too costly last year. The local chapter created a program where members or their relatives can receive help getting hearing aids or glasses.
There's an application process to join the group. Members are sent out to visit with applicants and answer their questions in an interview process. There's a $6 initiation fee and yearly dues of $21.50, Leonard said.
For more information about the Independent Order of Odd Fellows and Rebekahs visit ioof.org.
Information about the local chapter can obtained from Leonard at hleonardlv@cox.net.
Contact Downtown and North Las Vegas View reporter Kristi Jourdan at kjourdan@viewnews.com or 383-0492.
ODD FELLOWS AND REBEKAHS
Notable past members of the Odd Fellows and Rebekahs include Franklin Delano Roosevelt, the 32nd U.S. president and his wife, Eleanor; Winston Churchill, the former prime minister of the United Kingdom; silent film actor and comedian Charlie Chaplin; comedian Red Skelton; Georgia Dwelle, the first black physician; among several other presidents, governors and U.S. Supreme Court judges.
Local notables include middle school namesake K.O. Knudson; A.G. Blad, a judge; and Bonnie Gragson, wife of former Las Vegas Mayor Oran Gragson.
KRISTI JOURDAN/VIEW