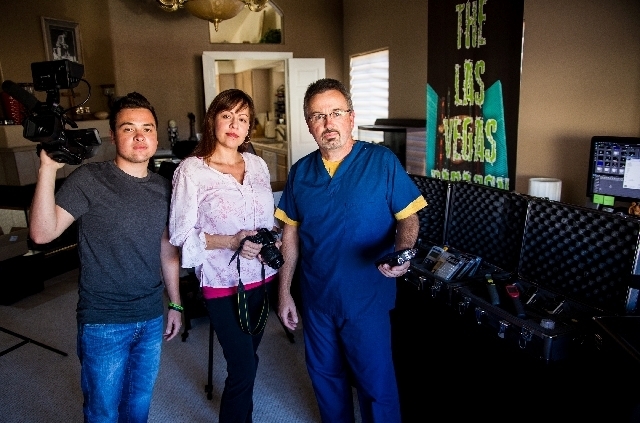 If you happen to see people with night-vision goggles brandishing strange electronic devices this weekend around Binion's, 128 Fremont St., don't worry. It's probably just attendees of the second annual Las Vegas Paracon.
The convention was organized by the Elite Vegas Paranormal Society, a group of paranormal investigators centered around the Purdy family of Henderson.
Brian and Linda Purdy became interested in the paranormal about 14 years ago when their son David was suffering from night terrors.
"It wasn't like he was feeling fear," Brian Purdy said. "It was more like panic, like he had a task he had to complete."
After seeking several solutions from medical professionals, the Purdys stumbled across books that suggested a more unusual source for their son's problems.
"There were several authors who felt that night terrors were caused by spirits interacting with children who are sensitive to the spirit world," Linda Purdy said. "It opened up a whole new area of interest for our family."
The family formed the paranormal investigation group in 2008, and David, 21, is the company's sole employee.
"He's the only one drawing a check from it," Brian Purdy said. "He grew up with the technology and does our videography."
Brian Purdy estimates that he spends about 40 hours a week working on paranormal investigation. He and Linda work full time in medical professions and conduct investigations on top of full work weeks.
"We do a lot of our investigations outside of Las Vegas," Brian Purdy said. "We've been to Washoe, the Linda Vista Hospital (an abandoned hospital in Los Angeles), the Silver Queen in Virginia City and a lot of other places."
He said many of their local investigations are for private homes. Recently, the group worked with a family with an autistic child who had a frightening imaginary friend.
"He kept talking about 'Mr. Knife,' and eventually, he didn't want to sleep in his room because of it," Brian Purdy said. "We brought in a psychic consultant who said that he was sensing something like a gas leak but not a gas leak. It turned out the house was riddled with black mold."
The family tries to keep an open mind about its investigations and doesn't look for only supernatural explanations.
"Sometimes, it's simply a matter of a hearing aid that's making a noise that the spouse is hearing," Brian Purdy said. "We've had investigations where it turns out that someone's medications are causing them to hallucinate."
Other times, the family can't find a rational explanation for unusual phenomena.
"Some of the weirdest things I've experienced as a paranormal investigator are footsteps, when there's no one I could see to make them," said Linda Purdy. "We use audio recorders because there are sounds too high for the human ear to hear, and sometimes when we play them back, we hear things that are answering questions we asked."
Last year, the convention took place at Bonnie Springs Ranch, near Blue Diamond. About 100 people attended, and Brian Purdy said 300 people were already signed up for this year's event. He expects that the final number will be about 500.
"We wanted to have it at Binion's last year, but they wanted us to be more established," Brian Purdy said. "After they saw how well last year's event went, they were very excited to have us there this year."
Brian Purdy said the Elite Vegas Paranormal Society is one of only two groups that have conducted paranormal research at the hotel. He said the group has never released the videos of its investigation at the request of the Binion family but that it detected a lot of activity there.
The family has gone to many paranormal conventions over the years, and although family members enjoyed them, they often noted disorganization they thought they could improve on.
"The problems would be simple things, like not having signage or a printed program," Brian Purdy said. "We're also bringing a lot of East Coast guests out, because they haven't been out here much, and we'd like to hear from people we haven't seen before."
Brian Purdy said that the guests are mostly ghost hunters, but his family hopes to expand into other branches of paranormal interests next year.
"We're trying to expand beyond ghost hunting, and we've had some people who could help with that who wanted to come out this year, but our budget for guests was already spent," Brian Purdy said. "We planned this way in advance. Ben Hansen will be out, and he does some stuff on UFOs and cryptozoology (the study and search for animals whose existence has not been proven), so that's a start."
Hansen is the host of the SyFy channel's "Fact or Faked: Paranormal Files." Many of the guest speakers are from television shows such as "Ghost Hunters," "Haunted Collector" and "Paranormal Paparazzi."
Las Vegas Paracon is scheduled Aug. 23-25. For more information, visit elitevegasparanormalsociety.com.
Contact Paradise/Downtown View reporter F. Andrew Taylor at ataylor@viewnews.com or 702-380-4532.