Parks renamed for those who contributed to the community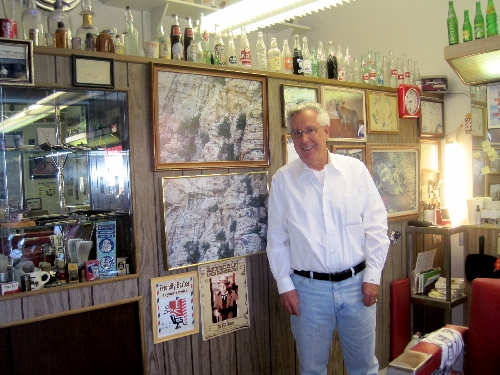 City parks are often a reflection of the area's residents, providing a place for them to enjoy various activities and mingle with others. Similarly, the parks' namesakes typically give insight into the area where they are located, offering a story significant to the person or people for which they are dedicated.
Such is the case of three Las Vegas city parks that recently underwent name changes, two as a result of residents' wishes. Name changes were passed at the May 16 Las Vegas City Council meeting for Kianga Isoke Palacio Park at the Doolittle Complex and Gary Reese Freedom Park. The Justice Myron E. Leavitt and Jaycee Community Park underwent its name change during the April 4 City Council meeting.
n Kianga Isoke Palacio Park, formerly Doolittle Park, 951 W. Lake Mead Blvd., is named for a woman who played a role in the development of young girls at the West Las Vegas Arts Center and in the surrounding community. Palacio died in 2009 of breast cancer.
City Councilman Ricki Y. Barlow said dedicating the park to Palacio is a testament to the inspiration she provided to children in the area.
"Kianga was a fixture at the West Las Vegas Arts Center," Barlow said. "She taught the children African dance, drum, spoken word and developed a curriculum for them … She devoted time and her life to children and cultural arts."
In addition to being a dance and music instructor, Palacio mentored young girls through Sisters in the Society Taking Action, or S.I.S.T.A.S., a program she co-founded at the center.
Barlow said an outpouring from residents is what led to the park's renaming.
"The community asked me if we could do something special for her," Barlow said. "With her presence in the community and the countless hours she put in working with youth, it was fitting to put her name on the park."
n Gary Reese Freedom Park, formerly Freedom Park, 850 N. Mojave Road, is the namesake of another influential community member, according to Barlow. Reese, who served as the mayor pro tem and Ward 3 city councilman for 16 years, had an impact on improvements to the park.
"One of his last outgoing projects was really restoring the park in his area," Barlow said. "He really restored that park to where the entire community could come and enjoy. Residents wanted to definitely have something to celebrate what he did for his constituents."
The petition for the park's name change garnered more than 1,000 signatures. Reese said friends, former Las Vegas Mayor Oscar Goodman and current Mayor Carolyn Goodman made pushes to name the park for him over several years. He resisted, but now that the park bears his name, Reese feels honored.
"It's one of the things in my life that really humbled me," Reese said. "I had to say to myself, 'Why me?' I'm not the type to say, 'I did this,' or 'I did that.' There are so many other people before me who set everything in place. I always felt blessed to serve in that position (as councilman)."
Reese, who co-owns the Plaza Barber Shop, 2341 E. Bonanza Road, has personal ties to the park in his area.
"I lived about a block and a half from there when I moved in the '70s," Reese said. "My first recollection of being in that park was with my kids. My son was 7 or 8, and he wanted to play baseball. He would hit the baseball, and I got my youngest daughter to bring it back to me. We played catch there for 30 minutes or so."
Reese's daughter and son went on to play college softball and football, respectively. He holds several memories of enjoying the park with his family and helping residents see the facility and area around it flourish to what it is today.
n Another park that carries the name of an influential figure in the valley is Justice Myron E. Leavitt and Jaycee Community Park, 2100 E. St. Louis Ave. Jaycee, or Junior Chamber of Commerce, was added because of its role in establishing the park.
"Jaycee played a very significant role in the community for close to 100 years now," Barlow said. "The park is a landmark, and having Justice (Leavitt's) name along with Jaycee is most appropriate."
Leavitt, a former Nevada Supreme Court justice, was known for coaching football and other sports at the park. The park took on his name in 2008, which Barlow believes solidified the contributions Leavitt made in the community.
"Justice Leavitt put his stake in the philanthropic community," Barlow said. "He was about giving back to the community and changing family's lives."
Barlow said that though the community initiated the push for two park name changes, all three were backed by much support.
"When it came to these three name changes, it was very easy," Barlow said. "That's what the community wanted, and they stood behind and supported these changes. I'm honored to have been one of the casting votes in support of these name changes, as these people gave their time and countless hours to the betterment of Las Vegas."
Contact Paradise/Downtown View reporter Lisa Carter at lcarter@viewnews.com or 383-4686.