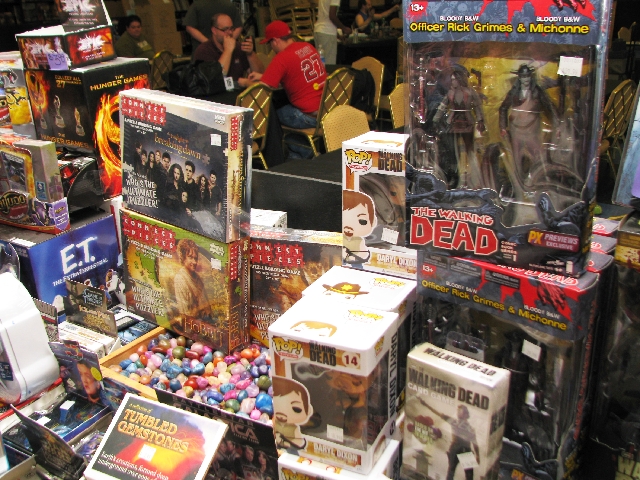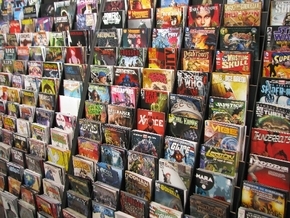 Las Vegas was recently rated the seventh-nerdiest city in the country by movoto.com, a real estate website.
The designation was based on a number of criteria, including the number of video game stores; the number of annual comic book, video game, anime and science fiction/fantasy conventions; the distance to the nearest Renaissance fair; and the number of comic shops. Las Vegas clocked in with 17 comic shops, and Saturday, every one is planning to participate in Free Comic Book Day.
The event began on May 4, 2002, and has taken place on the first Saturday in May since. Special comics are produced for the event, and shops give them out free to reward loyal customers and bring in new ones.
This year's event is a red-letter day for comic genre enthusiasts. For the second time in 12 years, Free Comic Book Day falls on Star Wars Day, May 4.
"You know, 'May the Fourth be with you,' " explained Jay Bosworth, owner of Maximum Comics, which has three locations across the valley. "We're going to have several people dressed as 'Star Wars' characters at each of the shops."
Most years, a major comic book-based movie is released the same week as Free Comic Book Day. This year it's "Iron Man 3," and to mark the occasion, Jim Brocius, founder and co-owner of Cosmic Comics, 3830 E. Flamingo Road, is giving away a copy of "Iron Man" No. 1 in a raffle.
"We'll be having raffles every hour," Brocius said. "We'll be raffling off a lot of silver age comics (comics produced from 1956 to 1970) and some large bundles of comics. We'll also be raffling off 'Tales of Suspense' No. 50, which is the first appearance of the Mandarin."
The Mandarin, portrayed by Ben Kingsley, is the main villain in "Iron Man 3."
Brocius plans to hand out raffle tickets to attendees, and anyone in costume will get an additional ticket.
Most of the valley's comic retailers contend superheroes don't bring many new readers into the stores.
"Everybody knows who Superman is — it's not like it's a new thing to them," Brocius said. "What they're surprised by are things like 'Walking Dead,' which is also based on a comic."
Retailers cited "The Walking Dead" comic as being the most sought-after free comic this year. The comic has been adapted into a television series on cable channel AMC.
" 'The Avengers' was an exception. It brought in a lot of new readers,"
Bosworth said. " 'The Avengers' and 'The Walking Dead' have done more to get people in the stores in the last two years than anything else."
The event isn't all about superheroes and zombies. Several children's comics were created for the event, including books featuring "The Simpsons" characters, Hello Kitty and Sonic the Hedgehog.
"The other big one is the first 'Sesame Street' comic, which debuts on Free Comic Book Day," said Robert Lewis, owner of Wishing Well Comics, 5706 W. Charleston Blvd. "There have been comics featuring Muppets but never a 'Sesame Street' book. The kids are going to love that one."
The event also gives fans a chance to meet comic creators.
Ralph Mathieu, owner of Alternate Reality Comics, 4110 S. Maryland Parkway, has scheduled several local comic creators to be on hand, including Warren Wucinich, Randi Leanne, Brice Gilgens, Joyce Headelund and Gilbert Hernandez, whose work will be featured this summer in an semiautobiographical graphic novel titled "Marble Season." A preview of "Marble Season" is the Free Comic Book Day book from Drawn and Quarterly publishing.
"This is the big event every year for every comic shop, and we've participated in every Free Comic Book Day," Mathieu said. "I'm really excited that I get to have such wonderful creators here, and it's always a great day for us."
Steve Riddle, owner of Velvet Underground, 4241 W. Charleston Blvd., is bringing in two California comic artists: Ale Garza, who has drawn comics featuring "The Teen Titans," "Supergirl" and "Deadpool"; and Joe Benitez, creator of "Lady Mechanika."
"This is a big deal for us," Riddle said. "We usually only have one artist in at a time. They'll be doing drawings, and we stocked up on a lot of blank cover variant comics, which you can buy and have them draw any character you want on the cover.
"When you have an event, it's not specifically about making money. Of course, you want to make the money, but it's about giving the people an opportunity to get their book signed and get some limited, one-of-a-kind art pieces."
Not all of the free books are carried in every store, but a list of the books produced and a full listing of participating shops can be found at freecomicbookday.com, although there is one listing that shouldn't be there.
"I tried to keep it off the page because we don't have a brick-and-mortar store," said Gregory Ross of Comic Co-op LLC. "I guess I ordered so many books that it just came up anyway."
Comic Co-op sells books through online sites including eBay and Amazon. It intends to add free Comic Book Day books as a bonus with each purchase.
Contact Sunrise/Whitney View reporter F. Andrew Taylor at ataylor@viewnews.com or 702-380-4532.