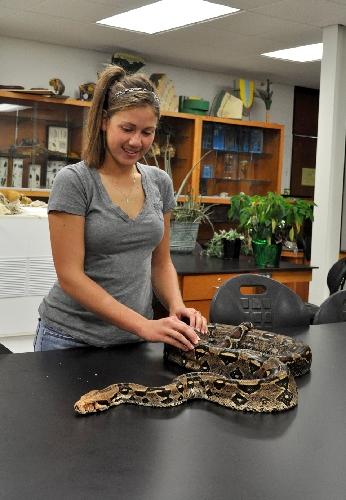 Jessica Godwin is a college student, a soccer player and an animal enthusiast.
But unlike her peers at Waldorf College in Forest City, Iowa, Godwin is the caretaker of the largest cold-blooded creature on campus : a 9-foot, 25-pound, red-tailed boa constrictor named Naven.
The Rancho High School alumna was sitting in Paul Bartelt's zoology class last fall when he took Naven out from a cage in one of the biology labs. Most of her classmates squirmed, but Godwin was mesmerized with Naven from the beginning.
"When Dr. Bartelt brought (Naven) out, I just became really interested in her," Godwin said. "She's just so calm. I just kept petting her, and I fell in love with her."
Bartelt told the biology sophomore he was looking for someone to be Naven's caretaker and asked Godwin if she was interested. Godwin accepted the task and began caring for Naven in August.
Godwin's duties include feeding Naven and cleaning her cage every two weeks. She also lets the boa constrictor roam freely along benches in the lab.
However, though Naven requires little maintenance and is usually docile, Godwin is cautious when she initially approaches the snake.
"When I first open the cage, I have to be really careful," Godwin said. "I have to first initiate contact so I don't scare her . Even though she is a really calm snake and doesn't attack, I have to know the procedures."
Godwin said her favorite part of caring for Naven is watching her roam the lab.
"I like putting her on the lab bench," Godwin said. "She'll react to little things, put her head up and look around. I love to watch her reactions. She's such an interesting creature."
Bartelt assisted Godwin in cleaning Naven's cage at first and supervised her for the second time. Since then, Godwin has taken care of Naven on her own, and Bartelt said he is impressed.
"I love to get students involved, and I knew this was a wonderful opportunity for Jessica," Bartelt said. "She's so enamored with the snake, and she's very conscientious. Jessica's doing a great job."
Bartelt said that in the 10 years that Naven has lived at Waldorf College, Godwin is the first student caretaker. Godwin views her job as an honor.
"I'm proud of what I do," Godwin said. "It seems silly, because I care for a snake but it's a college's snake. If the school owns it, it shows they have trust in me."
Naven is a popular part of Waldorf College. Bartelt said he often performs magic shows on campus where he turns a mouse into a snake with Naven as the star. Godwin said students often notice Naven in the biology lab window but are unaware of her connection with the snake.
"When I tell people I'm the caretaker, some people say, 'What? No way!' and some people ask if they can watch me take care of her," Godwin said. "It catches people by surprise."
Godwin also was caught by surprise. Although she grew up with pets at home, including a snake that her brother and sister owned, she took little interest in the reptile when she was younger. Now, Godwin considers taking care of Naven one of her favorite hobbies.
Godwin said that though she has learned valuable lessons in taking care of Naven, she has little intention of turning her current job into a career.
"Taking care of (Naven) is more like a hobby than something I want to pursue," Godwin said. "I could be a zoologist or veterinarian, but the future is open to anything right now. If someone offered me a position to take care of another animal, I would take it just so I can get more of that experience."
Contact Paradise/Downtown View reporter Lisa Carter at lcarter@viewnews.com or 383-0492.