Summer fitness can be safe with proper planning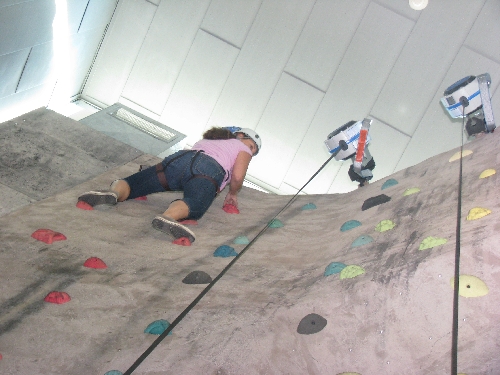 While it's easy to say that the answer to summer workouts in Las Vegas is a simple "no," the fact is that with a little caution and preparation, you can keep fit and tone up while avoiding heat stroke.
The most obvious rule of thumb for summer workouts is to avoid the hottest parts of the day. Your best bet is the early morning hours . During the day buildings absorb heat and release it when the sun goes down. If you must work out outside in the early evening, you can save yourself a few degrees by keeping away from buildings.
While late-evening workouts take away the buffeting rays of the sun, the heat may still be extreme, and there are added dangers. Nighttime joggers along the streets are significantly less visible. Reflective clothing is recommended. People exercising outdoors at night may find that a workout buddy doesn't just provide encouragement and motivation. A companion adds a layer of protection from the criminal element, who might see a lone jogger as an easy target.
Hydration is key to safe workout
Southern Nevada Devil Pups organizer Marie Tomae oversees youths working out Saturday summer mornings at Sunset Park in preparation for a leadership program at the U.S. Marine Corps' Camp Pendleton in Southern California. She said there is nothing as important as hydration.
"When I say hydration, I don't just mean drinking water the day you're working out," Tomae said, "You should be drinking water the day before."
Tomae strongly advises water, not dairy, sports drinks or acidic drink and food for people working out hard in the heat.
"You don't want to put anything into your body that would be problematic coming back up," Tomae said. "Heat and exhaustion can lead to that."
Depending on the workout, Tomae also recommends eating carbohydrates the night before, a tradition marathon runners have used for years.
For more information about the Devil Pups, visit devilpups.com.
Work out inside public gyms
Even Tomae, who spends some of the hottest days of the spring and summer helping kids work out, said the best way to stay safe and sane during a summer workout is to stay inside.
Fortunately, there are a number of indoor options for physical activity in the valley.
In addition to private membership gyms, many of the area's community centers offer inexpensive options. While they don't offer warehouse-sized facilities full of gleaming machinery and cable TV, most have free weights and resistance machines, and some have full gymnasiums with basketball and other sports leagues.
One unique workout amenity is the indoor climbing wall at the Whitney Recreation Center, 5712 E. Missouri Ave. For $1 per climb, residents can test rock- climbing skills on the newly renovated wall.
"It's a great resource that is still a bit of a hidden gem," said Kathy Smith, who works at the center and is the expert on the wall. "There's hardly ever a wait to use it."
The system includes movable climbing holds, so the climbing routes are periodically changed to offer new challenges, and an auto belay system, so climbers don't need to partner up to use the wall. A day of climbing costs $4 and a month is $10.
A full list of Clark County's recreation centers can be found at clarkcountynv.gov. City of Las Vegas recreation center information can be found at lasvegasnevada.gov. Recreation center information for the cities of North Las Vegas and Henderson can be found at cityofnorthlasvegas.com and www.cityofhenderson.com, respectively.
Stay Cool on rinks
In addition to public recreation, the valley boasts cool private workout options in a roller hockey rink, two roller skating rinks and two ice skating rinks.
The Las Vegas Roller Hockey Rink at 800 Karen Ave. hosts multiple leagues and teams. For more information, visit lasvegasrollerhockey.com.
Rancho Crystal Palace at 3901 N. Rancho Drive and Boulder Crystal Palace at 4680 Boulder Highway offer daily roller skating sessions and frequent special events. For more information, visit skatevegas.com.
The Las Vegas Ice Center at 9295 W. Flamingo Road and the SoBe Ice Arena in the Fiesta Rancho at 2400 N. Rancho Drive offer classes and public skate sessions . For more information, visit lasvegasice.com or fiestarancholas
vegas.com.
Bounce and skateboard inside
On Tropicana Avenue, just east of Boulder Highway, a large warehouse building contains two unusual indoor recreation facilities. SkateCity at 4915 Steptoe St. offers indoor skateboarding and freestyle BMX cycling. For more information, visit skatecity.com.
Next door, Sky Zone Indoor Trampoline Park offers a large room filled with trampolines puzzled together to make one great bouncing surface. Sky Zone hosts special events and competitions and offers daily open sessions and aerobics classes. For more information, visit skyzonesports.com.
A similar trampoline business is Flip N Out at 1841 E. Craig Road, Suite A, in North Las Vegas. For more information, visit flipnoutfun.com.
Contact Sunrise and Whitney View reporter F. Andrew Taylor at ataylor@viewnews.com or 380-4532.