Sweet feat: JW Marriott pastry chef tests skills on Food Network show
February 26, 2013 - 12:00 am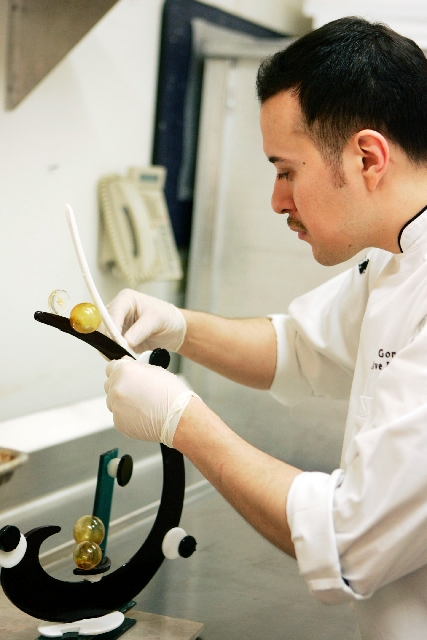 You know your work is good when a television show seeks you out. Joel Gonzalez, pastry chef at the JW Marriott, 221 N. Rampart Blvd., got a call from a colleague with an unexpected message.
"The chef who took over my position called and said, 'The Food Network's looking for you,' " he said. "I worked at the Waldorf Astoria, so they tracked me there, but I didn't work there anymore."
Why did the TV network want to get in touch with him?
To invite him to appear on its reality show, "Sugar Dome."
"It was always something I wanted to do," he said, "because I'd see people on TV, and I'd go, 'I can do that. How come they are on there, and I'm not?' "
Gonzalez, 32, made a name for himself by competing in national competitions for the last couple of years. He was tapped after creating a rather extravagant dragon that made a buzz in the pastry world in 2011.
"We were so excited," Therese Sam, marketing & public relations coordinator for the JW Marriott, said of waiting for the program to air. "We all watched it."
The show aired Jan. 13, but taping took place last fall in Los Angeles. Gonzalez was flown to Southern California in early November to meet his fellow competitors. Nine people were split into three teams. Gonzalez was matched with a man who worked in information technology and a woman who was a graffiti artist. "Sugar Dome" producers then told them they had six hours to create a cake with a 1980s theme.
Gonzalez's team chose break dancing and fleshed out the idea, with each person focusing on their strength. The man who worked in IT volunteered to make the actual cake. The graffiti artist said she felt comfortable substituting edible airbrushing for spray paint.
Gonzalez did the sugar work, using various techniques to craft a boombox, records, music notes and a break dancer. The boombox needed to set for four hours, so he began making that as the others got to work.
The teams had six hours, but, in reality, they worked for two days beforehand to create all the elements that would go into the cake. For the taping, they re-created the elements for the cameras but were allowed to use the premade pieces to assemble the final piece.
"It's like those cooking shows do," he said.
In essence, he had to do all the work twice — once off camera on the prep day and once in real time in front of the audience.
The "Sugar Dome" producers threw a monkey wrench into the deal on taping day. The contestants also had to produce a dessert, one that looked like sushi.
"We knew there was going to be a twist," he said. "We just didn't know what it was."
While taping the show, Gonzalez suffered a wardrobe malfunction. He crouched down, and his pants split. That part didn't make it into the final show, but he had to rush to wardrobe and wait for a seamstress to run the pants under her sewing machine foot. It cost him more than 10 minutes –– 10 minutes that the show's producers did not allow him to make up.
The contestants needed all of the allotted six hours. None of the other teams finished their creations.
Gonzalez and his team went down to the wire.
"I actually had, like, nine seconds left before I was done, literally nine seconds," he said. "My cake guy didn't finish. The graffiti girl didn't finish, either, but it was harder for them because they don't work under time constraints like (a chef does) in a kitchen. The IT guy only did cakes on the side, so his day job isn't (making cakes). … He's used to taking his time. Same with the graffiti girl. She could take all day to do her murals or whatever. Me, I'll (receive an order) where I have to make a cake in two hours, so I have to work fast. I'm used to that."
Gonzalez and his team took second place. First place, he said, caught the judge's eye even though it had virtually the same idea for its theme –– break dancing.
"Theirs was a more cohesive piece," Gonzalez said. "Their cake work wasn't as good as the guy on my team, and their sugar work was definitely not as good as ours … but as a whole, they pulled off the '80s theme (better)."
His team, Sugar Defying Logic, received special commendation from the judges for his dessert-tasting sample, a coconut rice panna cotta with lime gelée.
Gonzalez said he should have taken the reins as the only professional chef on the team and made it more of a concerted effort rather than leaving the others up to their own devices.
At his home in southwest Las Vegas, Gonzalez has his own team with his wife, Monique, daughters Sophia, 5, and Isabel, 11, and son Joel IV, 12, who enjoy helping him in the kitchen.
"My little one, Sophia, she just likes to mix, putting stuff in the bowl and mixing (the batter)," he said. "That's all she likes to do."
Just as he created a buzz at competitions, Gonzalez has created a buzz at the JW Marriott, where his confection creations can be viewed at its Sunday brunch in Ceres restaurant, at holidays and for special occasions and corporate functions.
So what does having a chef like Gonzalez working at the resort say about the JW Marriott Las Vegas?
"It says that our resort offers a wonderful culinary experience … you don't have to go to the Strip to enjoy a gourmet Las Vegas dining experience," Sam said.
Locals can taste samples of Gonzalez's desserts at Ceres' First Sunday Jazz Brunch each month, as well as daily in the Rampart Buffet and the property's other restaurants.
Contact Summerlin/Summerlin South View reporter Jan Hogan at jhogan@viewnews.com or 702-387-2949.