Vegas Santas take on unique job duties, from diver to naturalist
December 18, 2015 - 12:45 pm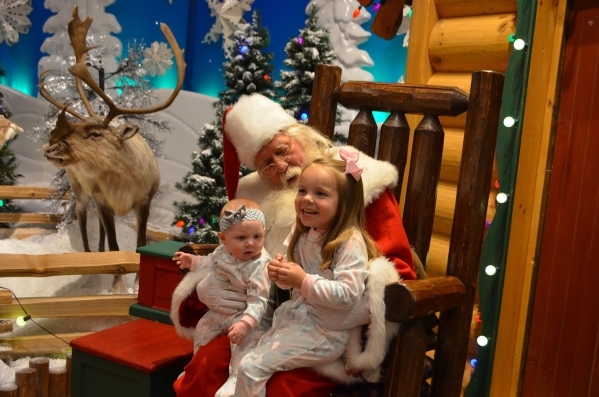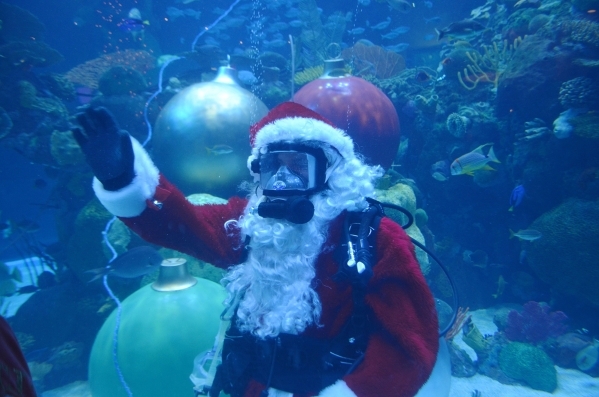 The North American Aerospace Defense Command, NORAD, has been tracking Santa's yuletide journey for 60 years. Visitors to the website, noradsanta.org, can check out the holiday countdown, play games, and on Christmas Eve, track St. Nick's journey in real time around the world.
But what about kids who want to meet the man in red in person? Southwest Las Vegas families have a wealth of places where Santa can be spotted. There's a Santa at the Meadows Mall, 4300 Meadows Lane, who will take online reservations and even visit with pets. And you can't miss the Santa in the heart of Opportunity Village's Magical Forest, 6300 W. Oakey Blvd. But they are only the beginning.
THE SILVERTON
A visit to Santa at the Silverton, 3333 Blue Diamond Road,is not for the shy. On most trips to St. Nick, kids can whisper what they want. At the Silverton, Christmas wishes must be announced to the crowd via microphone. And good luck sitting on Santa's lap — it would be far too slippery because this Santa is a diver accompanied by mermaids rather than elves — in the Silverton's 117,000-gallon aquarium.
This is aquatics safety manager Patrick McCormick's first year as Underwater Santa. But with 20 years of dive experience and Second City improv training, he said he's ready.
"Every guest experience will be unique," he said. "You really can't plan for something like that."
From noon to 1:15 p.m. and 2:15 to 3:30 p.m. Dec. 19 and 20, Silverton visitors can wave at and chat with Santa McCormick as a mermaid swims around him. A microphone system in his mask allows Santa to respond. McCormick said people are already excited to see Santa in the aquarium.
"But to have Santa able to talk to the children and them be able to say something back, it's super fun," he said. "I really believe having the interaction between the kids and Santa gives value to the mermaid show. It's the whimsical fun place where anything can happen. And the children just eat it up."
Dipping Santa into an aquarium is no easy task. Wardrobe expert Marguerite Hazen was given the task of dressing Santa.
"We purchase the Santa suit, but we have to modify it," she said. "We put lead weights in the bottom of it and lead weights in the beard, the hair, the hat, everything. Because if you don't, it's going to all be floating away."
McCormick said the suit has to be big, too, to cover a wetsuit, a buoyancy compensation device and a huge air tank.
Aquarium curator Ryan Ross is tasked with the job of making sure the fish don't pester Santa.
"Most of the time, whether the mermaids are in there or Santa is in there, they just kind of leave them be because they don't have food," Ross said. "When we get in there to feed them, that's when they're really coming after us. But every once in awhile, we have fish who like to pull hair or nip at the tails of the mermaids. It definitely keeps the mermaids on their toes."
"And mermaids don't have toes, Ryan," McCormick said.
"We have to try to keep the troublemakers to a minimum there," Ross added.
Ross said the biggest question kids and adults have is, is that really Santa talking?
"Some people think the diver in the water isn't actually talking, and poor Santa gets questioned by people on the outside," Ross said. "I don't really know how to prove it, but yes, it's actually him."
"We like to keep it as real as possible," McCormick said. "The primary goal for us is to have everyone who interacts with Santa have a positive experience and want to come back and see him again."
Visit silvertoncasino.com.
BASS PRO SHOPS
Just beyond the Silverton Aquarium in Bass Pro Shops, 8200 Dean Martin Drive, Santa seekers will find Santa Paul Kudla in the outdoor recreation store's Winter Wonderland. The nine-year red suit veteran still has to bleach his hair white, but the beard is natural even if his Santa skills weren't … at first.
Kudla still remembers the day his best friend, a seasoned Santa, convinced him to consider the job.
"He said, 'Hey it's time for you to be Santa.' I said, 'How can I be Santa? I don't like Christmas music, I really don't like crowds, and I'm not particularly fond of children. How can I be Santa?' "
With two marriages, but no children of his own, the Nome, Alaska, truck driver knew he needed training. So he went to the oldest Santa school in the country, the Charles W. Howard Santa Claus School, established in 1937 in Midland, Mich.
His first two seasons were in Brownsville, Texas. He's also served as Santa in California and Iowa. This is his second season in Las Vegas.
Twice he has traveled to compete in the Santa Olympics in Norway.
"Well, ho-ho," he said. "We do some cross-country skiing, downhill slalom kick sleds, wood chopping, porridge eating, speed gift wrapping."
Winners take home wooden spoons.
"It's just real fun for the off season," Kudla said. "It's usually the New Year's weekend or the following weekend."
He has also represented the United States at a Santa festival in Kurdistan on the Mongolian Steppes.
"And that's just the beginning," he said. "I'm looking to go elsewhere. I'll go to China. I'll go to Korea. I'll go anywhere that I can find, anywhere that wants a Santa. I hear the Philippines really loves Santa. Sign me up."
In all Kudla's years as Santa, he's never been urinated on or vomited on, but he has had wild times. One little boy comes to mind — the tyke waved and smiled at Santa from the line but went straight-faced when it was finally his turn. The boy's father, insistent after waiting, picked the kid up and went for Santa's lap.
"Oh, this isn't going to be good," Kudla said. "The kid just exploded, arms and legs everywhere, and he kicked me right there," he said, pointing to his groin. "And I'm trying to smile."
As the boy ran off, he turned to grin and wave at the wincing Santa.
Despite the challenges and the lines, Kudla said he loves being St. Nick. He said back home in Nome, everyone calls him Santa, and little kids stop him all the time.
At Bass Pro Shops, he has fans, too.
"He's the best Santa ever!" Tina Dixon said as she snapped photos of her daughter Ellisyn Dixon and granddaughter Atlas Cerrone on Kudla's lap.
Santa is set to be at Bass Pro Shops from from 10 a.m. to 8 p.m. Mondays through Saturdays and 10 a.m. to 5 p.m Sundays through Dec. 24. Kids can also check out other Winter Wonderland attractions as they try out a radio control RV, race slot cars, play with a model train, shoot foam darts at ducks and write letters to Santa.
Visit basspro.com.
SPRINGS PRESERVE
Most of the year, Chris Sakmar is a naturalist at the Springs Preserve, 333 S. Valley View Blvd. He cares for the attraction's resident animals, leads children's programs and helps with toddler storytimes. But the last week before Christmas, he takes on an added role as Santa.
In years past, Sakmar has rode the trackless train around the preserve, telling stories. This year, his elves are set to accompany children while Santa awaits visitors in a historic railroad cottage decked out for the holidays. After a few stories in a tent out front, kids will get to tour Santa's cottage.
Sakmar said they're aiming to go as authentic as possible with 1910-style holiday decorations.
He said his familiarity with the kids who frequent storytimes is also bound to lend the event authenticity.
"People don't recognize me," he said. "Kids just think it's Santa."
As Sakmar recognizes kids, he loves to greet them by name and watch their eyes widen as they say, "How does Santa know me?"
"My own kids didn't know I was Santa," he said of his children, now 9 and 11. "They didn't find out until I got new boots in the mail, and they saw them before I did."
Santa train runs are scheduled hourly from 11 a.m. to 3 p.m. Dec. 20-24. Tickets must be purchased on site each day, and Sakmar said they go quick. Tickets are $6 or $4 for members. Visit springspreserve.org.
— Contact View contributing reporter Ginger Meurer at gmeurer@viewnews.com. Find her on Twitter: @gingermmm