Ward 1 booster group to promote area
December 27, 2011 - 12:20 am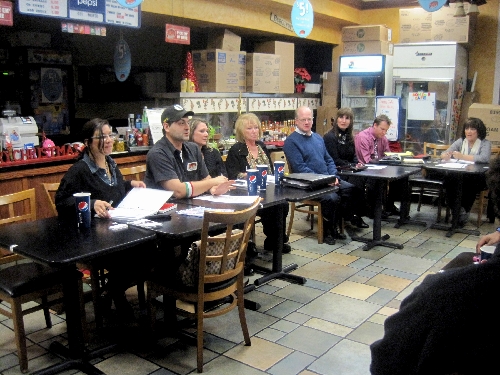 Attempting to bring together residents, citizens, small-business owners and tourists can be a challenge in an economic recession. But members of the newly formed Las Vegas Historic District plan to tackle this challenge and unite those who work, reside and visit some of the city's oldest neighborhoods in Ward 1.
Las Vegas City Councilwoman Lois Tarkanian said that similar to how neighborhood associations make residents aware of available resources in their community, she suggested that the formation of a business organization serving a similar purpose would benefit Ward 1.
"It's all about jobs now, and it's all about keeping businesses going," Tarkanian said. "We had a lot of businesses and restaurants shut down in this area, and if we work with smaller groups that have separate identities, we can address (similar) concerns with a very focused mind."
Yiorgo Aretos, district president and owner of Sonio's Cafe & Rotisserie, 3900 W. Charleston Blvd., began spearheading the association's formation in October. Aretos knew a business association was necessary based on the ward's characteristics and feedback from Sonio's customers.
"I see so many people on a daily basis, and I kept hearing this consistency with people's complaints and concerns," Aretos said. "I mentioned it to the City Council, and they confirmed there was a need."
The district plans its meetings at
5:30 p.m. the second Tuesday of each month in Sonio's Cafe & Rotisserie. Its next meeting is set for Jan. 17, and Aretos hopes for a turnout similar to the November gathering, in which more than 40 people attended.
The association has started making an impact in its early stages, hosting a blanket drive for senior citizens and animal shelters at BOHO Furniture Gallery, 4221 W. Charleston Blvd., through Jan. 14, forming an executive board and bringing in specialists to help the group gain nonprofit status. Julie Abarzua, owner of Abarzua Insurance , was brought in to help facilitate the Las Vegas Historic District's leap into the nonprofit world and said she is glad to be part of the association's inception.
"It's really awesome to be part of something at the beginning," Abarzua said. "It's great to see a coalition of business owners gathering to bring business back into the community and promote history and preservation in the area."
Tarkanian said that in order to create a strong business union, working with the ward's oldest businesses first is key.
"We're not trying to take this from the top, but we're also not trying to eliminate new businesses coming in," Tarkanian said. "We need a strong focus of working from the bottom up, and eventually (district members) will have the strength to carry on themselves."
With many of Las Vegas' oldest neighborhoods located in Ward 1, Crystal Solis, district secretary, said bringing to light the culture and history of the area is among the association's top priorities.
"We really want to educate the community by showing that people are still here," Solis said. "We want to bring cultural events here and enhance community in the valley."
In addition to working on becoming a nonprofit, district members are establishing a logo and discussing future cultural events and fundraisers. Aretos said these projects fall in line with the association's mission, which includes promoting economic redevelopment.
"We have a great area here (in Ward 1), and we want to increase commerce here," Aretos said. "What I believe is the core of any economy is small business. It's necessary, and I think people forget that's what runs an economy."
For more information, call 575-0733 or visit facebook.com/lasvegas
historicaldistrict.
Contact Paradise/Downtown View reporter Lisa Carter at lcarter@viewnews.com or 383-0492.