Working with elephants in Thailand inspired local blogger to start website for all things Las Vegas vegan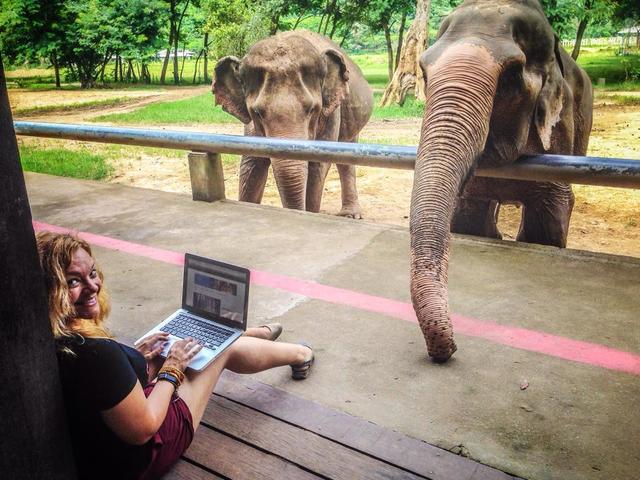 It was March 2010 when Henderson resident Diana Edelman was hit with what she calls a "quarter-life crisis." The Maryland native chased dreams of becoming a publicist, but once she moved to Las Vegas and became a public relations specialist, she realized she had a different calling.
She took another public relations job in Atlanta, which offered little solace for her life's dreams, but it was there that she started "d travels 'round" — a blog that would change her life and ultimately take her to a different lifestyle.
"My job made me feel really unfulfilled, so my blog became my lifeline," Edelman said. "The tagline of my blog is, 'Life's not about living happily ever after, it's about living.' That's why I eventually quit my job."
It took Edelman a few months of traveling, soul-searching and working another part-time job for her to completely change her career focus and devote her time to freelancing and her blog.
OMG. How did I not share THIS during #RTWChat? 10 things traveling solo taught me about life: http://t.co/9UhTJQ70pD #wegosolo

— Diana Edelman (@DTravelsRound) September 22, 2015
In September 2011, she went to Thailand and volunteered at Elephant Nature Park, where she said she learned about the horrors in the elephant entertainment industry.
"The things I learned and the things I saw just broke my heart," Edelman said. "The elephant tourism industry is so abusive. Many people either don't know what's going on, or they just choose to ignore it."
Edelman chose to write about it.
She came back to Las Vegas but still felt an immense need to help. After exchanging a few emails with Lek Chailert, founder of the Elephant Nature Park, it was decided that she could work as a social media and public relations volunteer.
Edelman moved to Thailand in July 2012 and traveled with Chailert to experience firsthand the ancient tradition of "phajann," also known as crushing an elephant's spirit to tame it for domestication.
According to Edelman, poachers take baby elephants from a family herd. They put them in a wooden box, shackle their legs, deprive them of food and water and torture them until they learn to accept riders.
"No elephant would willingly let someone on their back. These people train them through torture," she said. "They literally break their spirit and crush their wild side. That way they can give rides, perform in circuses, kick balls, paint pictures or play the piano."
She continued to raise awareness about the elephant entertainment industry through her blog and articles and slowly started the journey toward veganism. First, she stopped eating meat in Thailand, and when she moved back to Las Vegas in December of last year, she became vegan.
Edelman launched her website Vegans, Baby in April to provide an up-to-date resource on vegan living in Las Vegas.
She features vegan and vegan-friendly restaurants, hair stylists, stores, doctors and products. She also has a calendar section with upcoming events and classes.
"She has definitely become a catalyst in the vegan movement," said Shane Stuart, co-owner of the upcoming Panacea restaurant. "I think veganism is such a new idea in the Las Vegas community, but her website creates easier access to tasty foods and makes it more approachable to people who don't know where to begin."
In addition to providing resources, Edelman also offers consulting services to restaurants that want to tap into the vegan market but don't know where to start.
She is also planning monthly Vegans, Baby meetups from 6 to 8 p.m. on the last Monday of every month at VegeNation, 616 Carson Ave. Suite 120. It is set to include a disc jockey, complimentary Vegans, Baby cocktail, two-for-one happy hour and a special pop-up menu.
"Working with elephants has taught me that the best way to get people to change their mind is through information," Edelman said. "People think vegans are aggressive and confrontational, but for me, it's all about educating people. I want to show people this is a viable way to live."
Visit vegansbaby.com.
To reach North View reporter Sandy Lopez, email slopez@viewnews.com or call 702-383-4686. Find her on Twitter: @JournalismSandy.