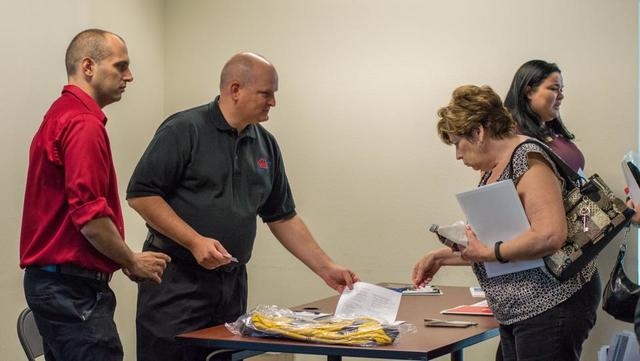 Living in a region that is susceptible to disasters such as fires and floods can be unsettling.
However, the American Red Cross Southern Nevada chapter plans to educate residents about preparedness and assisting emergency response personnel.
Partnering with AAA, the Red Cross is set to offer its Ready, Set, Respond! program at 9 a.m. Sept. 6 at the local Red Cross chapter, 1771 E. Flamingo Road, Suite 206B, and at 5 p.m. Sept. 23 at the Paseo Verde Library, 280 S. Green Valley Parkway.
The 90-minute workshop is designed to educate residents on basic disaster skills and prepare them to serve as Red Cross disaster response volunteers, according to James Miller, AAA business manager.
"In the United States, there's only one firefighter for every 280 people, and there's only one (emergency medical technician) for every 348 people," Miller said. "Disasters can happen around us or in other parts of the country, so it's really important our community stays involved to help during a disaster."
To prepare for disasters, residents should make an evacuation plan and review it every six months, according to Nathaniel Montgomery, disaster program manager at the local Red Cross chapter.
"Knowing how to follow a set of procedures will help bring clarity to chaos during a disaster event," Montgomery said. "It's said that human beings revert to what we know best in a time of an emergency, so making a plan and practicing that plan is very important."
Montgomery advises residents build safety kits that include five days' worth of food, water, tools, first aid and pet supplies. He also recommends making copies of driver's licenses, credit cards and insurance policies.
"It's important to have a kit at home, at work and one in transit because you never know when a disaster will happen," he said. "It's not a question of if an emergency disaster will happen but when."
The American Red Cross Southern Nevada Chapter services 2.1 million residents living in Clark, Nye, Lincoln and Esmeralda counties, according to Montgomery.
"We're one of the largest chapters in the United States," he said. "We have about 12 paid employees that supervise and manage roughly 600 volunteers, so we rely heavily on volunteer help."
The organization offers more than 100 volunteer tracks, including disaster services, school clubs, first-aid teams, special events and more.
"We saw an uptake in local volunteers after the Carpenter 1 Fire last year," Montgomery said. "It's a good thing, because we responded to about 400 incidents in the valley during 2013."
The Red Cross recently launched its Team Red Cross app that allows users to sign up and be notified of local volunteer opportunities. It's available on Apple and Android devices.
Using the app, volunteers can receive a quick orientation of each volunteer opportunity through a list of steps, videos and quizzes.
Las Vegas resident Sharen Black said she's impressed with the social media aspect of volunteering with the Red Cross. She attended an Aug. 7 workshop at the Paseo Verde Library.
"We all need more education on disaster relief," Black said. "Having been through some disasters, this program is a wonderful thing for people to know about. I would like to see this in program in high schools so our youths can become educated."
The workshops are free, but registration is required. For more information or to register, visit aaa.com/respond or redcross.org/nv/las-vegas.
Contact Henderson View reporter Caitlyn Belcher at cbelcher@viewnews.com or 702-383-0403.