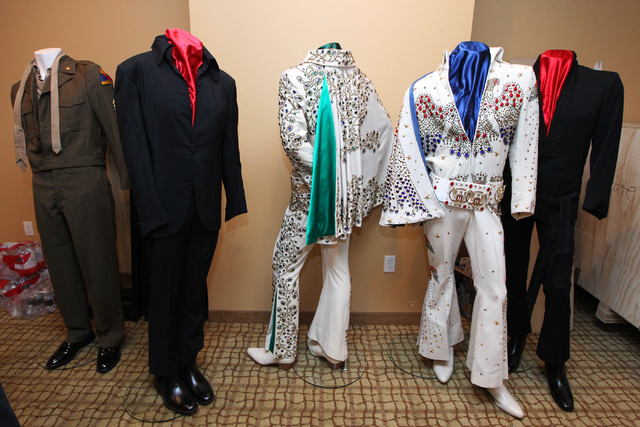 Hundreds of Elvis Presley artifacts, including his high school yearbooks and first gold album, are at the center of a legal dispute that erupted after Westgate Las Vegas Resort closed the legendary rock star's exhibit late last month.
On Monday, Elvis Presley Enterprises Inc. filed a lawsuit in Clark County District Court in an attempt to force the resort to return the artifacts.
"EPE has suffered an immediate and irreparable injury and damage because the actions of Westgate have jeopardized the provenance of the artifacts and subjected them to improper handling by individuals who have no archival experience so as to cause a diminution in value of property," the complaint alleges.
Mark Waltrip, Westgate's chief operating officer, has said the 28,000-square-foot exhibit was shuttered as a "protective action" because the tenant, a licensee of Elvis Presley Enterprises, was threatening to default on the 10-year contract.
The tenant is Exhibit A Circle, a Delaware limited liability company with offices in New Jersey.
Waltrip could not be reached for comment Tuesday.
The 350 Elvis artifacts unveiled in April were on loan to the Las Vegas exhibition from the Graceland Archives.
Elvis Presley Enterprises, a Tennessee corporation, is represented in the litigation by Las Vegas attorneys Kurt Bonds and Matthew Pruitt.
According to the lawsuit, artifacts loaned to Exhibit A Circle for the Las Vegas display included Elvis' high school yearbooks, his first gold album, his 1957 Harley Davidson motorcycle, a 1962 Lincoln Continental, jewelry and the first outfit worn onstage for Elvis' first concert at the International Hotel in 1969.
Westgate opened as the International Hotel that year at 3000 Paradise Road.
According to the lawsuit, a dispute arose between Westgate and Exhibit A Circle, and arbitration is ongoing between the parties.
"In an effort to gain leverage" in the dispute, the complaint alleges, "Westgate decided to take unlawful possession of the artifacts pending resolution of the arbitration when notice was given that the artifacts would be returned to Graceland."
The lawsuit claims Westgate then forcibly removed all employees, seized the property and shut off the video feed from the security cameras.
"Without the video, EPE cannot confirm whether the artifacts were damaged, switched out, or otherwise misused," the complaint alleges.
Elvis Presley Enterprises is seeking compensatory damages and a court order requiring Westgate to turn over the artifacts, as well as punitive damages "arising from the intentional misconduct of Westgate."
Contact reporter Carri Geer Thevenot at cgeer@reviewjournal.com or 702-384-8710. Find her on Twitter: @CarriGeer