Emergency roundup planned for wild horses in Southern Nevada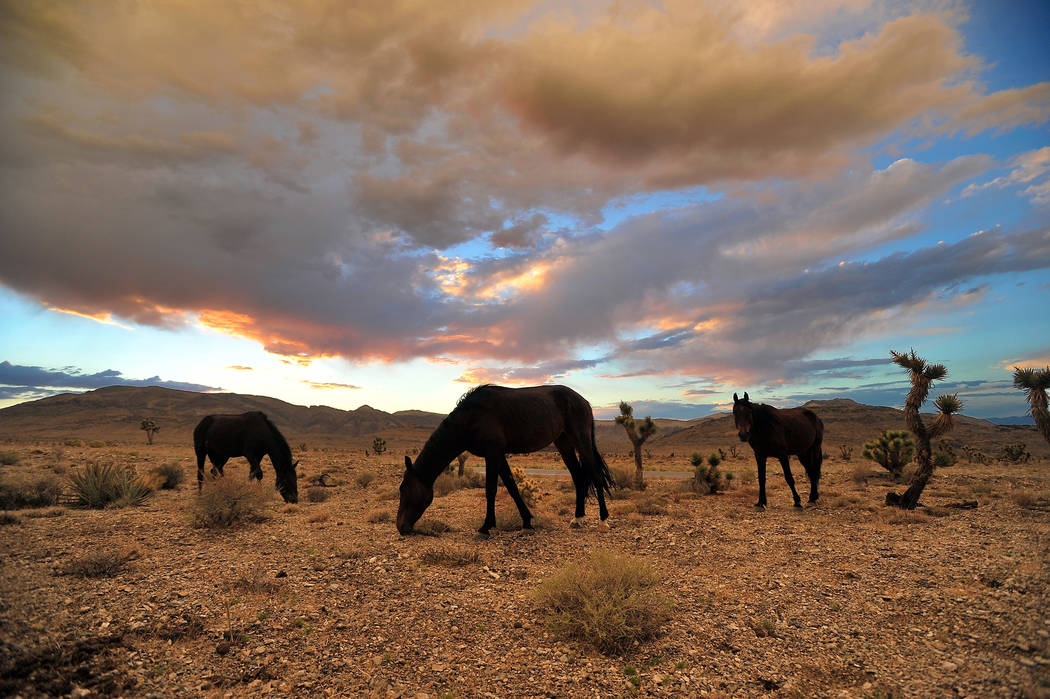 For the second time in less than three years, federal authorities plan to conduct an emergency roundup of wild horses on the brink of starvation in the Spring Mountains.
The U.S. Forest Service and the Bureau of Land Management announced Monday that as many as 200 horses in the Cold Creek area are in immediate need of food due to drought conditions and overpopulation.
Starting next week, the agencies plan to gather and feed the hungry animals, which have taken to eating nutrient-poor desert shrubs and the bark from Joshua trees in a desperate search for food.
"The Forest Service and BLM have been monitoring the situation, and the wild horse population has increased beyond the area's limited forage resources," said Bill Dunkelberger, supervisor of the Humboldt-Toiyabe National Forest, in a statement. "Many of the animals are in very poor condition, and we do not expect the situation to improve any time soon."
The horses will be lured into corrals using hay and water and immediately moved to a temporary holding facility for health assessments and additional feeding.
Once medically cleared for transport, the horses will be moved to a BLM holding facility in Ridgecrest, California, where they will be made available for adoption or transferred to off-range holding facilities.
The BLM rounded up 201 horses from the same area during an emergency gather in 2015. Twenty-eight were later euthanized because they were in such poor health, officials said.
Overpopulation is a persistent problem in the Wheeler Pass Herd Management Area, a 102,000-acre swath of public land surrounding Cold Creek.
According to the BLM's "appropriate management level," the land only has enough water and forage to sustain a herd of 66, but hundreds of horses regularly roam the area.
Federal officials will discuss the planned roundup during a community meeting in Cold Creek at 6 p.m. Wednesday at the volunteer firehouse, 28431 Coldcreek Road.
Additional details about the emergency gather is at www.fs.usda.gov/htnf.
More information about the BLM's wild horse and burro adoption program is at blm.gov/programs/wild-horse-and-burro/adoption-and-sales.
Contact Henry Brean at hbrean@reviewjournal.com or 702-383-0350. Follow @RefriedBrean on Twitter.