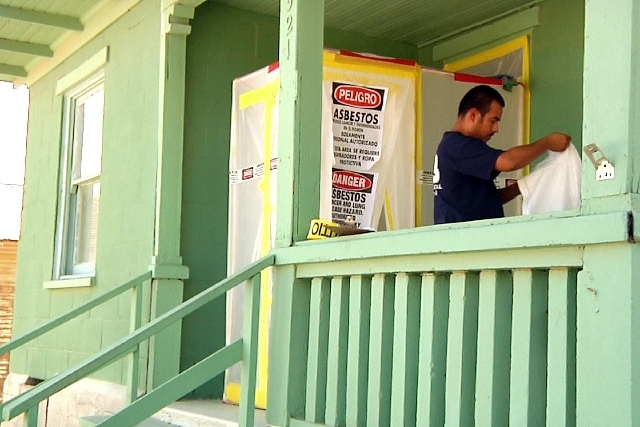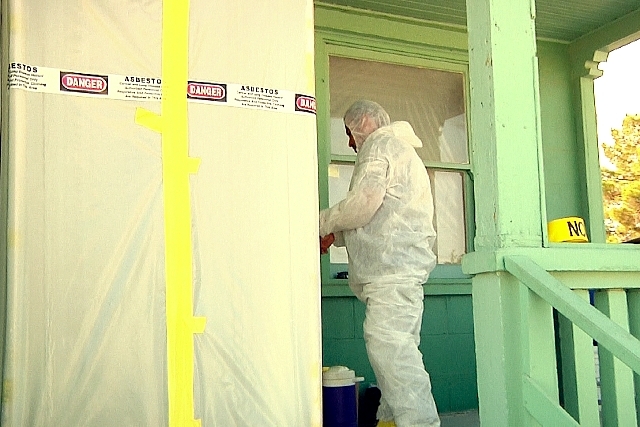 Donning white hazard suits, gloves and masks this week, crews from A&B Environmental worked to clear out asbestos and lead paint from a early 1900s railroad housing unit expected to open this fall at the Clark County Museum.
The green railroad cottage, moved to the museum from downtown in 2002, has been slowly restored as funding became available and is set to open in September at the museum at 1830 S. Boulder Highway near U.S. Highway 95 and Wagonwheel Drive.
This will be the first railroad housing to be opened to the public. Four other houses were found intact, and are being restored at the Springs-Preserve, according to Mark Hall-Patton, museum administrator for Clark County.
"The whole idea of bringing the house out here is to open it up," Hall-Patton said. "It was the first real housing here."
The 64 houses built by the Las Vegas Land and Water Company, a business owned by the Los Angeles and Salt Lake Railroad — later bought by Union Pacific Railroad — were located downtown between Clark and Garces Avenues on 2nd, 3rd and 4th Streets.
"It was built between 1911 and 1914," museum administrator Mark Hall-Patton said. "It was part of the earliest mass housing built in Las Vegas. In the early days, this is where you lived if you didn't build your own home and you worked for the railroad. The railroad was the biggest employer."
The concrete building was relocated from 521 S. 3rd St. to the museum's Heritage Street.
It is not well-ventilated, and the restoration crew worked through the heat and the stagnant air to prepare the exhibit.
Living in this heat without air conditioning was a way of life in the early 1900s, Hall-Patton said. "That's before air conditioning, so there is a little reality here," he said.
Before the crew could enter the building, they don a disposable one-piece jumpsuit, covered from feet to head. The suit is made of a light, breathable material. Then they layer on a second jumpsuit. Tape around the ankles, gloves and a mask with a filter finish off their attire.
"We're used to this already, that's the fun part," Joaquin Pineda, the supervisor for the project, said about the heat.
All of the employees of the local environmental company are trained in heat awareness and safety, according to A&B Environmental owner Michael Slough.
The crew starts their day with a five gallon jug of water for three people, and it is empty by the end of the day, he said.
This job is nicer than some for Slough and his crew.
"It's kind of neat. It's a part of history here in Vegas," he said. "This is something we can look back at. A lot of what we do gets demolished and becomes a parking lot."
Contact Rochel Leah Goldblatt at rgoldblatt@reviewjournal.com or 702-383-0381.