Ethics panel 'never received' complaint against Reid
October 24, 2014 - 8:24 pm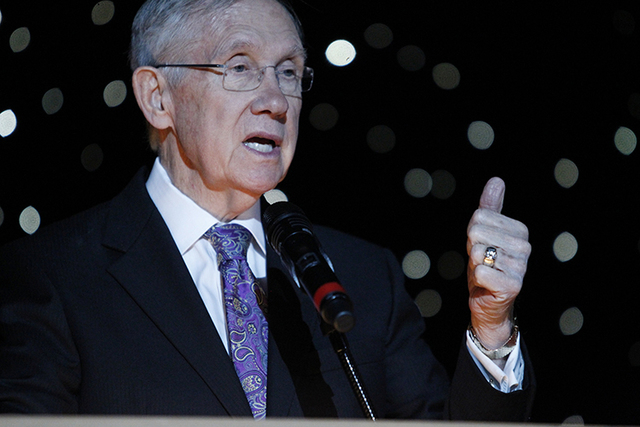 WASHINGTON — The Senate Ethics Committee "never received" a complaint filed almost a year ago against Sen. Harry Reid by a conservative watchdog group that said it has receipts showing it was delivered.
Cause of Action went public this week saying the committee had never responded to its complaint filed Dec. 16. Executive Director Daniel Epstein suggested it had either been dismissed without notification, or ignored.
In a letter made public on Friday, the group said it got a call back from the committee staff director indicating the complaint was "never received."
Cause of Action then refiled the complaint, calling for prompt consideration. At the same time, it produced copies of a postal receipt showing the original packet was delivered and signed at a Senate address Dec. 20.
It was not clear whether the mail was delivered to the committee's office or to a holding facility where Senate mail is scanned for security.
"The notion that committee staff may have lost or otherwise misplaced Cause of Action's complaint against the majority leader is plausible," Epstein said Friday. "However the available evidence contradicts the committee's claim."
Cause of Action has ties to conservative industrialist Charles Koch, a Reid foe. It says it uses its resources to "protect taxpayer interests and promote economic freedom."
The group's complaint charged that Reid, the Senate majority leader from Nevada, improperly pressured top officials at U.S. Citizenship and Immigration Services to speed EB-5 visa application reviews for overseas investors in the redeveloped SLS Hotel & Casino in Las Vegas.
The packet included some applications flagged for "suspicious financial activity." It has never been disclosed how many visas eventually were granted.
Reid's involvement was detailed in a Washington Times story in December that included an immigration services official complaining of having "a long yelling match" with a Reid staffer over the matter, and disclosure that Reid personally called the agency's director, who promised to give it a "fresh look."
"Even more troublesome," the complaint stated, was that Reid's son Rory and his law firm, Lionel, Sawyer & Collins, were legal counsel to the SLS resort, which it said raised possible conflicts.
The Senate Ethics Committee, a panel of three Democrats and three Republicans whose chairman is Sen. Barbara Boxer, D-Calif., by practice does not comment on complaints. Reid's office also declined to comment on Friday.
In December, Reid signaled he would not apologize for using his clout to help SLS, a project that was being counted on to pull Las Vegas out of recession.
"Sen. Reid believes it is his job to do all he can to promote economic growth and development in the state," spokeswoman Kristen Orthman said then.
EB-5 visas allow foreign nationals who invest at least $500,000 in a commercial enterprise that creates or saves at least 10 full-time jobs to obtain green cards.
The program has been controversial, with officials saying it is not unusual for lawmakers to weigh in on behalf of favored applicants.
The inspector general of the Department of Homeland Security in a report in December concluded the immigration service "is limited in its ability to prevent fraud or national security threats," and can't demonstrate the program is creating jobs as intended.
Contact Stephens Washington Bureau Chief Steve Tetreault at stetreault@stephensmedia.com or 202-783-1760. Find him on Twitter: @STetreaultDC.