Families commemorate memorial to 14 men killed in 1955 plane crash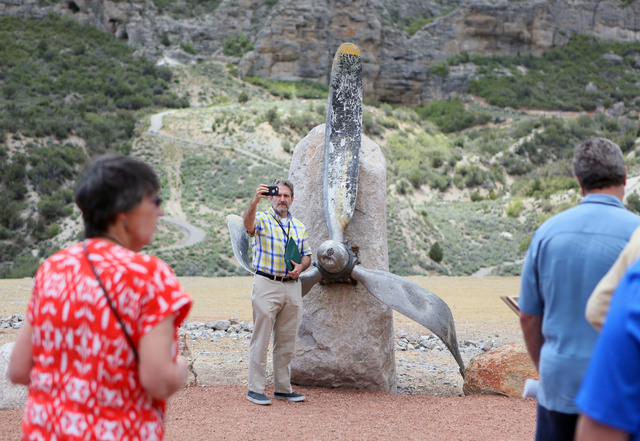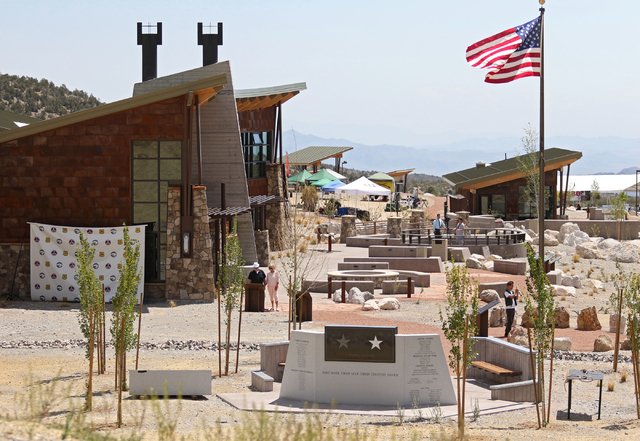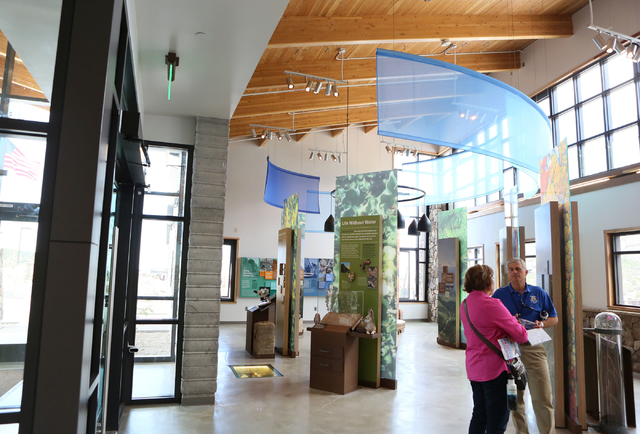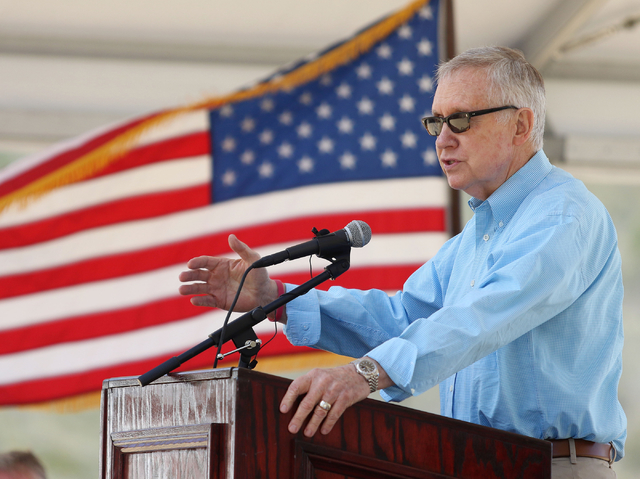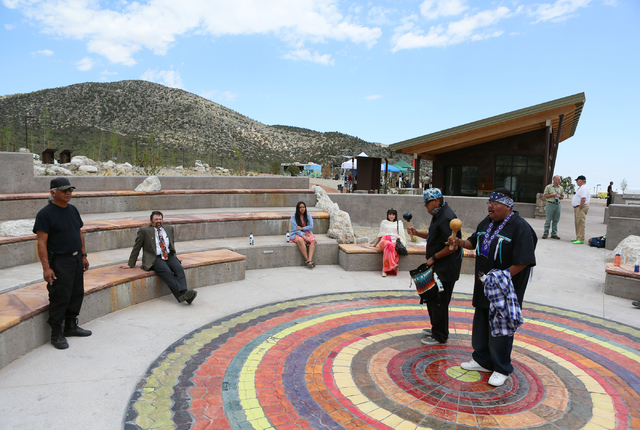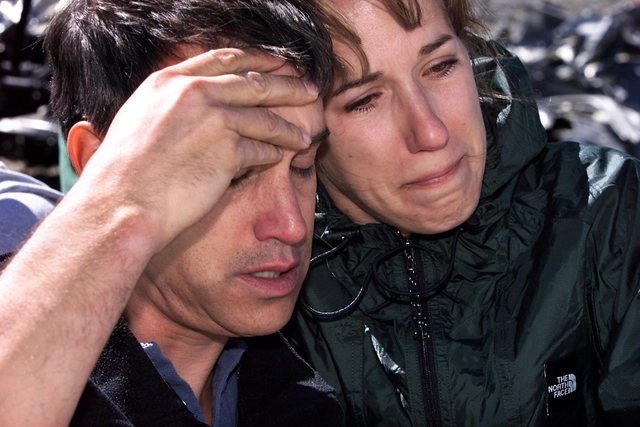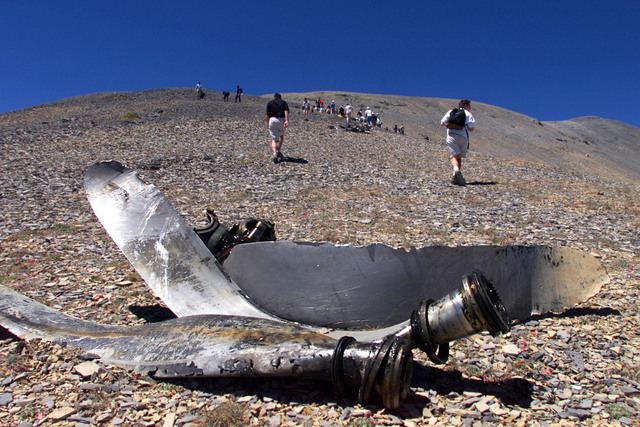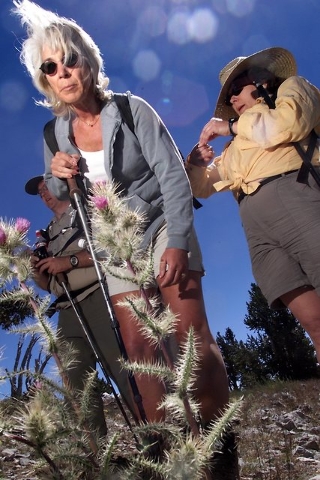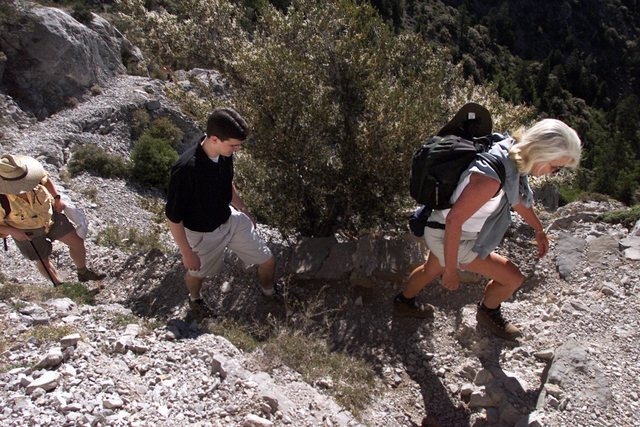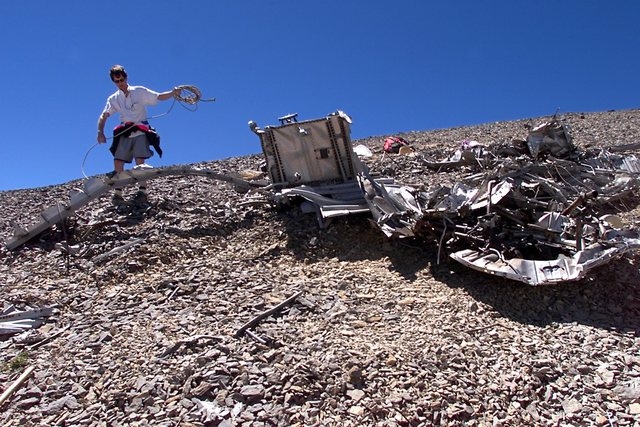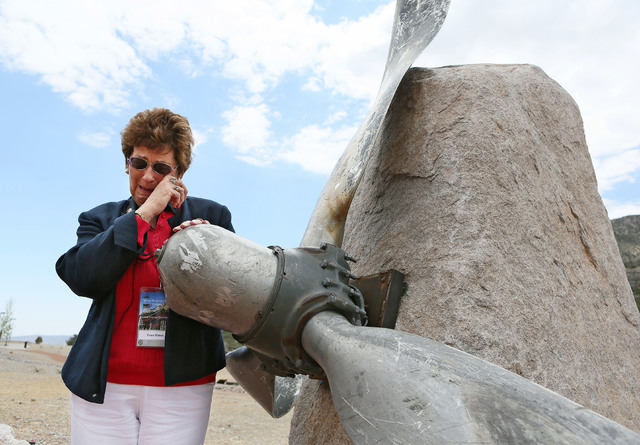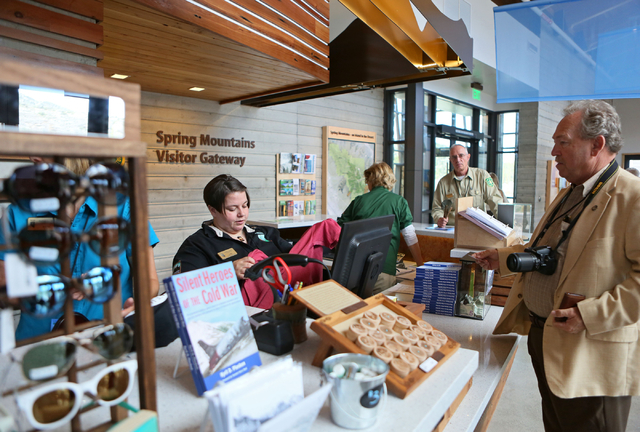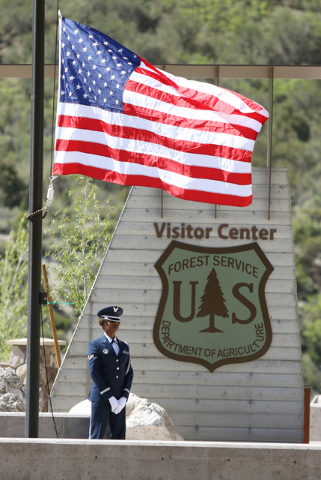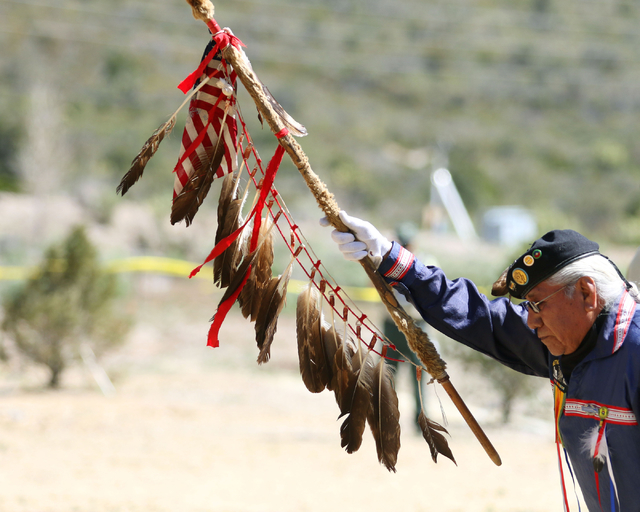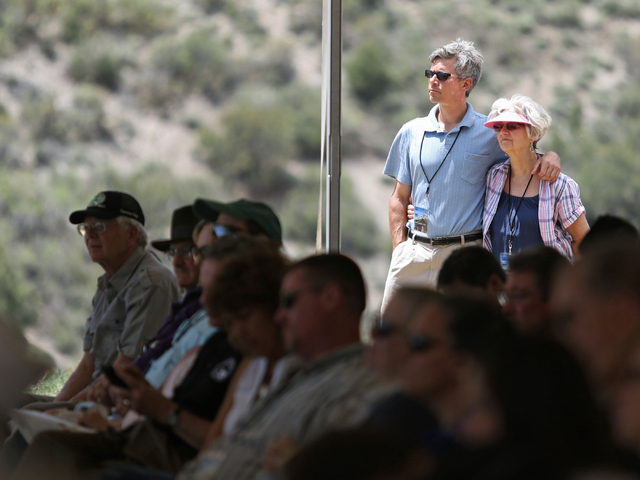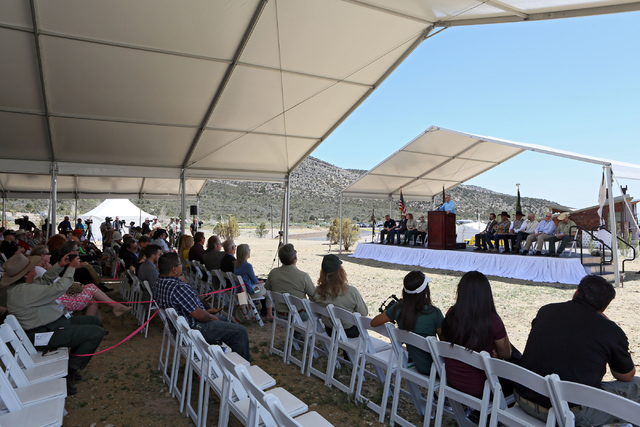 Resting her hands on the battered propeller that was bolted to a boulder, Grace Hatton fought back tears as she flashed back nearly 60 years when her family got a phone call that her brother had been killed in a plane crash.
"My brother, Terry, he was 22. He had just graduated from Fordham … He was recruited by the CIA, and that was his first assignment," she said.
Hatton and her husband, Ken, were among a throng of surviving family members and more than 700 other invited guests who gathered Friday for the grand opening of the U.S. Forest Service's Spring Mountains Visitor Gateway.
They dedicated a memorial that features a propeller to 14 men who died when a transport plane crashed near the snow-capped peak of Mount Charleston in November 1955 while headed to Area 51 to test the U-2 spy plane. The C-54 transport plane had flown off course in radio silence during a blizzard and clipped a ridge near the top of the 12,000-foot mountain.
The families, friends and dignitaries also dedicated the Silent Heroes of the Cold War National Memorial adjacent to it, Nevada's first national memorial and the first on U.S. Forest Service land.
"It almost seems like yesterday. Sixty years ago? It doesn't seem possible. And then our son was named after my brother, and he was killed on 9/11. It's full circle," Grace Hatton said.
Their son, New York City Fire Department Capt. Terry Hatton, died leading Rescue Company 1 into the North Tower of the World Trade Center to search for survivors of the Sept. 11, 2001 terrorist attacks.
Grace Hatton was 17 when her older brother, Terence J. O'Donnell, was on a CIA security detail to escort the team of scientists and engineers on the ill-fated flight. He was a lifeguard, swim team captain and an Army ROTC graduate from Fordham University in Bronx, N.Y.
Joy Cunniff, of Paradise, Calif., also came to Friday's dedication with her husband, Pat. She was 8 years old when her dad, Richard Hruda, boarded the early-morning flight in Burbank, Calif., bound for the secret "Watertown" airstrip along Nevada's dry Groom Lake bed, 90 miles northwest of Las Vegas.
Hruda, 37, a Lockheed engineer, wanted to see how the tail that his team had worked long hours to design for the U-2 would perform in a flight test. Defense planners needed the high-flying U-2 with its special cameras to assess the Soviet Union's threats and nuclear capabilities.
Cunniff was awestruck when she saw the memorial for the first time.
"It has its own story just by the damage to it," she said. "It boggles my mind by all the symbolism. My father was such a national parks person. When we went on vacations, he went hiking. For him to die on a mountain, it's just very fitting."
For decades, families of the crash victims never knew the details of the plane crash or the circumstances of the secret mission their loved ones were on until Boy Scout leader Steve Ririe hiked to the crash site in 1998. He wondered what had happened and who was on board. He felt compelled to solve the mystery.
He obtained documents under the Freedom of Information Act, shared them with the families he tracked down, then hiked to the crash site in 2001 to retrieve the plane's propeller. He spent the next 14 years working to make his dream of a memorial come true.
"It is not a memorial for forgotten heroes. Nor is it a memorial for heroes found on the registry of those lost in war," Ririe told the crowd at the Visitor Gateway dedication. "This is a memorial for those fallen heroes for whom their sacrifice was purposely erased to satisfy the security of our nation."
The men who died Nov. 17, 1955 "were part of a secret army that worked and fought to keep the nuclear threat at bay," Ririe said. "We will never know of the extent of our sacred debt to the silent heroes of the Cold War. Thanks to their secret work, the nuclear missiles never left their silos."
Ray Juzaitis, president of National Security Technologies, the Nevada National Security Site's prime contractor who donated $50,000 for the Cold War memorial, said it's a "wonderful opportunity to join folks who worked at the Nevada Test Site — brothers in arms to folks working the intelligence side — with those who died in the plane crash."
He noted that 500,000 federal employees and contractors worked at the former Nevada Test Site during the Cold War.
"It's an inspiration to see what one man's passion can do," he said about Ririe.
Sen. Harry Reid, D-Nev., who championed legislation for the national memorial, also praised Ririe for his effort that demonstrated "the federal government at its best."
"This has proven to me also that one man can make a difference, and of course that now includes women," Reid said. "Steve had an idea. The first time he called me and talked to me about this, I thought frankly it's a little weird. Frankly, he wouldn't give up. Over the years, he was a missionary and I was a convert, and we worked so hard together.
"The devotion, the passion, the time that he spent on this, sorting through the wreckage, finding where it was in the first place," Reid said. "I'm so proud of him as a person, and a person who is able to prove that government can get involved in things and come out with something that's good for everybody."
Contact Keith Rogers at krogers@reviewjournal.com or 702-383-0308. Find him on Twitter: @KeithRogers2.
1955 Mount Charleston plane crash victims
These 14 men died when their C-54 transport plane crashed on Mount Charleston on Nov. 17, 1955:
• William H. Marr, 37, of Hyattsville, Md., chief CIA security officer for the U-2 project. He was awarded the CIA's Intelligence Medal of Merit posthumously.
• James F. Bray, 48, of Houston, the CIA's regional deputy chief security stationed at the Groom Lake installation.
• James W. "Billy" Brown, 23, of Savannah, Ga., a CIA security staff member.
• Staff Sgt. Clayton D. Farris, 26, of Walnut, Iowa, a flight mechanic technician.
• Airman 2nd Class Guy R. Fasolas, 22, a flight attendant from Nephi, Utah.
• Sgt. John H. Gaines, 23, of Ripley, Tenn., an Air Force flight navigator.
• Richard J. Hruda, 37, a Lockheed engineer, from Burbank, Calif.
• Edwin J. Urolatis, 27, a CIA security officer, from Brockton, Mass.
• Rodney Kreimendahl, 38, a Lockheed engineer, from San Fernando Valley, Calif.
• 1st Lt. George M. Pappas Jr., 27, Air Force pilot, from Amarillo, Texas. He was promoted to captain posthumously.
• 2nd Lt. Paul E. Winham, 24, Air Force co-pilot, from San Antonio.
• Fred F. Hanks, 35, Hycon camera repair specialist, of Sierra Madre, Calif.
• Harold C. Silent, 59, Hycon consultant and physicist, of Glendora, Calif.
• Terence J. O'Donnell, 22, CIA security officer, from Parkchester in the Bronx, N.Y.