Firefighter hurt while battling blaze at mall in southwest Las Vegas
January 9, 2018 - 2:18 am
Updated January 9, 2018 - 9:24 am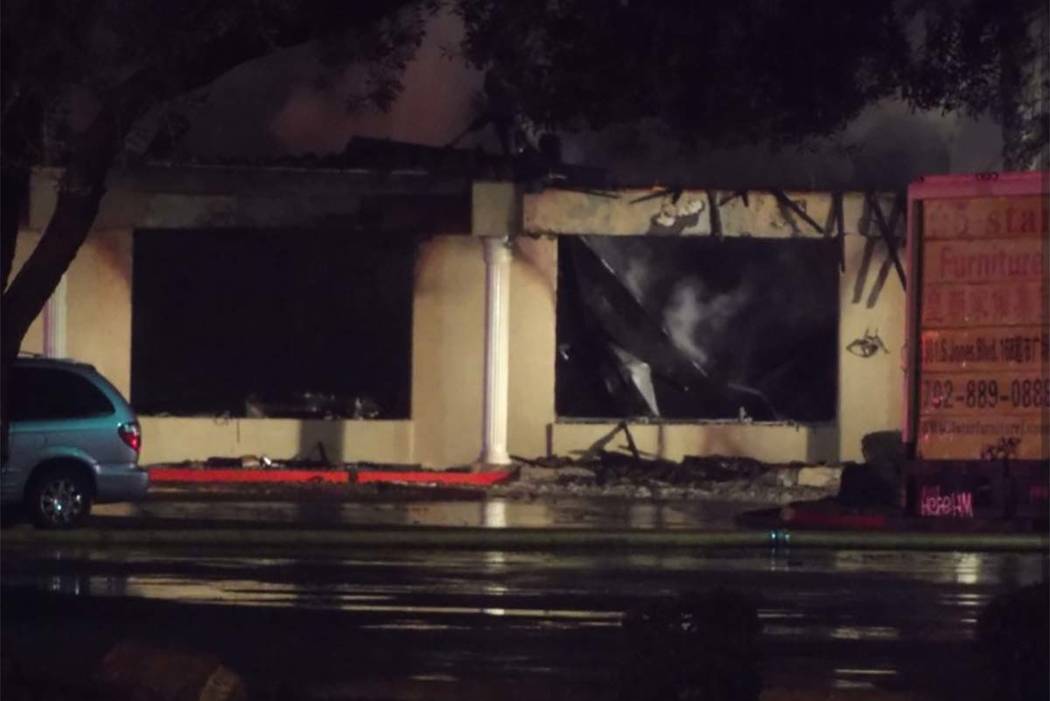 A firefighter was hospitalized after a southwest Las Vegas Valley strip mall erupted in flames Monday night.
The first of multiple calls reporting the blaze came in at 10:52 p.m. Monday. According to Clark County Fire Department spokesman Jon Klassen, personnel arrived within four minutes at the mall on the 3400 block of Jones Boulevard, near Desert Inn Road, and encountered heavy flames and smoke pouring from a business suite.
The hospitalized firefighter was injured during "fireground operations," the phase in which a blaze is assessed and a strategy set, the Fire Department said. The unidentified man was taken to a local hospital with survivable injuries. No other injuries were reported.
About midnight, flames were still leaping across the strip mall's roof as burning debris fell to the ground. Firefighters on ladders attacked the fire from above while others on the ground stood around the perimeter.
The two-alarm fire brought more than 65 personnel to scene, who Klassen said used a combination of fire suppression operations to prevent the fire from spreading to other businesses.
It's hard to see in the dark, but there's tons of smoke pouring from the roof of this building. pic.twitter.com/66xjaSPXHp

— Max Michor (@MaxMichor) January 9, 2018
At least seven businesses were damaged, including a furniture store at the mall's north end that had chunks missing from the charred roof and facade. A market and deli next to the store also appeared to suffer serious damage.
The strip mall also houses several restaurants, including Fuku Burger, which was on the opposite end from where the fire broke out.
The blaze's cause is under investigation; damages had not yet been estimated.
Contact Max Michor at mmichor@reviewjournal.com. Follow @MaxMichor on Twitter.