Former Nevada lawmaker Steven Brooks gets probation
January 6, 2015 - 5:24 pm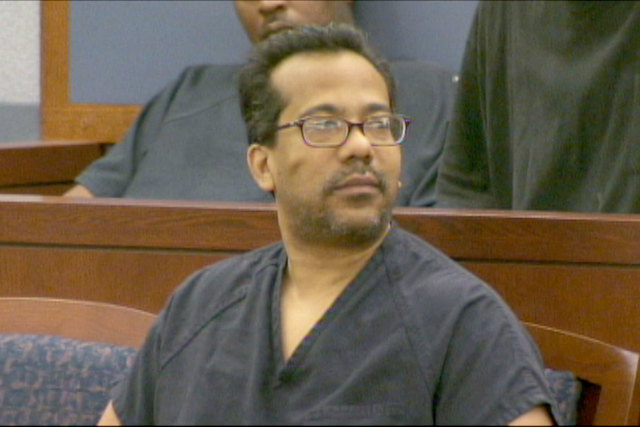 Two years after his troubles began, ousted Democratic Assemblyman Steven Brooks was sentenced to three years' probation Tuesday on charges stemming from a domestic battery case.
His lawyer, Adam Gill, told District Judge Kerry Earley that Brooks has already started stress impulse and anger management classes that should take six months to complete.
Earley gave the 42-year-old Brooks a suspended sentence of 1 to 3 years in prison and placed the former legislator on probation for up to 3 years. The judge said Brooks also must abide by any conditions of a mental health evaluation.
"I commend you for starting the program," Earley said. ""It's a privilege to get probation. You need to fill your obligation."
Prosecutor Richard Scow said Brooks would likely serve a minimum of 2 years on probation before being given credit for time served.
The bespectacled Brooks, who was released on bail last year, appeared in court wearing a beige suit, white shirt and black shoes. He declined to talk to reporters who attended the sentencing hearing.
Outside of court, Gill said Brooks was "doing very well. He's doing really, really well. Happy to have it behind him."
In August, after nearly a year-and-a-half behind bars, Brooks pleaded guilty to charges of resisting a public officer with a firearm and possession of a firearm by a prohibited person, admitting he had been addicted to marijuana while carrying a .357 Magnum Smith & Wesson revolver.
He was released from custody and ordered to undergo a mental health evaluation as part of his plea agreements.
Brooks also faces charges of assaulting a protected person and lying to a public officer, for which he is slated to be sentenced Thursday. He's expected to receive a concurrent probation sentence in that case.
Should Brooks complete probation and a psychiatric evaluation, the charges against him would be reduced to a single misdemeanor count of resisting a public person, his lawyer said. Once he completes probation, the gun possession charged would be dismissed. Prosecutors have agreed to drop the other charges.
In March 2013, Brooks became the first state lawmaker expelled from the Nevada Legislature.
Brooks had threatened to kill Assemblywoman Marilyn Kirkpatrick, D-North Las Vegas, because he was reportedly upset about being passed over for the chairmanship of the Ways and Means Committee
In January 2013, Brooks had to undergo a mental health evaluation after he was arrested in another incident for carrying a sword during a dispute at his grandmother's house.
He was arrested after police said he fled the scene of a disagreement with a tow truck driver in Barstow, Calif., throwing metal objects out the window of his SUV as police chased him.
Brooks had served most of his jail time in San Bernardino, Calif., on felony and misdemeanor charges after a high-speed police chase and scuffle with authorities the same day he was expelled.
Last month, Brooks reportedly left free Christmas trees for the taking in Sunset Park and later told the Associated Press the trees were from a nonprofit called Freedom Enhancement Academy.
State records list Brooks' wife, Ada Yllas, as the president, director, treasurer and secretary of the organization, which develops math and science programs for students.
Encouraged by his efforts to seek psychological help even before he was sentenced, the judge on Tuesday told Brooks: "I wish you good luck. I hope it works out for you."
Brooks did not speak during the hearing, but said, "Thank you, your honor," as he walked out of the courtroom with his attorney and family.
Contact reporter David Ferrara at dferrara@reviewjournal.com or 702-380-1039. Find him on Twitter: @randompoker