Gun-control advocacy group's report estimates costs of gun violence in Nevada
December 19, 2015 - 11:43 pm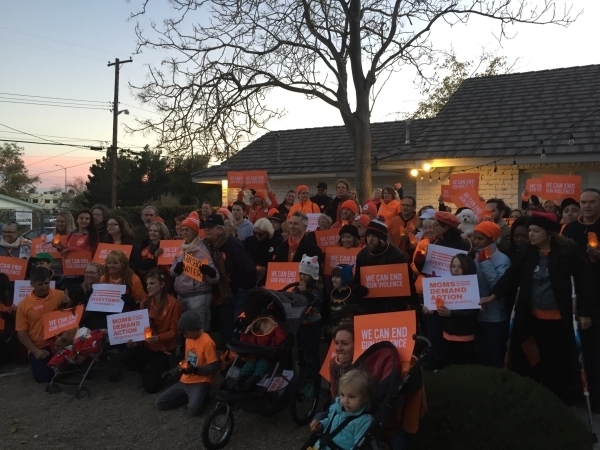 Gun violence costs Nevada taxpayers millions of dollars every year, according to the national gun-control advocacy group Everytown for Gun Safety.
The Las Vegas Review-Journal received an advance copy of the organization's study of state inpatient hospitalizations for gunshot wounds from 2005 through 2014. Average health care costs for gunshots vary by the type of incident, and government insurance plans such as Medicaid and Medicare picked up most of the bills, the study said.
Everytown for Gun Safety and its local affiliate Nevadans for Background Checks are pushing for a 2016 ballot question to expand background checks to nearly all firearm sales and transfers.
The data in the report come from the Center for Health Information Analysis at UNLV, which contracts with the Nevada Department of Health and Human Services. The data don't include names but list injuries, hospitals, total charges and primary payer information. The center categorizes the shootings as accidents, assaults or suicides.
"The data is remarkably comprehensive, and that's not true of other states," Everytown for Gun Safety Research Director Ted Alcorn said. "It demonstrates pretty dramatically the fiscal impact."
"The cost for treating gun injuries is enormous," he said.
From 2005 through 2014, there were 2,389 hospitalizations from shootings in Nevada generating health care charges of almost $246 million. In 2014, hospital bills for gunshot wounds totaled more than $40 million.
Alcorn said gunshot wounds cost about twice as much to threat as stab wounds, and taxpayers bear the majority of that burden. Clark County hospitals made up 83 percent of the charges in the study.
The majority of the patients, 61 percent, were hospitalized because of an assault. Those patients were billed an average of $111,483 per hospitalization. Accidental shootings, 15 percent of cases, averaged a bill of $72,290 per hospitalization. Attempted suicides make up 14 percent of the cases and have the highest average charge at $115,021 per hospitalization.
The intent was undetermined in 9 percent of hospitalizations included in the study.
Public money from Medicaid, Medicare and indigent referrals paid for 54.5 percent of all gunshot patient cases, averaging $13.4 million per year.
Nineteen percent of the public payments were from Medicaid. Self-paying patients made up a quarter of the cases, but Alcorn said some of those were likely waiting for Medicaid to come through. Twelve percent of payments came from private insurance plans.
"People often think of gun violence as something that happens to everyone else," Alcorn said, adding that everyone has a stake in the issue. "Every single taxpayer in Nevada pays for gun violence."
But the true cost of gun violence is greater than a hospital bill, Alcorn said. The study couldn't track other associated costs like lost wages, the depreciation of property values in violent neighborhoods, lost business sales where people are attacked or the human toll of pain and suffering.
The National Rifle Association opposes the proposed background check law and has said that state and federal gun laws already are sufficient and the proposed law would criminalize commonplace practices.
If the universal background check law were enacted, the gun lobby said, friends couldn't transfer guns. Therefore, soldiers could face criminal charges for having a friend store their firearms while they are deployed overseas.
Nevada voters will decide the issue in November.
— Contact Wesley Juhl at wjuhl@reviewjournal.com and 702-383-0391. Follow him: @WesJuhl