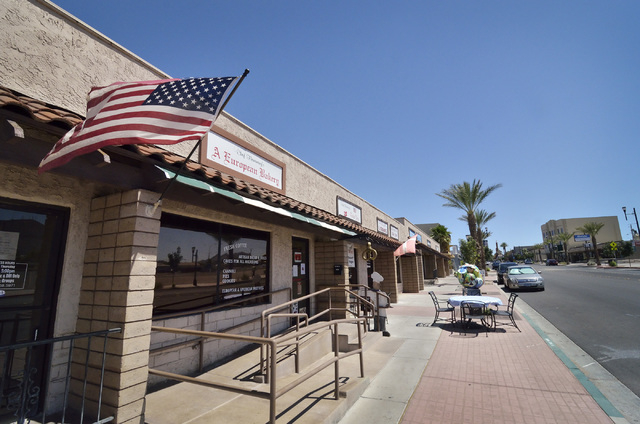 Henderson still envisions the Water Street area as a 24-hour, seven-day-a-week community for residents, workers and tourists.
But its plan to get there needed some tweaking, according to city planners.
The City Council on Tuesday will hear the Downtown Investment Strategy Update report, a revised vision by city planners to create 500 new jobs, attract 3,500 new residents, and raise the number of tourists to the area from 500,000 to 1 million annually through mixed-use and other development.
"This master plan, we hope, will provide a framework to allow flexibility and some of the incentives that property owners and future developers may need and can utilize to be able to see our downtown redeveloped," City Planner Derek Allen said. "Help meet the goals of the downtown investment strategy, which is to bring more people downtown, bring more jobs, open space, provide a balanced transportation system to the area."
The city would like to continue to see a family-and pedestrian-friendly downtown with more general retail and restaurants in the Water Street area, along with mixed-use residential/retail/office space buildings and standalone offices.
The report is an update on the city's 2002 Downtown Investment Strategy report, which did not have the results originally envisioned because of the economic downturn in 2009. Part of the update will loosen zoning regulations to include incentives for redevelopment, rework guidelines for residential, commercial and mixed-use development, and give more leeway to site plans for developers while preserving the area's history, according to the city.
City officials have held a series of meetings during the past two years with area businesses and residents to receive feedback and ideas. A few of the residents expressed concern that their homes could be negatively impacted by plan.
Janis Talcott, whose house on Atlantic Avenue was built in 1942 on a quarter acre, told the Planning Commission on May 15 that there is "fear" among residents on how the investment strategy will impact their homes.
"We were thinking eminent domain, builders coming in, grabbing our houses," Talcott said. "Obviously, a lot of us are under water with our mortgages and we're trying to hold on to our properties. It doesn't seem concrete in our minds that you guys could ever satisfy our fear."
Allen said the city has no plans to grab anyone's land and the concerns have come from people who want a better understanding of what the report means.
"We're not telling people they have to get up and move," he said. "We're not dictating those types of activities to take place."
Approximately 4,100 residents live in the downtown area, and only 41 percent of homes are owner-occupied. The median income is $40,970, nearly $19,000 below the city's overall average.
The downtown area covered in the report is 531 acres from Boulder Highway east to Van Wagenen Street, from Major Avenue north to Lake Mead Parkway. The development plans include the neighborhoods along North Water Street in the St. Rose Hospital district. There are approximately 290 businesses in the area, according to the report.
Approximately $500 million was reinvested and redeveloped downtown since 2002, including $12 of outside investment for every $1 invested by the Henderson Redevelopment Agency, according to the city report. This included $165 million in public investment in capital improvement projects, including the addition of nearly 1.2 million square feet of commercial space. The city also saw 355 downtown residences renovated, and 561 new units added.
City leaders believe the window is closing on stabilizing the long-term future of downtown development with a unified vision.
"The Water Street District is at a pivotal juncture in its history to promote the stabilization of its short-and-long-term future," according to the report. "New, proactive approaches that encourage long-term commitment from the private sector to undertake reinvestment and redevelopment opportunities are necessary, or the work that has been done will be diminished."
Contact reporter Arnold M. Knightly at aknightly@reviewjournal.com or 702-477-3882. Follow him on Twitter: @KnightlyGrind