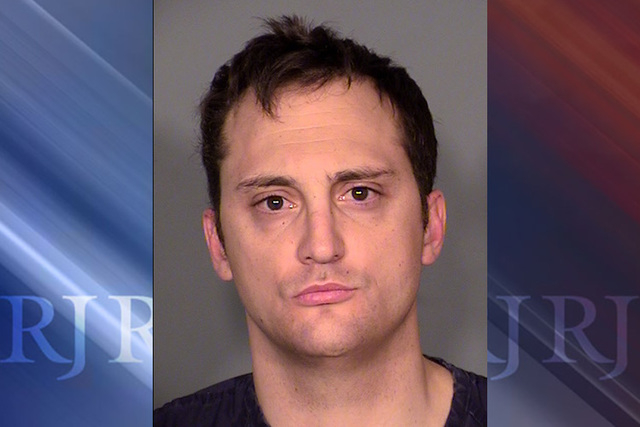 A former Henderson police officer accused of driving the wrong way down U.S. Highway 95 while off duty has reached an agreement with prosecutors on charges of driving under the influence and eluding police, his attorney said Monday.
Prosecutors are expected to drop eight other charges against 31-year-old Joseph Lawrance, who led Nevada Highway Patrol troopers on a chase after he was reported driving the wrong way on U.S. 95 near Durango Drive. As troopers pursued Lawrance, he ran a red light and drove the wrong way on other streets, prosecutors said.
Results of a blood test released Thursday revealed Lawrance's blood-alcohol level was 0.185 percent, more than twice the legal limit to drive, prosecutor Brian Rutledge said.
Lawrance, who was ordered released on his own recognizance with the condition of house arrest Monday, pleaded no contest to DUI while he plans to plead guilty to a felony charge of eluding police, according to his attorney, Josh Tomscheck.
Lawrance also was ordered not to drink and must wear a device that monitors whether he uses alcohol.
As of Monday, Lawrance was no longer employed with Henderson police, according to spokeswoman Kathleen Richards.
Rutledge said Lawrance admitted to the most serious charges and that prosecutors did not give him special treatment because of his job.
"We treat all criminal defendants the same whatever their circumstances are," Rutledge said. "We don't cut him a break or treat him more harshly just because he was a police officer. … The consequences will be greater to him, but not the court ordered part of it."
Lawrance must undergo one year of alcohol treatment supervised by Las Vegas courts, according to the agreement. Should he complete the program, he would be allowed to withdraw the plea to the felony and have it reduced to a misdemeanor, Tomsheck said.
Lawrance initially refused to follow orders from troopers, who fired a Taser stun gun at Lawrance but missed, the prosecutor said.
Troopers found a loaded gun and hundreds of prescription pills inside Lawrance's Toyota Tundra, along with an open bottle of whiskey.
Tomsheck said Lawrance wants to focus on "getting the treatment he needs for his alcohol related issues."
Lawrance has earned three college degrees — two associates degrees and a bachelor's degree — and is pursuing a fourth degree, his lawyer said. He graduated high school early to join the Marine Corps and served two tours in Iraq before being honorably discharged from the military.
"He believes he has a problem with alcohol, and I believe that's the only explanation for what happened in this case," Tomsheck said. "There's no other way to describe this than an aberration."
Lawrance was a sergeant for the College of Southern Nevada police before joining the Henderson police department in 2012, according to public employee payroll records.
Contact reporter David Ferrara at dferrara@reviewjournal.com or 702-380-1039. Find him on Twitter: @randompoker