Henderson cryotherapy spa where woman died may be closed for good
December 18, 2015 - 5:01 pm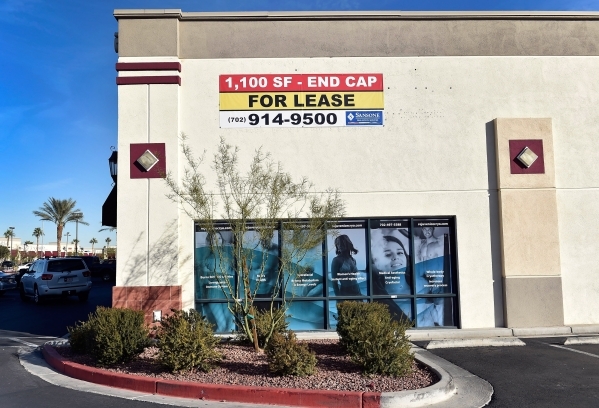 Two months after a worker was found dead inside one of its cryochambers, a Henderson cryotherapy spa appears to be closed for good.
On Dec. 10, a notice was posted on the front doors of Rejuvenice, 8846 S. Eastern Ave., saying the spa was more than $3,000 behind on its rent. Property manager Susan Cotton said the deadline to pay the delinquent rent was noon Friday.
Shortly after that deadline passed Friday afternoon, large banners reading "FOR LEASE" were hung above the windows where the spa's neon signs once were.
Calls from the Las Vegas Review-Journal on Friday to an attorney listed as the registered agent for Rejuvenice were not returned.
The closing ends Rejuvenice's short but tumultuous stay in Henderson.
Rejuvenice opened in July. And on Oct. 20, worker Chelsea Ake-Salvacion, 24, was found dead inside one of the spa's cryochambers.
Ake-Salvacion worked at the center, which offered facial and whole-body cryotherapy treatments. She died using the cryotherapy machine, which can produce temperatures hundreds of degrees below zero, alone while the business was closed.
Ake-Salvacion's family hired the Las Vegas-based Richard Harris Law firm and the Bradley, Drendel & Jeanney law firm in Reno to investigate how she became trapped inside the chamber. Nevada's Occupational Safety and Health Administration office said it would not investigate because Ake-Salvacion died after business hours.
Richard Harris said his firm has hired experts who will inspect the cryochamber, which he said still sits inside the spa, over the weekend. After inspecting, Harris said arrangements have been made to transport and store the machine for the rest of the investigation.
A week after Ake-Salvacion died, two Rejuvenice locations — the one in Henderson and the Summerlin location, 8751 W. Charleston Blvd. — were slapped with stop-work orders by the state's Department of Business and Industry and shut down. The department said the spas lacked workers' compensation policies.
The Summerlin location reopened Nov. 20. But the stop-work order remains on the doors of the Henderson spa, next to the delinquent rent notice.
Contact reporter Colton Lochhead at clochhead@reviewjournal.com or 702-383-4638. Find him on Twitter: @ColtonLochhead.