Hiking in Red Rock Canyon? These tips can keep you, pets safe
Updated May 3, 2023 - 12:07 pm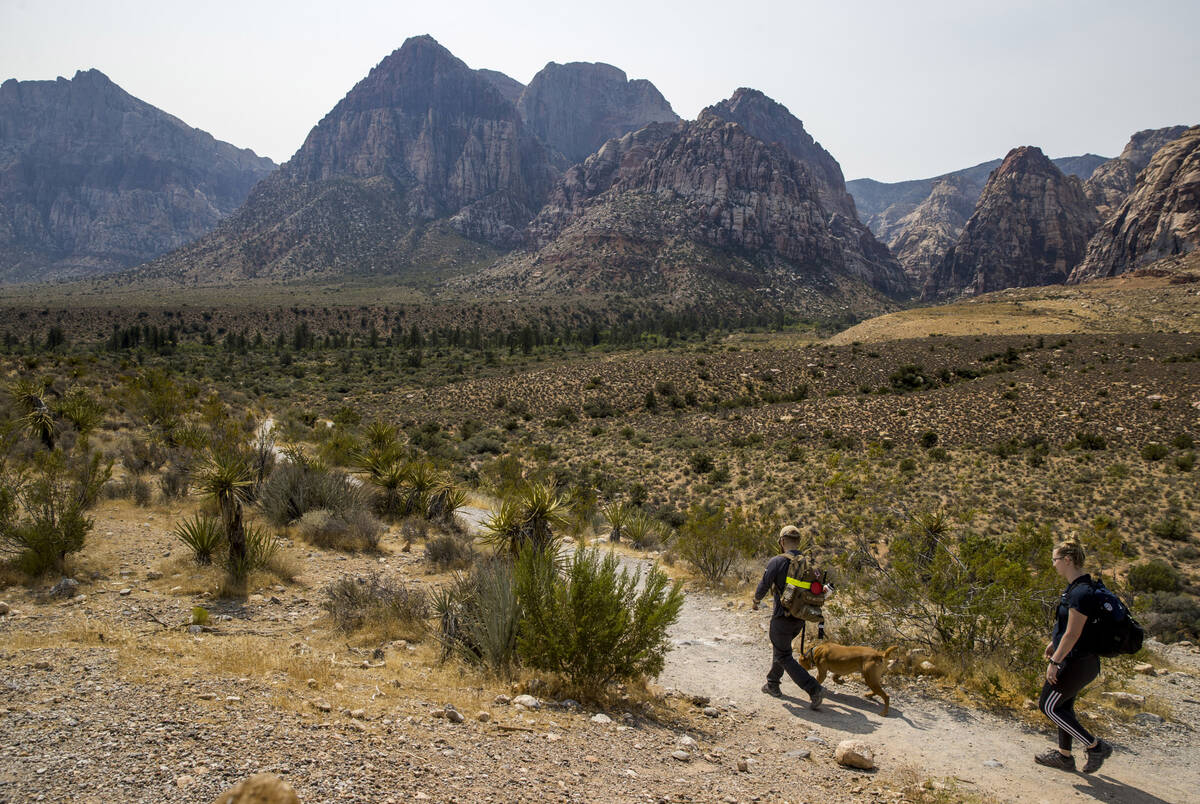 After Red Rock Canyon tweeted a photo last month of a Panamint rattlesnake spotted at the conservation area's visitor center, many might be worried about their safety while exploring Southern Nevada's conservation and recreation areas.
John Asselin, public affairs specialist for the Bureau of Land Management, shared some tips on how to keep you and your pets safe while hiking in the desert in areas like Red Rock Canyon National Conservation Area.
Keep pets on a leash
Asselin said pets should be kept on a leash. It's not just a safe practice — it's the law.
In Clark County, dogs must be on a leash unless they are in a designated dog park area. Owners will be given a warning first if their dog is off their leash, but a second infraction could come with a citation and a fine of $250.
Asselin said using a leash while exploring trails can prevent your dog from being attacked or attacking animals in the area, like small rodents.
"Dogs are curious. They're going to be nosing around in bushes, and if there's a venomous snake in there, the dog is going to get bit," he said.
Red Rock Canyon does not have a veterinarian on staff, so if your dog is attacked in the conservation area, it's up to you to get your dog off the trail, out of the park and to an animal hospital as quickly as possible.
"We have Mojave green snakes out there. They're quite venomous," Asselin said. "They have two different venoms in them that work pretty quickly."
The smaller the dog, the faster the venom can travel through their system and potentially turn deadly. Mojave green snakes have the most potent venom of any rattlesnake in the world — one nearly killed a 6-year-old boy in California in 2012.
But don't hesitate to bring your furry friends to the conservation area. Snake attacks at Red Rock Canyon are extremely rare, he said.
Bring plenty of water, and don't hike alone
Though many people worry about potential animal attacks, Asselin said the animal that's the biggest threat to you when you're out hiking is yourself.
Even during the winter months, Southern Nevada's dryness can leave you dehydrated.
"The air just sucks that water right out of your body," he said. "So you have to bring a lot of water with you — more than you think you would need. When you start really getting into hotter months, you really need more water than you can carry for a trip that's more than a mile, because it just leaves so fast."
Because your risk of getting dehydrated is so great, don't go hiking alone. You might not be able to tell when you're reaching the danger zone for heat-related illness, but your companions will.
"You might be feeling a little bit tired but think you're OK — the people around you will notice because you'll start acting differently," Asselin said.
Victims of heat stroke, unlike heat exhaustion, can experience confusion, irritability and slurred speech, according to the Centers for Disease Control. Heat stroke also has more severe consequences than heat exhaustion and can cause disability or death without emergency treatment.
Wear proper clothing (and keep your clothes on)
If you're traveling to Las Vegas and plan to bring only your flip-flops, you might want to stay poolside instead of venturing out into the desert.
Many desert trails involve slippery rocks. One bad step, and you could twist an ankle or fall.
"Good, not slippery footwear and water are the two most important things" to bring on a hike, Asselin said.
Once temperatures rise above 95 degrees, he also recommends concealing as much skin as possible with long-sleeved shirts, long pants and hats.
"I know that seems counterproductive, but once you start getting those temperatures here where it's hotter than the core temperature in your body, that heat when you're exposing your skin (is) not going out — it's coming in."
Wearing long-sleeved shirts and pants allows the layer of sweat on your skin to remain cool, rather than evaporating immediately, which prevents it from cooling you down.
For less-experienced hikers who want advice on where to hike in Red Rock Canyon, especially as temperatures rise, Asselin said you can always talk with an employee at the visitor center for guidance.
Contact Taylor Lane at tlane@reviewjournal.com. Follow @tmflane on Twitter.