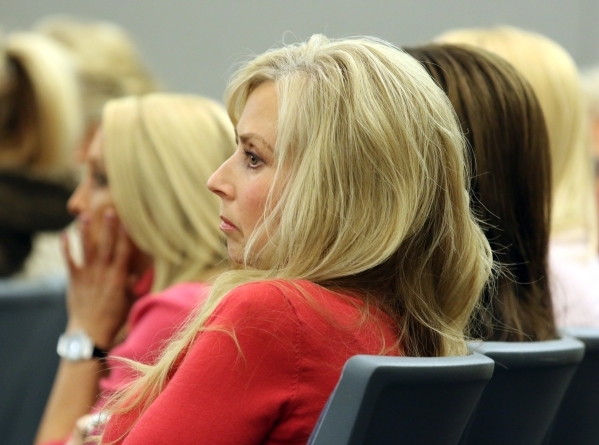 A confessed hitman was sentenced to 42 years to life Thursday for the bludgeoning death of a Palms waitress and wife of a Las Vegas firefighter.
In sending Noel "Greyhound" Stevens, 40, to prison, District Judge Eric Johnson considered the "horrific nature of this crime" and Stevens' mental state when Shauna Tiaffay, a 46-year-old mother of a then 8-year-old daughter, was killed.
"Your conduct in this case is the conduct of someone, quite frankly, who has no soul," the judge said. "I'm not sure I see any remorse."
Tiaffay died on Sept. 29, 2012, in her Summerlin apartment.
The firefighter, George Tiaffay, a graduate of the U.S. Military Academy at West Point, had hired Stevens to bludgeon her with a hammer. They spent weeks planning out the killing, authorities said. The thought had been stewing in Tiaffay's mind for months, if not longer.
In September, Johnson ruled that Tiaffay, 43, should spend the rest of his life behind bars with no chance of parole.
In the weeks before the slaying, the confessed hitman and George Tiaffay were captured on surveillance video buying dark clothing, a hammer and a knife, though the tools were not those used in the slaying.
Stevens testified at Tiaffay's trial last year that he made several dry runs before he killed Shauna Tiaffay, at one point burglarizing her apartment. He testified that during one of those dry runs, he bumped into police officers who confiscated what they took to be burglary tools.
Stevens cooperated with authorities almost immediately after his arrest and pleaded guilty to murder and other charges to avoid the death penalty.
Sometime in early 2012, Tiaffay mentioned having his wife killed. He ultimately offered $5,000, said Stevens, who received only about $600.
Prosecutor Marc DiGiacomo said Stevens did not deserve life in prison without a chance at parole partly because of his cooperation and because Tiaffay was more culpable in the killing than Stevens.
"I have never had a situation where within days of a homicide a suspect has engaged with law enforcement in such a way to allow law enforcement to fully investigate a case," DiGiacomo said. "Ultimately, the justice system has to make some recognition for what he did in this case."
Defense lawyer Danny Silverstein called Stevens, an alcoholic since age 9, "simply the tool that was used" by Tiaffay to kill his wife.
"There's significant reasons that Mr. Tiaffay is more deserving of the ultimate sentence and Mr. Stevens is deserving of some mercy," Silverstein said.
Contact David Ferrara at dferrara@reviewjournal.com or 702-380-1039. Find him on Twitter: @randompoker.