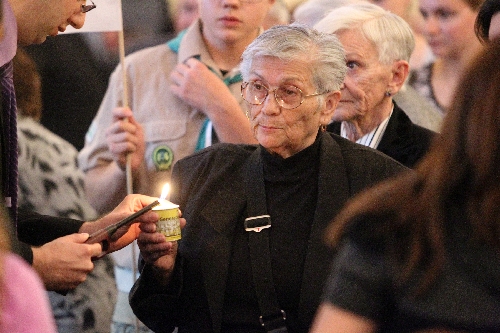 Somber? Of course.
Reverential? Absolutely.
Heart-tugging? Definitely.
Still, it's not surprising that moments of light and optimistic resolve also found their way into Thursday evening's Las Vegas Yom HaShoah Holocaust Memorial Observance at Temple Sinai, 9001 Hillpointe Road.
They could be seen in the smiles on the faces of the youths who escorted Holocaust survivors into the sanctuary. The occasional cry of a fidgety child. Even audience members' head shakes as keynote speaker
Michael Berenbaum discussed the callous disregard for human life evidenced during the Holocaust.
More than 500 people gathered for the event, part of a worldwide observance during which Jewish victims of the Holocaust are remembered.
The Las Vegas observance drew more than 500 people to the Summerlin congregation.
The observance opened with a procession of Holocaust survivors and the lighting of six candles dedicated to the memory of the 6 million Jewish people killed in the Holocaust.
The observance also included songs, readings and reflections of the Holocaust.
Rabbi Malcolm Cohen of Temple Sinai reminded guests that the goals of the evening were to remember Holocaust victims, honor Holocaust survivors and ensure that succeeding generations never forget about the tragedy.
"How do we explain to our children?" he said. "How do we find the words? That's the challenge that we're focusing on this evening."
Berenbaum, the evening's keynote speaker, is a professor of Jewish Studies and a noted Holocaust historian who also served as project director in overseeing the creation of the United States Holocaust Memorial and Museum in Washington, D.C.
With the aging of the World War II generation, a shift from "living memory" to "historical memory" of the Holocaust is approaching, he said.
Survivors have been key in passing on lessons of the Holocaust, Berenbaum said. Not only have they shared their stories with the world, but survivors have been instrumental in creation of the Holocaust Museum to ensure that the lessons of the Holocaust "will be transmitted."
Even in Las Vegas: Before Thursday's observance, a boy peered a display of student projects about the Holocaust at Temple Sinai, listening intently as his father explained the Holocaust's ugly underpinnings.
Maybe it was the first time father and son had talked about it, but probably not. And, if they take the event's theme to heart, it won't be the last time they do, either.
Contact reporter John Przybys at jprzybys@review journal.com or 702-383-0280.