How Las Vegas HOA fraud costs are calculated could boost prison terms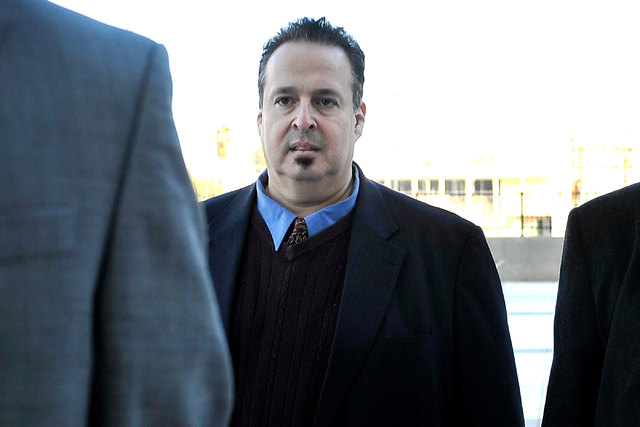 In a bid to add as much as 10 years to the sentences of key figures in the massive Las Vegas-area homeowner's association fraud case, federal prosecutors want prison time based on estimates of how much money might have been taken in addition to the dollars that actually were.
In court papers, Justice Department lawyers calculate nearly $15 million in actual losses — mostly at the Vistana HOA, where the mastermind, former construction company boss Leon Benzer, and co-conspirators stole more than $12.5 million from a construction-defect settlement.
Benzer also had gained control or was about to take over a half-dozen other HOA boards that eventually obtained more than $45.5 million in construction-defect settlements.
Park Avenue won a $12.5 million construction-defect settlement, Chateau Versailles, $8.8 million; Mission Ridge, $8.5 million; Chateau Nouveau, $8.2 million; Jasmine, $5.6 million; and Mission Pointe, $1.9 million; according to prosecutors.
Benzer, who pleaded guilty and is to be sentenced Aug. 6, recruited straw buyers at the condominium developments and rigged elections to place them on the HOA boards so they could steer the lucrative construction repair work his way, prosecutors alleged. He also put community management companies and lawyers in place to watch the boards.
Benzer intended to "vacuum up every dollar of these settlements," but before he could grab the money, FBI agents and Las Vegas police broke up the scheme with raids across the valley in September 2008, prosecutors wrote.
"The United States will establish at sentencing that although the HOA takeover conspiracy succeeded in full at only one HOA — Vistana — its tentacles reached throughout the Las Vegas Valley into many different HOAs," prosecutors said.
"Only through the intervention of law enforcement in late 2008 was the HOA takeover conspiracy thwarted from even greater success and Las Vegas homeowners protected from even greater harm."
The government counts the other HOA settlements as intended losses of the scheme, raising the total to more than $60 million.
Prosecutors want U.S. District Judge James Mahan to consider the combined figure at the sentencings of Benzer and other defendants, including one of his former lawyers, Keith Gregory.
If the $45.5 million in intended losses are included, it could mean seven to 10 more years behind bars for Benzer and Gregory under federal sentencing guidelines that take into account the size of the financial hit from a crime.
Mahan is holding a hearing today to settle on a loss figure before sentencing Gregory and three other defendants convicted with him at trial.
Gregory was Vistana's legal counsel but also worked for Benzer. Prosecutors are asking for up to 27 years in prison for Gregory plus a share of $12.7 million sought as restitution. Defense lawyers strongly dispute the government's loss figures and suggest 24 to 37 months in prison.
Of the $12.5 million in losses at Vistana, $5.2 million was paid to the law firm of the late construction defect lawyer Nancy Quon and $7.3 million to Benzer's Silver Lining Construction Company.
Quon, who obtained the construction defect settlement for Vistana and helped bankroll Benzer's scheme, killed herself in March 2012.
She was not charged at the time.
Prosecutors plan to present witnesses today who will testify that construction at Vistana was merely a "quick fix" so Benzer could pocket the majority of the money.
Benzer wasn't satisfied with bilking Vistana out of millions of dollars, prosecutors wrote. After the FBI-led raid in 2008, he ordered his "puppet" board members to "extract another $450,00 from Vistana's bank account, leaving the HOA virtually penniless."
How that occurred will be discussed at the hearing.
The HOA investigation, spearheaded by the Justice Department's fraud section in Washington, is considered the largest public corruption case federal authorities have brought in Southern Nevada.
Thirty-eight defendants, most of whom cooperated with the government, have pleaded guilty over the past four years. Three targets of the investigation killed themselves, and a fourth died of a drug overdose.
The majority of those who pleaded guilty already have been sentenced, and most received light punishment because of their cooperation. Roughly a dozen remaining sentencings are set through October.
Contact Jeff German at jgerman@reviewjournal.com or 702-380-8135. Find him on Twitter: @JGermanRJ
HOA manager gets home confinement in takeover scheme
Review-Journal sues to open HOA fraud investigation's secret files
Benzer pleads guilty in massive Las Vegas Valley HOA scheme
Las Vegas lawyer's misdeeds draw lengthy prison term
Ex-cop avoids prison term in HOA scheme