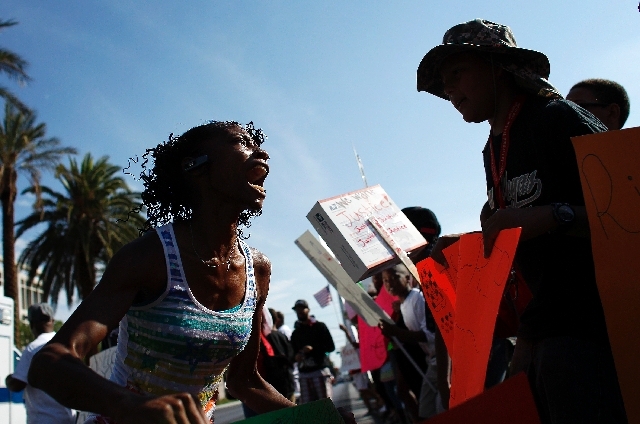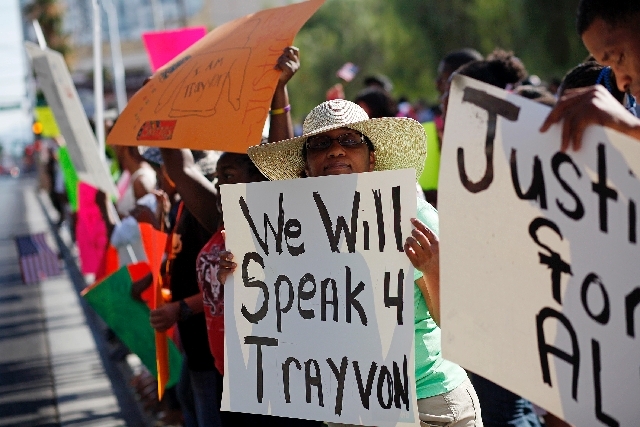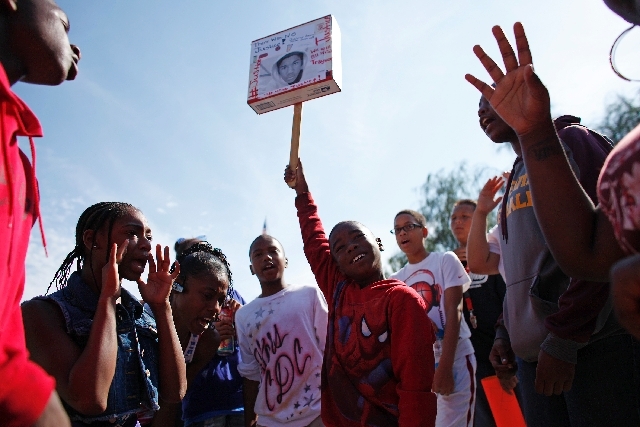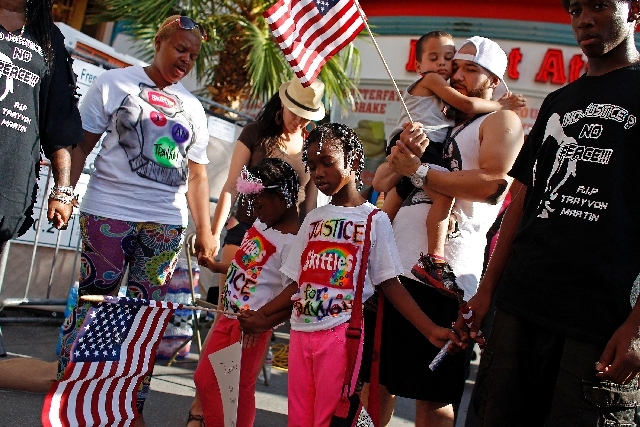 Wearing a hooded sweatshirt in the middle of a Las Vegas July might seem insane, but for hundreds of protesters rallying for Trayvon Martin outside of the Lloyd George U.S. Courthouse on Saturday morning, wearing hoodies was a symbol of justice.
They marched from Fremont Street, holding signs that read, "Justice for Trayvon Martin," "Repeal Stand Your Ground" and "Unify the Community."
Rally organizer Nickia Davis estimated up to 400 protesters attended the rally. They varied in age, race, ethnicity and background.
"Anytime you can bring this many people together, it's definitely a start," Davis said. "If a civil suit is filed it will bring change regardless of the outcome because it means the government has heard what we have to say."
George Zimmerman, the man who shot and killed 17-year-old Martin, was acquitted of murder charges in a Florida courtroom on July 17. The Las Vegas rally was one of more than 100 held around the nation Saturday by people who blame racism for verdict, and want the federal government to pursue civil rights action against him.
Protester David Brabham faced traffic and held up a black flag with an outline of Martin wearing a white hoodie.
"I think the government only intervenes in incidents like this," he said as sweat ran down his face. "I think that the court did speak, but these sort of protests are not going to go away after today."
In a 17-minute speech Friday, President Barack Obama said the United States "isn't a perfect union, but is becoming one."
"I think it's true to a certain extent," said protester Kellie Byers. "As little kids, you're fine when it comes to race. But it becomes more of an issue when you get older."
Protester Melody Nelson said she thought Obama's comments were eloquent and heartfelt, but she wish he had used more racial dialogue.
"We need to move away from interpersonal problems and work on a more structural solution," she said. "The government needs to speak to the injustice of 'Stand Your Ground' laws. These laws have Jim Crow implications because there is so much finality in their decisions."
One man in the crowd walking with a cane and sweating in the humid heat said he woke up before 7 a.m. to attend the protest. He emphasized how he never wakes up before noon on weekends.
There was even a woman who taped a bag of Skittles to her hat to show sympathy for Martin. He was carrying a bag of the candy when he was shot.
Local supporters used the word "injustice" to describe the situation and said a civil suit against Zimmerman would bring justice to Martin's family.
Byers, a graduate of Hampton College in Detroit, doesn't think a civil suit is enough.
"It all starts with the injustice in our legal system," she said. "They automatically made Trayvon a criminal because Zimmerman labeled him a 'suspect.'"
She said she liked seeing blacks, whites, Hispanics and Asians recognizing that there has been an injustice.
"We don't want to forget Mr. Martin or anyone else who dies in an incident like this," Brabham said. "When the cameras go away, we still need to be out here."
Nelson emphasized the importance of Americans working harder to establish more communication with each other.
"This is our albatross," she said, emphasizing the word "our." "As an American community we need to get back to our humanity."
Contact reporter Steven Slivka at SSlivka@reviewjournal.com or 702-383-0264.
RELATED STORIES: