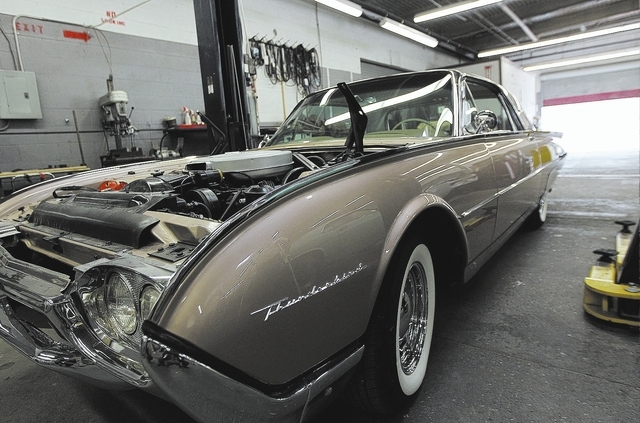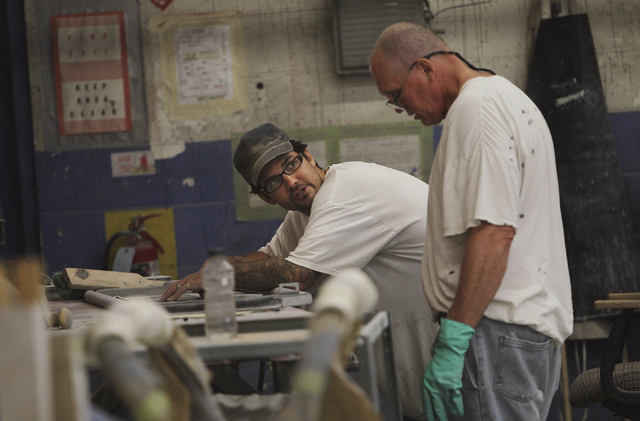 There's this guy over at the workbench, sanding the tailgate of a 1951 Studebaker pickup that got burned up in a fire.
He's 33 but looks younger, maybe 25. Short, dark hair under a grungy baseball cap. Scruff on his chin. Dark, intricate tattoos running up and down his arms. Thick-framed glasses that make him look a little nerdy.
Dust floats in the air of the auto shop until it's sucked out by an overhead fan. He turns the fan off to talk for a moment.
He's still new here, he says. Been doing it about six months. He likes art, drawing and creating sculptures.
"It keeps me busy," he says. "Gives me something to do with my time."
That's pretty much the only thing he has now, time. He's been locked up since he was a teenager, and says he won't be eligible for parole until he's 56 years old.
"Murder," he says when he's asked why he's here, working in the auto rehab shop at the Southern Desert Correctional Center. "I was 15."
Like most of the other guys here, that's all he'll give. We're not allowed to ask his name or details about his crime; that was the deal with prison officials. They don't want crime victims to be victimized again.
The auto rehab program is part of Silver State Industries, a division of the Department of Corrections. It's a self-supporting program that uses inmate labor for things like a metal fabrication plant, a mattress factory and the auto restoration program at Southern Desert Correctional Center.
State law doesn't allow the department to run programs that would compete directly with large industries and take jobs away from the general public. The department was criticized last year for a program that provided cheap labor to the steel contractor for Skyvue Las Vegas, one of two giant observation wheels being built on the Strip.
But Craig Korsgaard, the auto shop supervisor, said full auto rehabilitation isn't a large industry. The shop doesn't do typical repair work, such as fixing dents after a car crash. It restores entire cars and trucks, typically older, classic cars like the 1962 Ford Thunderbird in the back, or the 1947 Rolls Royce that needs all new woodwork for its dashboard.
TEACHING SKILLS
Korsgaard has run the program for 25 years. He says it typically works like this: A car owner will hear about the prison's restoration work through word of mouth, often at a car show where someone is showing a classic car and someone asks who did the work.
If it's something the prisoners can do — and Korsgaard says there's not much they can't do — they'll take on the job.
They charge $52 an hour and use standard times as listed in auto repair guides. But some jobs can take a lot longer than the standard time because the workers are in prison.
These guys don't always work full eight-hour days. Security is so tight that simply keeping track of tools can take up time.
"Nobody leaves this shop without every tool accounted for," says Brian Connett, deputy director of Silver State Industries program.
A lockdown can close the shop for days, but then again there are some pluses to having a captive workforce.
"They don't go to lunch on Fridays and come back drunk," Korsgaard says.
Only a few dozen of the 2,000 inmates at the medium-security prison do auto rehab.
Warden Brian Williams says their offenses range from retail theft to murder. He only allows inmates with a good track record into the auto rehab program.
Typically, an inmate will apply for a job with the program, just like in the outside world. He goes go through a job interview process that includes a background check. Car thieves and potential escapees need not apply.
"They are going to be working with vehicles," Williams points out. "Vehicles that can run."
The inmates are paid minimum wage, less 25 percent that goes back to the prison to cover "room and board," and 5 percent to the state's victims' assistance program.
Inmates typically send some money home to family, and spend some in the prison's commissary for snack foods or toiletries. Whatever they don't spend, they get to keep when they're released.
The point, though, isn't to make money. The program essentially supports itself.
In the end, prison officials say, the point is to teach inmates a skill they can use on the outside.
Williams says 95 percent of the inmates in his prison will be released some day. If the men can't get a job and find a place to live when they do get out, they're highly likely to commit another crime and end up back inside.
And they do learn skills. From engine work to body work to upholstery, the inmates do almost everything in rehabilitating the old cars.
"They all work to get into (the program)," the warden says. "It's a popular program. They're not just idle, sitting around thinking of things to do."
MAKING CHOICES
The shop looks like any other auto shop. Cars here and there, in various states of dismemberment.
There's an old Corvette in the back, a couple of classic Mustangs, an Andy Griffith-style Ford Tudor sedan, which is getting some work done right now.
The thing is in pieces. It's been painted black, but that's not enough. The hood has been removed, and it's sitting on a metal rack so an inmate can wet-sand it.
The inmate is 49 years old and has been inside for 21 years. He says he's serving life without parole for murder.
He bends over and sands some more, then douses it with more water. He has his dreadlocks pulled up on top of his head, with a rubber band to keep the hair out of his face.
"As frustrating as it is," he says, "it's soothing too."
In the back, another inmate is working on a 1966 Pontiac GTO that's been almost completely rebuilt from the ground up. It came in so rusted out they had to fabricate a whole new floorpan.
He has been in the program a year and a half, he says. He used to work in the welding shop, so he knows his way around a hunk of steel.
He was 16 when it happened. Murder. He's been in for 15½ years, he says, and is looking at life without parole.
But he's hopeful that his good behavior and his participation in the program will mean something someday. Either way, though, he comes out ahead.
"I either do good or I do bad," he says. "I still get to choose."
Contact reporter Richard Lake at rlake@reviewjournal.com or 702-383-0307.