International electric company is first big sponsor for MGM's Las Vegas arena
February 10, 2015 - 9:46 am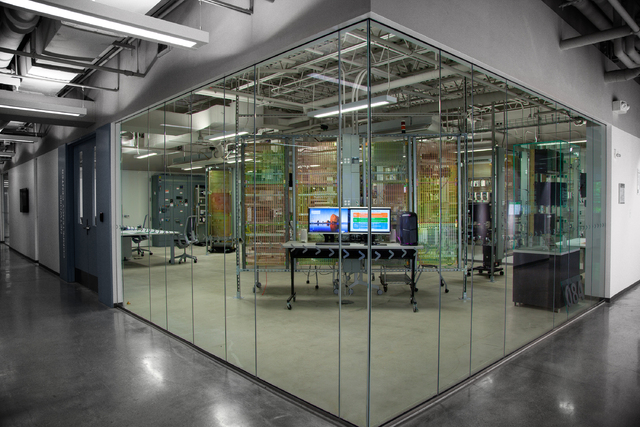 The new arena on the Strip is more than a year way from opening, but it has landed its first major sponsor — a global brand name unusual for a big-time sports and entertainment facility.
Schneider Electric, the Paris-based energy management company that will create the arena's power system, has signed a multi-year deal to become a "founding partner" for the $375 million, 20,000-seat venue being developed by MGM Resorts International and Anschutz Entertainment Group.
Founding partnerships are among the biggest sponsorship moneymakers for MGM-AEG, trailing only the sponsor that will pay for the building's naming rights. MGM-AEG and Schneider Electric declined to divulge the exact fiscal terms, but it's at least seven figures for a year, and founding partner deals range from three to 10 years.
Schneider will design, install and operate technology-based systems throughout the arena being built on 16.5 acres behind New York-New York on the north side of Tropicana Avenue. Those systems include lighting, electrical infrastructure, security, heating and air conditioning and metering for gas, water and power.
"This is a unique energy category not mined as much in our (sports sponsorship) industry," said Nick Baker, AEG senior vice president of global partnerships.
Schneider Electric, with 150,000 employees worldwide and $25 billion in annual revenue, was a title sponsor of the Paris Marathon but has not otherwise invested much in sports sponsorships, said Chris Hummel, Schneider Electric global chief marketing officer.
It was time to change that, he said.
The MGM-AEG arena offers a good opportunity for a global brand such as Schneider Electric because MGM and AEG own international properties, which potentially could cultivate business growth through networking, he said.
"We are looking for living references," Hummel said. "You have a situation where an arena is being built from the ground up and where the owner and occupant are committed to sustainability, which is one of our core principles."
The arena likely will have as many as 10 founding partners. The business model involves a limited number of major sponsors with comprehensive, tailor-made marketing opportunities in the building rather than getting many sponsors in less lucrative arrangements.
It's the same sponsor strategy at work at Staples Center, the Los Angeles arena also owned by AEG at LA Live.
"Less is more for the consumer/fan and also the sponsor himself," Baker said. "Capping it at 10 founding partners allows each sponsor to carve out their own niche on what they're trying to accomplish in the arena."
Baker acknowledged that Schneider Electric is hardly a brand name in the sports sponsorship industry.
"It's not a traditional marketer," Baker said. "This is their biggest statement in the States. It speaks to Las Vegas as a city, to the tourism and foot traffic, and speaks to our project. We challenge ourselves to find those new companies."
Schneider Electric plans to showcase its products and services at a kiosk on the main concourse, Baker said.
The arena is scheduled to open in either April or May of 2016, and will host more than 100 events annually.
Contact reporter Alan Snel at asnel@reviewjournal.com or 702-387-5273. Follow him on Twitter: @BicycleManSnel

The AEG-MGM arena project
More coverage
Complete coverage of the various stadium and arena proposals.