Journalists who covered sale of Review-Journal receive ethics award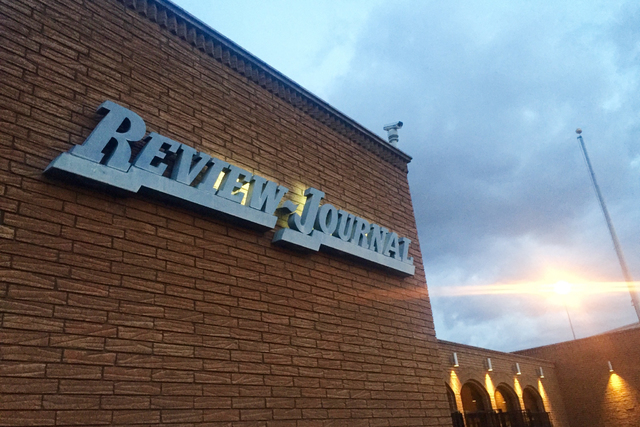 The Society of Professional Journalists announced Wednesday that it has bestowed one of two 2015 Ethics In Journalism Awards to a group of seven journalists who covered the December sale of the Las Vegas Review-Journal.
Four former Review-Journal reporters, two former editors, a former columnist and the newspaper's current managing editor were cited for their news coverage that divulged the family of casino owner and developer Sheldon Adelson as the new owners of the paper.
"Review-Journal journalists didn't waver in their exposé and related coverage," according to a statement released by the journalism organization.
Former Review-Journal reporters James DeHaven and Eric Hartley had announced they were leaving before they were assigned to the story. All of the other journalists involved in the coverage, except then-editorial page editor Glenn Cook, later left the paper for other endeavors. Cook is now the paper's managing editor.
The other former RJ journalists receiving the award are Jennifer Robison, Howard Stutz, John L. Smith, Mike Hengel and James G. Wright.
Former Bristol Press reporter Steve Majerus-Collins, who was linked to the Review-Journal through a shell company set up during the purchase, also is a recipient of the award. Majerus-Collins quit his job at the Connecticut newspaper "out of disbelief that his employer had played a role in unethical dealings happening in Las Vegas," according to the Society of Professional Journalists.
The Review-Journal is owned by a limited liability corporation owned by the family of Sands chairman and CEO Sheldon Adelson.
Contact Kimber Laux at klaux@reviewjournal.com or 702-383-0283. Find @lauxkimber on Twitter.
RELATED
RJ wins ethics award for reporting on newspaper's sale
Adelson son-in-law orchestrated family's purchase of Las Vegas Review-Journal
Unidentified buyer paid $140 million for Las Vegas Review-Journal
Las Vegas Review-Journal sold to News + Media Capital Group LLC