Judge throws out contempt charge against handcuffed public defender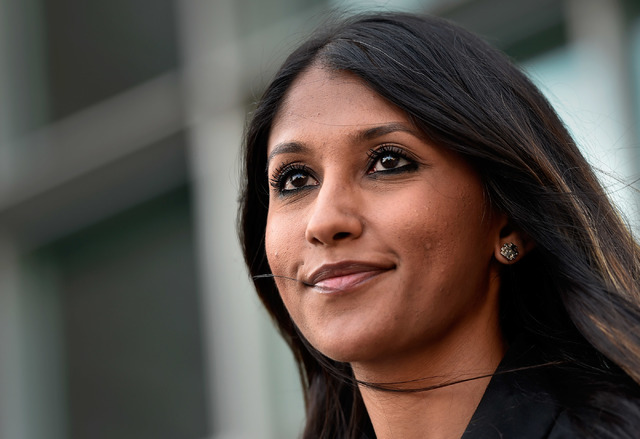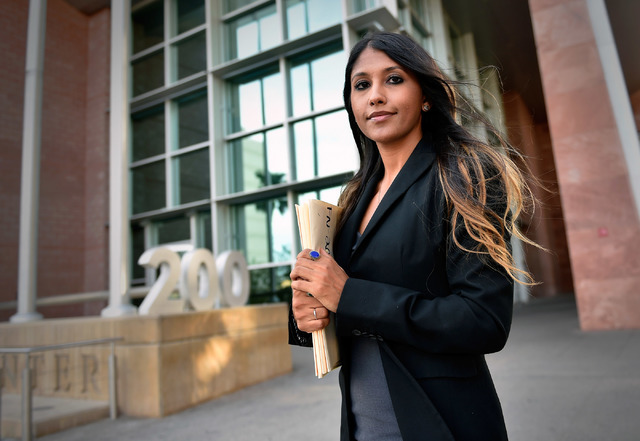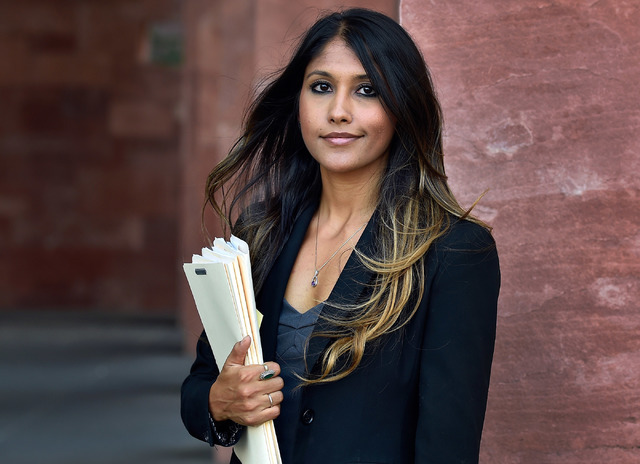 A Clark County district judge on Tuesday overturned the contempt finding against Zohra Bakhtary, a deputy public defender who was handcuffed in court on the orders of Las Vegas Justice of the Peace Conrad Hafen.
Bakhtary, who moved to Las Vegas as a teenage refugee from Kabul, Afghanistan, later said she was relieved to have the controversial hearing behind her, but the "shock" of being handcuffed in court was something she will never forget.
After leaving the war-torn nation, Bakhtary said, she sought a law degree to help those who might otherwise be unrepresented.
"It was my dream to live and work in a country that embraces people's civil and constitutional rights," she said. "That is precisely why I chose to work as a public defender. I have a great deal of respect for this country's criminal justice system and an accused's right to effective assistance of counsel."
Bakhtary's attorney, Dominic Gentile, said Hafen had confused Bakhtary's "zealous defense" with obstruction of justice, and she was never given the opportunity to speak on her own behalf.
Nick Crosby, a lawyer representing Hafen, argued that attorneys should uphold a professional demeanor in court, speak in their own time with relevance and moderation, and allow the court to do its job without interference.
After Hafen ordered a court marshal to handcuff Bakhtary on May 23, she was left to sit silently, while her client was sent to jail for six months on a larceny charge.
In his contempt order, Hafen wrote that Bakhtary displayed "disorderly, contemptuous or insolent behavior" and that he had "asked defense counsel on numerous times/occasions to not interrupt" him while he was issuing his decision.
Bakhtary, 30, has said she was not trying to argue with the judge. She was released from the handcuffs after about three minutes, after the judge declared that she had "learned a lesson."
Throwing out the contempt charge, District Judge Gloria Sturman ruled that Bakhtary was denied due process and not allowed to speak in her own defense or call her supervisor before a marshal handcuffed her and placed her in the jury box of the courtroom.
In response to Sturman's ruling, Gentile said, "At a minimum, it means that judges need to understand that they themselves may not like what a lawyer is doing, but that does not mean that they can capriciously and arbitrarily hold them in contempt. It also means that lawyers have a duty to zealously represent their clients. And sometimes that means standing up to a judge that's wrong.
"Zohra exemplified what it means to be a zealous advocate. She really establishes herself as a model for standing up when you have to, even at a personal cost, such as this was to her."
Bakhtary, who called being handcuffed in court "humiliating," has not appeared before Hafen since the incident. Her client at the time, Daniel Fernandez, was later released from jail after another judge ordered the larceny case closed.
"The court's constitutional duty is to listen to arguments, not silence them," Bakhtary said. "While this act of physical restraint did not diminish my passion and devotion to continue to represent the indigent, it was extremely disturbing that the court continued to sentence my client without an attorney after having violated his right to counsel."
Contact David Ferrara at dferrara@reviewjournal.com or 702-380-1039. Find @randompoker on Twitter.