Jury convicts man in Las Vegas double murder
November 6, 2014 - 7:34 pm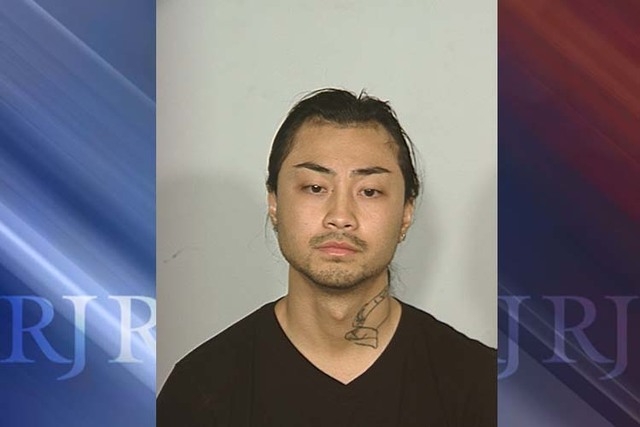 A 29-year-old Las Vegas man was convicted Thursday in a double-murder prosecutors said was carried out inside a central valley apartment five years ago.
Ralph "Macky" Jeremias started weeping from the defense table even before a clerk read the verdict.
When he learned that the jury had convicted him of two counts of first-degree murder along with robbery and burglary charges, Jeremias removed his glasses and buried his face in his hand.
"I didn't do this," he said. "I didn't kill anybody."
Paul Stephens and Brian Hudson were found shot to death in June 2009 inside their Polo Club apartment on Decatur Boulevard near Flamingo Road. Their relatives wiped tears from their eyes as the clerk announced that the defendant was guilty of all charges.
Jeremias, who has the words "only I can save myself" tattooed on the left side of his neck, faces the death penalty at a hearing slated for this morning.
Outside of court, Jeremias' stepfather, Gordon Daniel, said he thought there were too many holes in the case for a conviction.
"I don't think they considered reasonable doubt at all," Daniel said of the jurors. "I really didn't think it was going to come out this way."
On Wednesday, prosecutors said Jeremias used a 9 mm handgun to shoot and kill the two men execution-style. Jeremias had purchased marijuana from Stephens and wanted money and laptops in their apartment.
From the witness stand, Jeremias said he went to the apartment complex with friends Carlos Zapata and Ivan Rios to buy marijuana. Both Rios and Zapata told investigators that Jeremias went inside alone with a gun and shot each victim multiple times.
About a year after their arrests, Zapata made a deal with prosecutors and pleaded guilty to two counts of second-degree murder, one count of robbery and one count of conspiracy to commit robbery. In exchange, he agreed to testify at Jeremias' trial.
In 2012 Rios was acquitted of murder and robbery charges.
Jeremias's defense lawyer, Charles Cano, called Zapata a "self-serving liar" who tried to conceal his connection to the killings.
Prosecutor Sonia Jimenez said Stephens and Hudson let Jeremias into their apartment because they knew him. Once inside, Jeremias made an excuse to use the bathroom. He took five deep breaths, stepped back into the living room and shot the two, she said.
At trial, Jeremias took the stand and told jurors that he walked into the apartment and found the victims already dead from gunshot wounds.
Authorities don't believe him.
"It's just not reasonable that anyone would walk in on their friends dead and not call police," Jimenez said. "He made the plan to kill Brian and Paul so there wouldn't be any witnesses."
Jeremias said he arrived at the apartment in a drug-induced high, knocked on the door and "it popped open."
He called for Stephens, noticed his body on the couch and spotted blood.
"It was just something I never expected," he told jurors as he began to cry.
Jeremias said he grabbed marijuana from a kitchen counter and a nearby wallet, then took a pair of laptops and left the apartment. "I don't know what I was thinking," he said.
Cano asked whether he shot the victims.
"I didn't kill 'em," Jeremias said, weeping. "I didn't kill 'em, man."
He looked toward the courtroom gallery.
"I didn't kill your kids, man. I just want to tell the parents, the family. I didn't kill your kids, man," he said.
He said he ran back into the car with Rios and Zapata and told them "those dudes are dead. Look, I got their stuff."
Contact reporter David Ferrara at dferrara@reviewjournal.com or 702-380-1039. Find him on Twitter: @randompoker.
RELATED
Jury acquits man charged with murder in 2009 slayings