Kidnapper released to Las Vegas, ordered to stay away from Wynn family
February 9, 2015 - 9:16 pm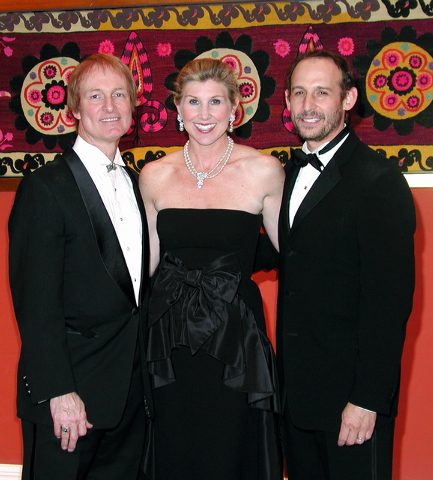 More than 20 years ago, Ray Marion Cuddy was convicted of kidnapping the daughter of casino mogul Steve Wynn following one of the more sensational criminal trials in Las Vegas history.
Now, at age 69, the former circus performer and health club manager is back in Las Vegas, presumably at a federal halfway house where he awaits a March 11 release from custody.
The U.S. Bureau of Prisons wouldn't confirm Monday whether Cuddy is staying at the Las Vegas Community Correctional Center, the city's only federal halfway house, just off the Strip behind Circus Circus. But in recent court papers, U.S. Probation Officer Todd Fredlund said Cuddy is under federal supervision in Las Vegas.
At Fredlund's request, Senior U.S. District Judge Lloyd George last week filed an order barring Cuddy from any direct contact with the daughter, Kevyn Wynn, or her family during Cuddy's three-year period of supervised release.
"The victim and her family were significantly impacted by the actions of the offender and his co-defendants," Fredlund wrote in his court papers. "In light of the egregious conduct, and the fact the offender has returned to the community where the victim's family resides, a condition prohibiting the offender from having any contact with the victim or the victim's family is warranted."
Fredlund, who did not return phone calls Monday, gave the court Cuddy's signed agreement to stay away from the Wynns.
Cuddy can't come within 500 feet of the Wynns' homes or businesses and must spend six months at a federal halfway house before living on his own, according to George's order.
Neither Steve Wynn nor Nevada U.S. Attorney Daniel Bogden would comment on Cuddy's pending release.
But attorney Mitchell Posin, who defended Cuddy during the high-profile trial before George, said he doesn't see Cuddy as a threat to the Wynn family.
"He had no malice toward them," Posin said. "This was all business for him. I sure don't see him as any danger to the Wynns."
In May 1994, a federal jury convicted Cuddy and an accomplice, Jacob Sherwood, of extortion, money laundering and other charges stemming from the kidnapping. Records show Sherwood was released from prison in 2010. A third accomplice, Anthony Watkins, cooperated with authorities and was sentenced to 6½ years in prison in 1994.
On the night of July 26, 1993, the kidnappers abducted Kevyn Wynn, then 26, at gunpoint from her Spanish Trail condominium. She was bound, her eyes were taped shut, and she was forced to pose for photos in her underwear, according to news reports.
The kidnappers threatened to make the photos public if her father called authorities.
Wynn paid the $1.45 million ransom with cash from the casino cage at The Mirage, then his flagship resort
After dropping off the money in the parking lot of Sonny's Saloon a block from The Mirage, Wynn was told how to find his daughter at a parking lot at McCarran International Airport, where she was left bound but unharmed in the back seat of her Audi.
Wynn didn't report the kidnapping until after he paid the ransom, but he had one of the top private security forces on the Strip to help him through the ordeal, which lasted only a few hours. His security chief, the late James Powers, was a former special agent in charge of the Las Vegas FBI.
FBI agents alerted by Wynn arrested Cuddy a week later at a luxury car dealership in Newport Beach, Calif., as he was paying a $70,000 installment on a $183,000 Ferrari. The other two kidnappers were arrested a month later.
Both Kevyn and Steve Wynn testified during the trial.
The younger Wynn described on the witness stand being grabbed in her kitchen by two masked men late in the evening and being posed and photographed with her eyes covered by captors she couldn't see.
"I thought I'd take off my clothes and I'd be raped," she testified. "I said, 'Please don't hurt me. Please don't hurt me.' … I was shaking. I was petrified."
Steve Wynn testified that he was "frightened beyond description and very confused," as he dealt with the kidnappers.
After the trial, the Wynns did their best to move on with their lives, while Cuddy spent the past two decades behind bars.
In requesting the changes for Cuddy's supervised release, Fredlund told George that Cuddy "is without financial resources and support to secure an appropriate release address" and that he should be kept in the halfway house for six months to give him time to find a residence here.
Fredlund said a Bureau of Prisons report on Cuddy concluded that he was a daily user of alcohol, cocaine and hallucinogenic drugs at the time of the kidnapping. The release conditions include regular drug and alcohol testing.
"This information is contrary to what Cuddy divulged to the probation office when interviewed for his pre-sentence report," Fredlund wrote. "Cuddy at the time reported substances were not a problem and that he had experimented with marijuana on one occasion."