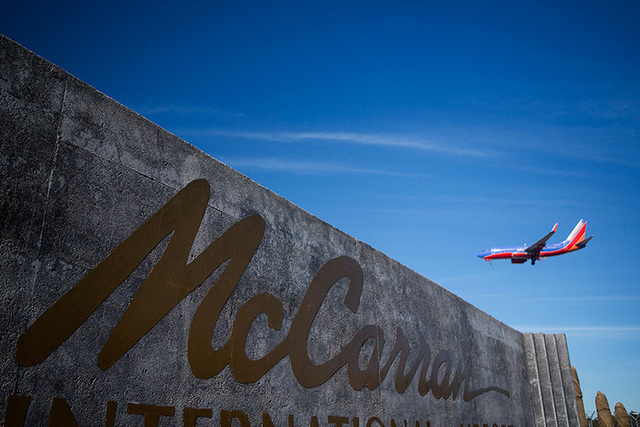 A judge in Alaska is expected to decide whether a Las Vegas man can be released from federal custody while he awaits charges in connection with smuggling more than 20 pounds of cocaine through McCarran International Airport.
Dewane E. Blue, 37, is accused of using his job as a baggage handler to bypass security and help bring cocaine into the airport to have it delivered to Alaska and other states.
During a detention hearing in Las Vegas on Thursday, U.S. Magistrate Judge George Foley Jr. decided that Blue could be released, but the judge postponed the release until a ruling on Blue's custody is made by a court in Alaska, where the case will be tried.
Prosecutor Frank Russo said Blue played a significant role in the smuggling operation, helping bring cocaine into the airport as early as 2012.
Blue worked for U.S. Airways for 10 years before he was fired amid the investigation, according to his attorney, Chris Rasmussen, who said he expected Blue to be detained in Alaska.
Rasmussen argued that Blue would not be able to keep in contact with his family, some who appeared in court Thursday, if he were held until trial.
"It's almost another planet," Rasmussen said.
According to an indictment unsealed in Alaska, Blue was charged with Darren D. Cole, 47, and Bryan M. Bledsoe, 36, with conspiring to smuggle 5 or more kilograms of cocaine between Las Vegas and Alaska.
Bledsoe, an airport baggage handler for 17 years, was released from federal custody Wednesday.
Inside a men's room at the airport, the drugs were transferred to Cole and other travelers, who would fly to Alaska and other states to distribute the cocaine, according to the indictment. Cole would mail cash payments to Blue and others in the operation, the indictment said.
In the investigation, federal authorities seized more than $400,000, a 2007 Cadillac Escalade, a 2006 BMW and a 2010 Mercedes Benz.
With the BMW that was seized, Blue also had three other vehicles in his name, Russo said, arguing that he enjoyed the "trappings of a lifestyle facilitated by drug trafficking."
U.S. Drug Enforcement Administration agents began monitoring Bledsoe in May, McCarran officials said.
The trio is linked to at least six instances of smuggling between March 2012 and June 2014, according to the indictment.
Cole, who was in custody in Anchorage, Alaska, was arrested June 1, when authorities seized 10 kilograms of cocaine before he got on a flight. Authorities in Las Vegas arrested Bledsoe on Tuesday and Cole on Wednesday.
Russo said Bledsoe told authorities that he helped bring luggage into the airport at least three or four times without knowing what was inside.
On Wednesday, Foley ordered Bledsoe released with supervision and restricted his travel to within Clark County and to Alaska for court appearances.
The maximum penalties for the charges are up to life in prison, a $10 million fine and five years of supervised release.