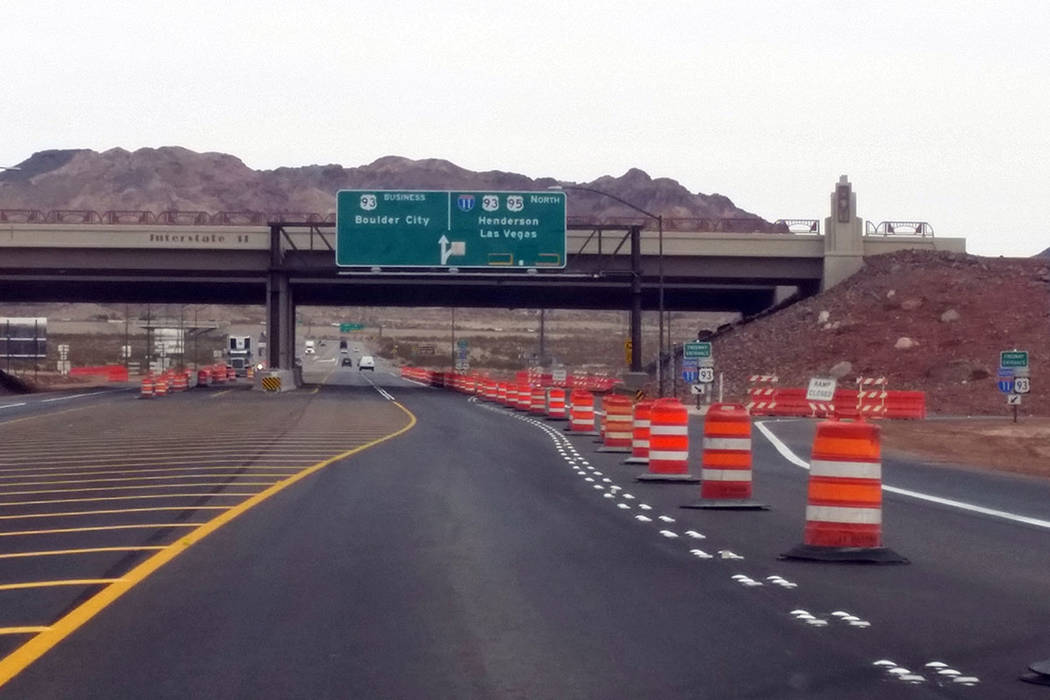 Bicyclists will rule the road on Saturday morning, when just about anyone will be allowed to pedal along most of Interstate 11 before it opens to vehicle traffic.
Motorists won't be allowed to travel along I-11 until Aug. 9, but bicyclists will be allowed to access the country's newest interstate from 6 to 9 a.m. during an event sponsored by the Southern Nevada Bicycle Coalition.
"This is going to be the only time that we're allowed to bike on this portion of Interstate 11, so it's really an opportunity of a lifetime," said Keely Brooks, president of the Southern Nevada Bicycle Coalition. "People will get to take pictures from unique scenic points while promoting a healthy activity."
Registration starts at 6 a.m. at Veterans' Memorial Park, 1650 Buchanan Blvd. in Boulder City. From there, cyclists will travel toward I-11 and enter the freeway through a service entrance.
Bicyclists will be able to travel downhill toward the Colorado River, but should be aware that pedaling back uphill will be a fairly steep climb for inexperienced riders, Brooks said. A support vehicle will travel along the route to assist bicyclists in distress.
The cost is $20 to participate, with funds going toward the Southern Nevada Bicycle Coalition's safety advocacy campaign.
As the newest addition to the federal interstate system, I-11 signals the start of a freeway project that's expected to someday serve as a major trade route linking the United States, Canada and Mexico.
For now, the new four-lane highway — known as the Boulder City Bypass — is expected to reduce travel times by up to 30 minutes by the time traffic starts flowing between Henderson's southern border and the O'Callaghan-Tillman Bridge downstream from Hoover Dam.
The $318 million freeway segment, funded by federal and state money along with Clark County's fuel indexing tax, started construction in 2015 with work split between the Nevada Department of Transportation and the Regional Transportation Commission of Southern Nevada.
NDOT's 2 ½-mile concrete segment of I-11 opened in late May. The RTC plans to open its 12 1/2 -mile asphalt section of the freeway on Aug. 9, allowing drivers to bypass Boulder City on the way to the Hoover Dam.
Contact Art Marroquin at amarroquin@reviewjournal.com or 702-383-0336. Follow @AMarroquin_LV on Twitter.
Related
Public meetings on future of I-11 to be held in 7 Nevada cities
NDOT looking at options for path of Interstate 11