Las Vegas children study birds on Migratory Bird Day
November 21, 2017 - 7:32 pm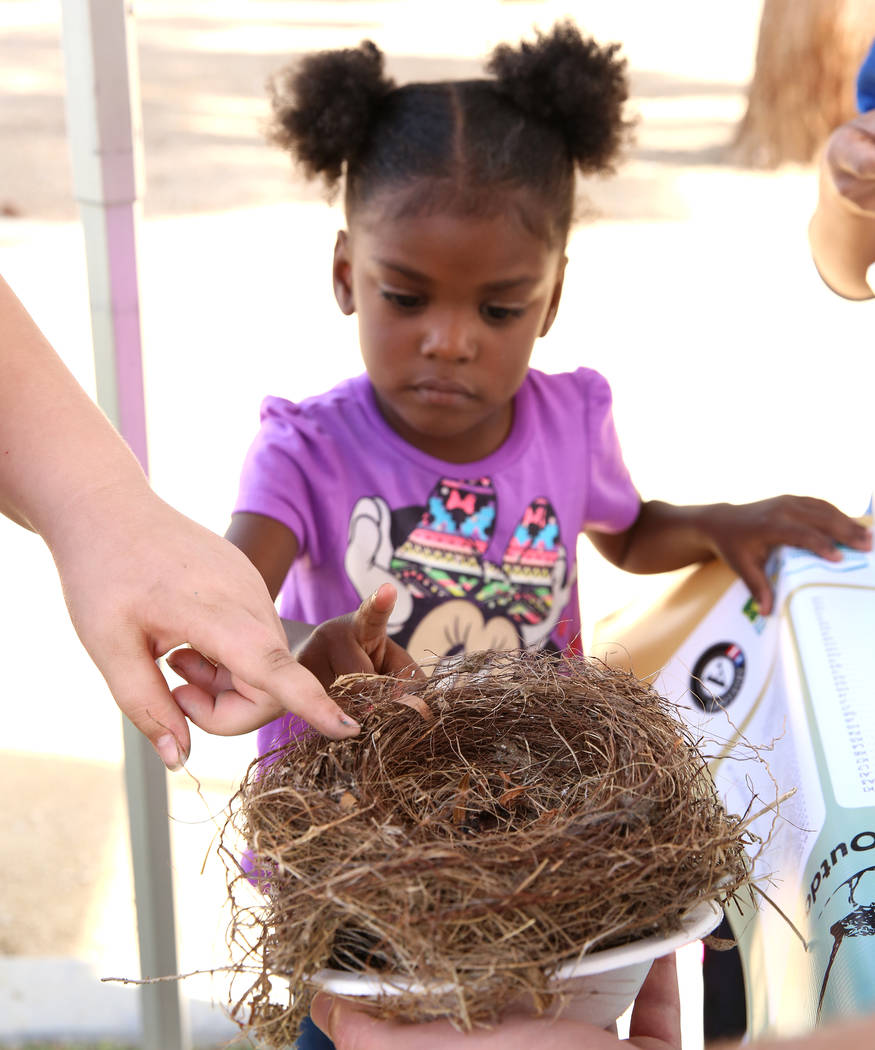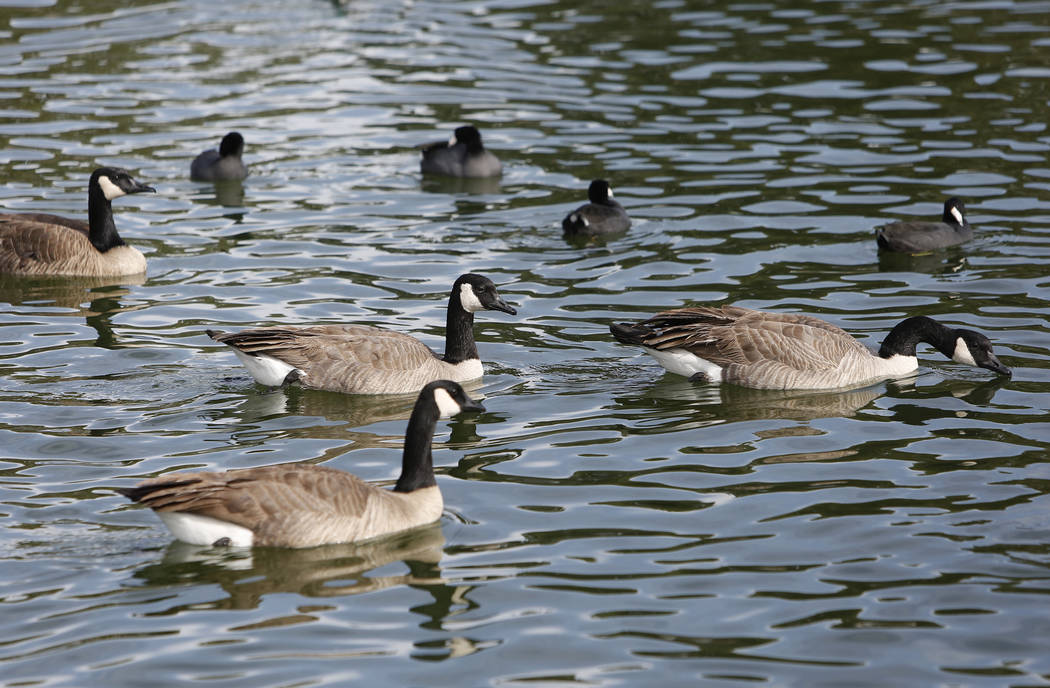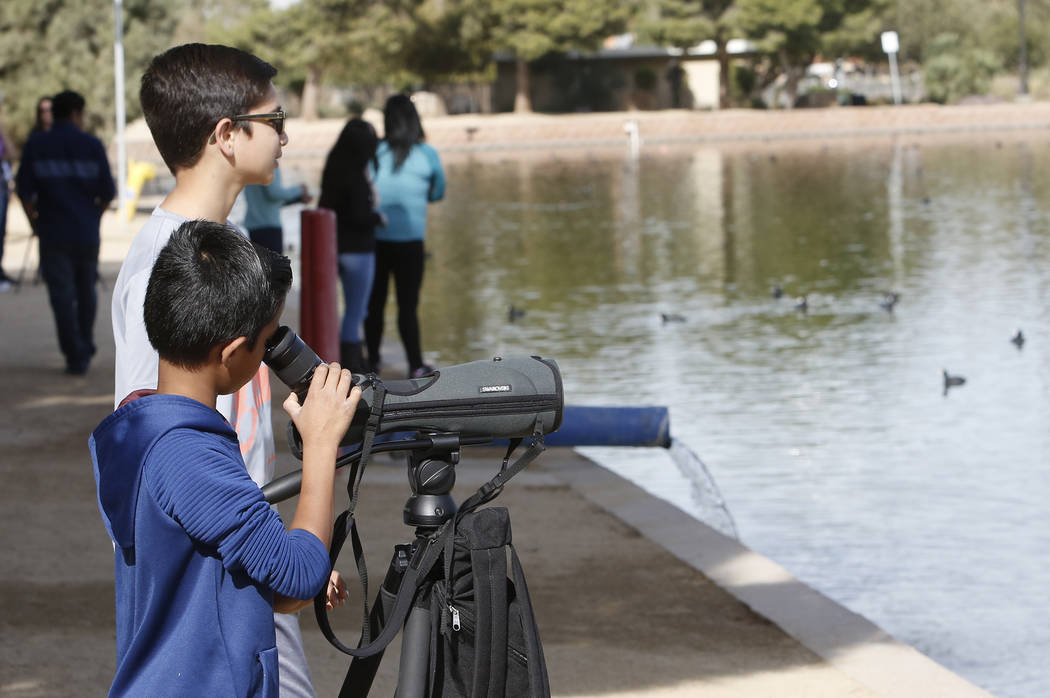 Keigan Gray's bird study started with a wing and a stare.
Keigan, 8, studied a fork-tailed flycatcher Tuesday at Sunset Park Lake and then used a black magic marker to draw what he saw on a white T-shirt.
The flycatcher appealed to him more than the scissor-tailed flycatcher depicted in an elaborate drawing nearby.
"This is just a plain old owl," he said.
Keigan and about 30 other local children gathered at Tuesday's International Migratory Bird Day event, a collaboration by the Clark County Parks and Recreation Department and local environmental groups to teach children about bird migration. Sunset Lake, a rest stop for migrating birds, was an appropriate site.
Experts showed children different bird eggs and nests, led games and passed out coloring books with pictures of birds.
"We want to teach kids about allowing migrating birds to be wild," said CrystalauraJackson, Clark County Parks and Recreation cultural specialist. "And just to appreciate."
Along the lake, redhead ducks, Canada geese and American wigeons made ripples in the water, spreading their wings in pursuit of dropped bread.
After drawing birds, the kids played a game in which they pretended to be them. Clark Singleton, 6, spun a spinner to determine what sort of bird he was. Then he rolled a die.
He was caught by researchers and tagged. Jackson tied a blue string to his wrist. He got caught in a storm and needed to seek shelter. On his last roll of the die, he was killed with a BB gun.
"This is a sad game," his dad, O'keeya Singleton, said.
Jackson said, "Migrating is a difficult, dangerous journey for the birds."
Sometimes the kids saw birds up close. Leonard Warren, from the Nature Conservancy, held a Nevada hummingbird for the kids, describing how the sun gave its coat a purple hue.
"It's only what we perceive as purple," he said.
Nathan Lenon, a biologist with the federal Bureau of Reclamation, helped a little girl with pigtails and big, black sunglasses look for birds through binoculars. She squinted as she saw the white barnyard duck dip his head in the water, shake it and emerge with a sort of avian afro.
Because birds don't migrate in unison, International Migratory Bird Day is celebrated on different days across the Western Hemisphere. On March 28, at Wetlands Park, visitors will celebrate migrating again, with a 7 a.m. walk to look at the birds.
Contact Briana Erickson at berickson@reviewjournal.com or 702-387-5244. Follow @brianarerick on Twitter.
More about International Migratory Bird Day:
The day is a collaborative effort with Clark County Parks & Recreation, Red Rock Audubon Society, Henderson Bird Viewing Preserve, Las Vegas Wash Coordination Committee, Bureau of Reclamation Lower Colorado River Multi-Species Conservation Program, Bureau of Reclamation, Nevada Department of Wildlife, US Fish and Wildlife Service Junior Duck Stamp Program, The Nature Conservancy, Outside Las Vegas Foundation, and birdandhike.com.
For more information visit http://birdday.org/