Las Vegas dentist dies 6 months after husband killed in cycling crash
October 22, 2017 - 7:52 pm
Updated October 22, 2017 - 11:44 pm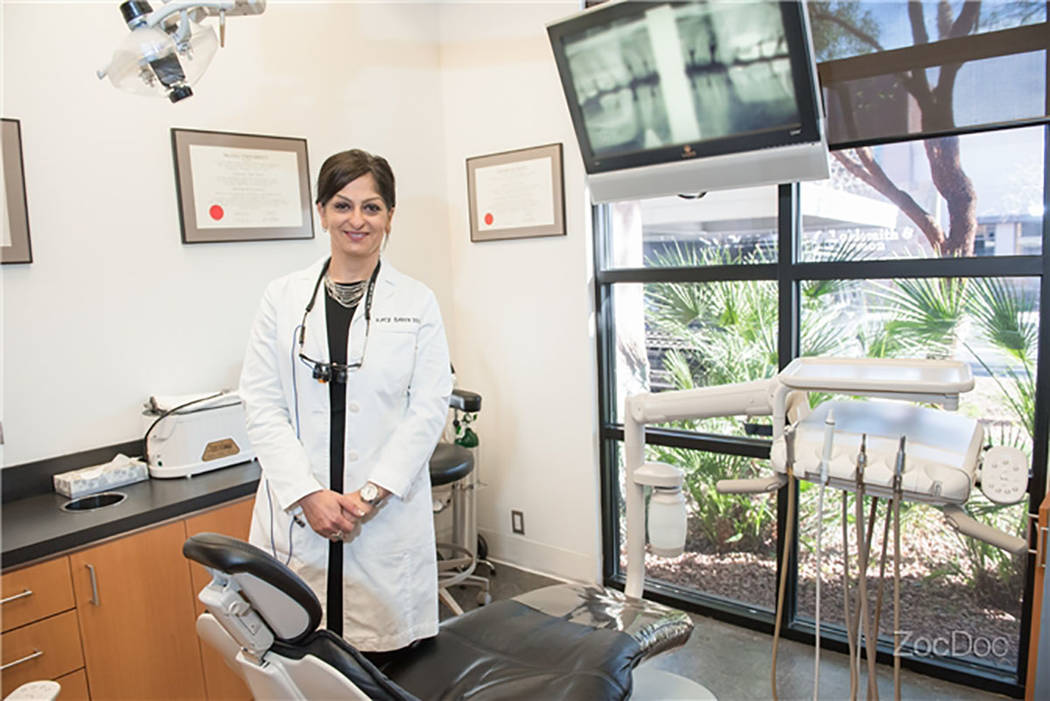 One tragedy compounded another this month when Dr. Katayoun "Katy" Barin died after battling colon cancer. Just six months earlier, her husband, Dr. Kayvan Khiabani, had died in a bicycle crash.
Early on Oct. 12, her family said in her obituary, Barin "peacefully returned to the loving arms of her eternal love and soulmate." She is survived locally by the couple's sons, Keon, 14, and Aria, 16.
Barin, the daughter of Parvin and Dr. Habib Barin, was born in 1969 in Iran. She spent her childhood in England and France, later immigrating with her family to Canada, where she obtained both her Bachelor of Science degree in anatomical science and dentistry degree from McGill University in Montreal.
The 48-year-old dentist was well-known both in Las Vegas and the larger dentistry community. Her 10-year-old practice, NEA Dentistry, is on Village Center Circle in Summerlin, but she was also licensed to practice in California and Quebec.
Barin and Khiabani met nearly 30 years ago in Quebec when the two were medical students at McGill University. They were married for 18 years.
"He cared very passionately about his patients," Barin said of her husband in April. "He always explained everything medically and tried to hold their hand emotionally as much as he could."
Barin's patients and staff shared the same sentiments about the dentist.
"As her dental team in the office, words cannot express how much we loved her and will miss her," NEA Dentistry said in a Facebook post Oct. 16, breaking the news of her death to Barin's patients. "Being near her patients gave her strength to draw on and lifted her spirits. Her practice was a physical manifestation of her life's work, and therefore, one of her greatest joys."
According to her staff, as Barin focused on recovery and spent less time in the office, she worked to ensure her patients received the same quality of care and love she provided. Barin "handpicked" Dr. Luke Simonis, who she believed had a similar philosophy of care, clinical skills and compassion to carry on her practice.
On NEA Dentistry's Facebook tribute to Barin, one of her patients, Kristina Brown, said Barin was a wonderful doctor and "had a way to make you feel so at ease."
Another patient, Michelle Barney, said Barin will be remembered for her caring and her thoughtful, reassuring voice.
Jennifer Doran of Montreal, Barin's former colleague, wrote in the online obituary guestbook: "I have very fond memories of working with Katy in Montreal years ago … Such a kind sweet and loving soul."
Deena Sacks and Terry Creatchman of Hamilton, Ontario, wrote, "Katy was so special. We were privileged to have met her so many years ago."
Outside of her work and professional life, Barin's family said she was an avid traveler and runner, whose "heart and hands always moved with purpose and direction, guided by a desire to do good." To help others battling cancer, she signed up for the Colon Cancer Coalition's Sept. 23 Get Your Rear in Gear race in Las Vegas. In 2011, she donated to a Dance Across America event hosted by the Andrea Rizzo Foundation, which raises money to help children with cancer.
"Her contagious laugh, her radiant smile and her love for life left an indelible mark on all those that she met," Barin's obituary said. "Katy led a life of great serenity, determination, grace and courage, which she demonstrated until the very end of her life."
Khiabani died while cycling near Red Rock Resort in April. He served as the head of hand and microsurgery at the University of Nevada, Reno, School of Medicine and chief of hand surgery at University Medical Center, where he died.
Before the crash, Khiabani was cycling south in the bike lane on South Pavilion Center Drive, near West Griffith Peak Drive, police said.
Khiabani was cycling parallel to a Motor Coach Industries bus when he appeared to accidentally veer left, witnesses told police. The quick move caused him to bump into the bus's passenger side, then dip into the vehicle's path.
Barin, her sons and Khiabani's estate are named as plaintiffs in a liability and personal injury lawsuit against Motor Coach Industries and several others filed Oct. 17 in District Court.
In 2004, the Las Vegas Review-Journal detailed Khiabani's meticulous reconstruction of the hand of 4-year-old Hannah Dietrich, which was damaged when her 5-year-old brother accidentally shot her. Barin said Khiabani kept in contact with the family and met with Hannah, who is now 17, a few months before his death.
Barin's body will be laid to rest in Montreal. She will have memorials in Las Vegas and Montreal.
"A bright light in this world and a wonderful mother is gone," Lois Barin wrote in the condolence section of Barin's obituary.
Contact Matthew Crowley at mcrowley@reviewjournal.com. Follow @copyjockey on Twitter. Contact Rio Lacanlale at rlacanlale@reviewjournal.com or 702-383-0381. Follow @riolacanlale on Twitter.
Local service
A memorial service for Katayoun "Katy" Barin is set for 3 p.m. Nov. 4 at St. John the Baptist Greek Orthodox Church, 5300 S. El Camino Road.