Las Vegas looks at sales-tax district to build soccer parking garage
December 7, 2014 - 7:57 pm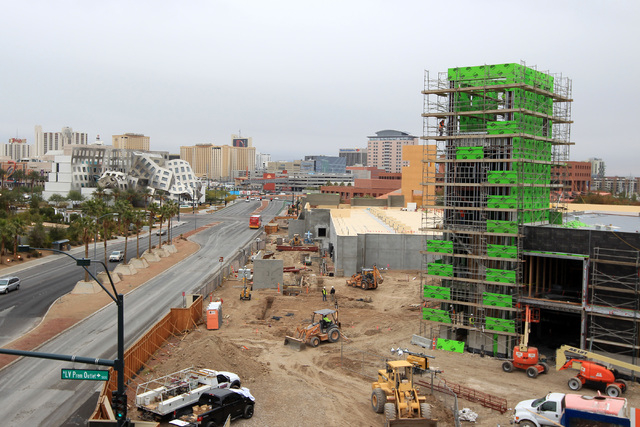 Las Vegas' push to land a Major League Soccer franchise could hinge on a lot of empty dirt.
The latest iteration of a controversial plan to build a 24,000-seat, $200 million downtown soccer stadium features a parking garage funded by $20 million in Sales Tax Anticipation Revenue, or STAR, bonds — debt Las Vegas would have to pay back through taxes collected within a proposed Symphony Park-area tourism improvement district unveiled by city leaders Wednesday.
None of the businesses expected to collect those district tax dollars have opened their doors. Only one, a 34-store expansion at Las Vegas Premium Outlets North, is expected to do so anytime soon. None of the tax dollars collected by the outlets or any other district business would go directly into a soccer stadium, just the building of a parking garage-sized deal sweetener for the stadium's would-be developers.
It isn't unusual for a city to leverage future tax revenues to finance special tax district developments — that's what STAR bonds were made to do.
What's different about Las Vegas' tourism district-supported stadium bond is that the city already has shelled out more than $80 million in infrastructure improvements and tax incentives meant to spur development at Symphony Park, with only two nonprofit, nontaxpaying projects to show for it.
A city-commissioned tourism improvement district study reviewed by Las Vegas leaders last week assumes a head-spinning turnaround at the 61-acre former Union Pacific railroad yard, one that would see the completion of three casinos, some 1,800 residential units and 257,000 square feet of retail space by the start of 2016.
The 25-page study, co-authored by Sacramento, Calif.-based Civitas Advisors, predicts the city could collect up to $66.3 million in new sales and hotel taxes via the proposed tourism improvement district by 2020.
After years spent watching tumbleweeds blow across Symphony Park's spacious, well-groomed development parcels, Councilman Bob Beers has grown more than a little wary of such estimates.
"(The study) assumes that in two years we'll have three hotels operating on that (Symphony Park) footprint," Beers, a certified public accountant, said Dec. 1. "Almost 2,000 residential units, 250,000 square feet of retail, an average room rate of $90 with 85 percent occupancy.
"I think you could pick any one of those (assumptions) and call them fatally flawed in their optimism, which seems to be characteristic of the work that's been done as we've rolled along in this thing."
DEVELOPER COMMITMENTS NEEDED
Study co-authors at Civitas Advisors conceded development assumptions included in the report were "very aggressive." Civitas President John Lambeth couldn't say how much the company would have to revise down the report's $66 million tax revenue projections under more conservative economic forecasts.
None of Symphony Park's three major developers is contractually obligated to build in the area by 2016, Economic and Urban Development Director Bill Arent said.
Arent said most of the new revenue cited in the study is expected to come out of a near-finished 150,000-square-foot expansion at the Las Vegas Premium Outlets North.
He couldn't say when Symphony Park might realize the rest of its projected development potential.
Meanwhile, developers at CIM Group, the Los Angeles-based company behind the Downtown Grand, have decided to forgo city subsidies and forge ahead with private funding for planned retail and mixed-use developments near Stewart and Ogden avenues — home to the city's only other tourism improvement district.
Unless and until Las Vegas can get firm commitments from companies set to build in the city's second special tourism district, former Clark County finance chief Guy Hobbes worries the city could have trouble selling the millions of dollars worth of district-backed STAR bonds called for under its latest stadium proposal.
"It has to be realistic," he said of the tax district plan. "Whatever you say is going to be in there has to pass muster with the credit market.
"You, as a bondholder, are going to want to have some assurances that the plan is a sound plan with contractual agreements. If there aren't those assurances, it's going to be a tough sell."
Hobbes added that he would be "concerned" about the tourism district plan if he still worked at the county.
Leaders there stand to lose pennies on every purchase made in Las Vegas' proposed district, where sales tax revenues would be captured by the city and not redistributed to other municipalities via Nevada's statewide consolidated sales tax formula.
Tom Collins, one of seven Clark County commissioners set to take an advisory vote on the tax district proposal sometime over the next two months, said he would be wary of recommending anything that would take money out of the county's pocket by diverting C-tax revenues otherwise divvied up by the state.
"I don't see them getting any more money out of the county," Collins said. "They owe us enough as it is."
GROWTH STILL UNCERTAIN
City Manager Betsy Fretwell has said many Symphony Park developers are waiting to see "where the city ends up" in a three-way race to win the 24th MLS franchise.
That hints at a kind of a kind of chicken-and-egg conundrum: Does Las Vegas need tourism district-backed revenue bonds to help build a soccer stadium, or a soccer stadium to help drive tax revenue-generating development?
An internal copy of Symphony Park's "escrow closing matrix" obtained by the Las Vegas Review-Journal adds a little color to the question.
The matrix suggests it could take up to four years to close escrow on three park parcels planned for mixed-use development.
It also projects that building a soccer stadium could provide a boost to the groundbreaking date for a planned park entertainment district but no apparent effect on either of the hotel-casinos destined for Symphony Park.
Even the matrix's rosiest predictions don't see sales tax-generating residential and retail developments emerging in Symphony Park before January 2017, the same year MLS has said it wants an expansion franchise kicking around soccer balls in a new city.
All of which has County Commissioner Chris Giunchigliani worried.
Giunchigliani suspects the move is merely a way to help Las Vegas shore up $21 million in deficits run up by the city's redevelopment agency.
She, like Collins, wants to see a lot more work done on the city's tourism district proposal before handing it a clean bill of health.
"(A tourism improvement district) is harmful to the county because of the loss of tax dollars," Giunchigliani said. "You have to look at the overall picture: In a TID, the state loses money, the school district loses money, everybody but the city loses money.
"I think they have to be very cautious with it."
Fretwell did not return requests for comment on the city's escrow closing document.
City Council members have scheduled a public hearing on the proposed Symphony Park tax district at 9 a.m. Feb. 4.
Contact James DeHaven at jdehaven@reviewjournal.com or 702-477-3839. Follow @JamesDeHaven on Twitter.
HOW TOURISM TAX DISTRICTS WORK
Nevada's tourism improvement district law, adopted in 2005 as Nevada Revised Statute 271A, allows municipalities to create a special sales tax district to support the development of anything from an art project to a Major League Baseball stadium.
The law permits cities and counties to sell off debt associated with building district projects — or any "useful or desirable" developments meant to encourage the building of those projects — so long as the bonds are financed by tax revenues collected within the district.
It does not allow municipalities to use a tourism improvement district to help fund projects that also will receive redevelopment agency funding, part of the reason Las Vegas' proposed soccer stadium was not included within the boundaries of a tourism district proposal introduced to Las Vegas City Council members last week.
Only new businesses can be folded into such districts, which do not require the consent of district business owners. City leaders have to hold a public hearing and commission an independent outside feasibility study before creating a tourism improvement district. They also have to prove that tourists will pay a preponderance of new sales taxes collected within the district.
County leaders have 45 days to hold a public hearing of their own before city leaders can take a vote on the new tax district.
Tourism improvement districts don't raise sales taxes on district businesses, nor their customers, they simply divert sales taxes collected by those businesses to the municipality that creates the district. They can only be created within counties that are home to 700,000 or more residents.
LAS VEGAS REVIEW-JOURNAL