Las Vegas man gets prison in Egg & I crash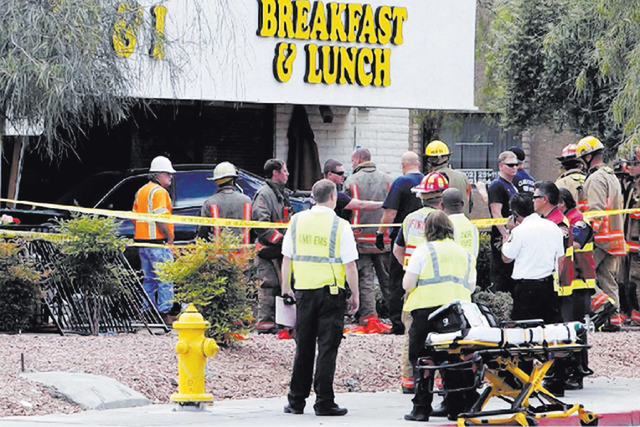 They heard the screech of tires and their mother yell "watch out."
In a flash, a black 1993 Lexus LS400 had pinned Jose Guzman up against a rail in the courtyard of the Egg & I restaurant.
His sister Beatriz Guzman remembered the blood that covered her 4-year-old nephew, trapped under the car, and her mother, who was having trouble breathing because she had suffered broken ribs. A restaurant chair that flipped over the elder Guzman's back prevented the Lexus from crushing her body, the Guzmans said. Broken glass and debris covered the patio.
"It sounded like a bomb went off," Jose Guzman said Thursday, more than a year after the crash. "It felt like a movie."
He was at a Las Vegas courthouse for the sentencing of Gage Lindsey, the Las Vegas driver who plowed into the restaurant and injured 10 people — including seven from the Guzman family.
District Judge Valerie Adair ordered Lindsey, who admitted to being under the influence of prescription drugs, marijuana and "spice," a synthetic form of marijuana, at the time of the crash, to serve six to 20 years in prison.
Lindsey was driving his mother's car at about 12:30 p.m. April 1, 2013, when he struck a median at Sahara Avenue near Decatur Boulevard, slammed into two other vehicles and crashed into the crowded restaurant.
Beatriz Guzman, of California, was visiting her brother for the Easter weekend. They had just ordered lunch but had not yet eaten.
The Lexus smashed through the restaurant's window, sending 10 people to the hospital, including four who were pinned under the car. The injuries ranged from minor to critical — both Jose and Beatriz Guzman walked away from the wreckage — and everyone survived. Other restaurant patrons stopped Lindsey and a passenger in his car as they tried to run away.
"It was a horrible, horrible moment," a sobbing Beatriz Guzman told Adair. "My family could have died."
Guzman chastised Lindsey for trying to flee the scene after the crash.
"You should have stood there," she said during the sentencing. "You hurt my family. You hurt innocent people."
Prosecutor Eric Bauman, who suggested a sentence of six to 18 years in prison, asked the judge to consider permanent "psychological trauma" experienced by "not just the people who were physically injured, but for everyone who had to witness this."
Defense attorney Sean Sullivan asked for a sentence of two to five years.
Choking back tears, Lindsey, now 20, apologized to the victims and said that he took responsibility for his actions.
The judge also ordered Lindsey to pay more than $2,000 in fines and $20,000 in restitution to the victims.
"These people were sitting in a restaurant, enjoying a meal, feeling that they were not in harm's way, and you showed them differently," Adair said. "So I think that this is way beyond your typical DUI."
Lindsey said he wanted to start working to "pay what I can" and that he wanted a chance to "prove myself, to live a better and more positive life through a clean mind and a new set of eyes." He was given credit for 486 days served in the Clark County Detention Center.
Earlier this year, Lindsey pleaded guilty to two felony counts of driving under the influence and causing substantial bodily harm.
"I thank God every day that I didn't take anybody's life," he said Thursday. "And I wouldn't be able to forgive myself if I did."
After the judge handed down the sentence, Lindsey slumped into his chair and tilted his head back. A tear streamed down his cheek.
The Guzmans said they believed "justice was served" Thursday. The restaurant reopened about a month after the crash. Beatriz Guzman has not returned to it since, and she said her daughter is still afraid to eat outdoors.
The first time Jose Guzman went back for a meal, he saw the waitress who was serving his family on the day they will never forget.
She started to cry.
Contact reporter David Ferrara at 702-380-1039 or dferrara@reviewjournal.com. Find him on Twitter: @randompoker.