Las Vegas mother on verge of legal residency detained, ordered out of US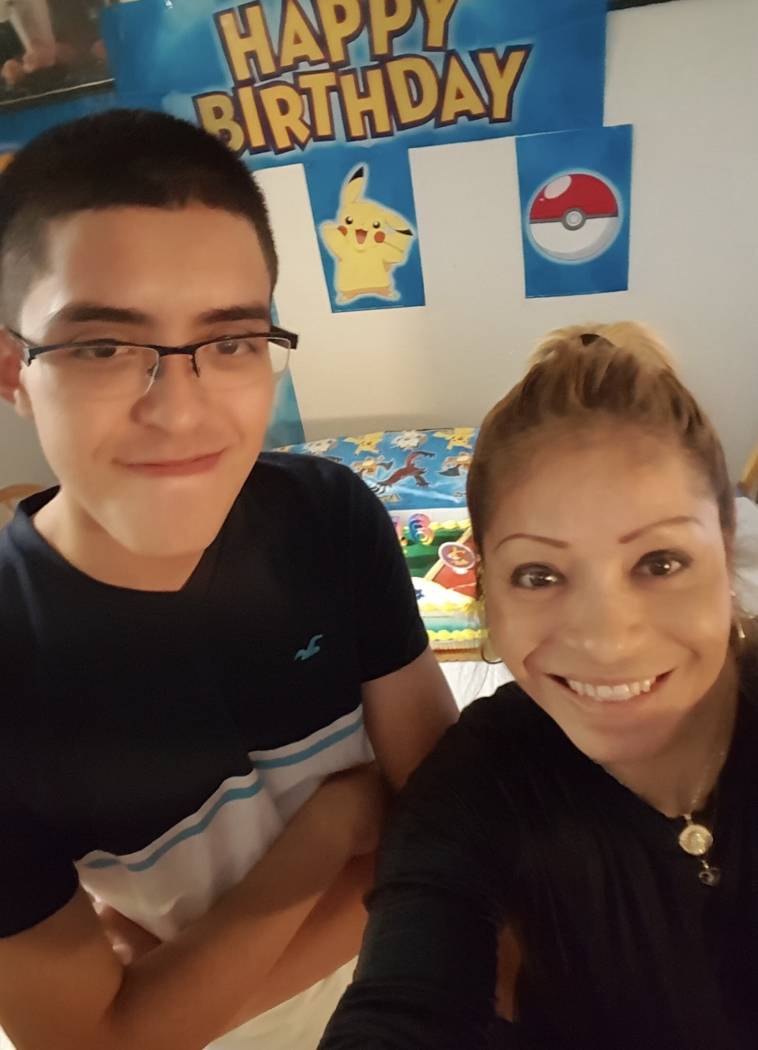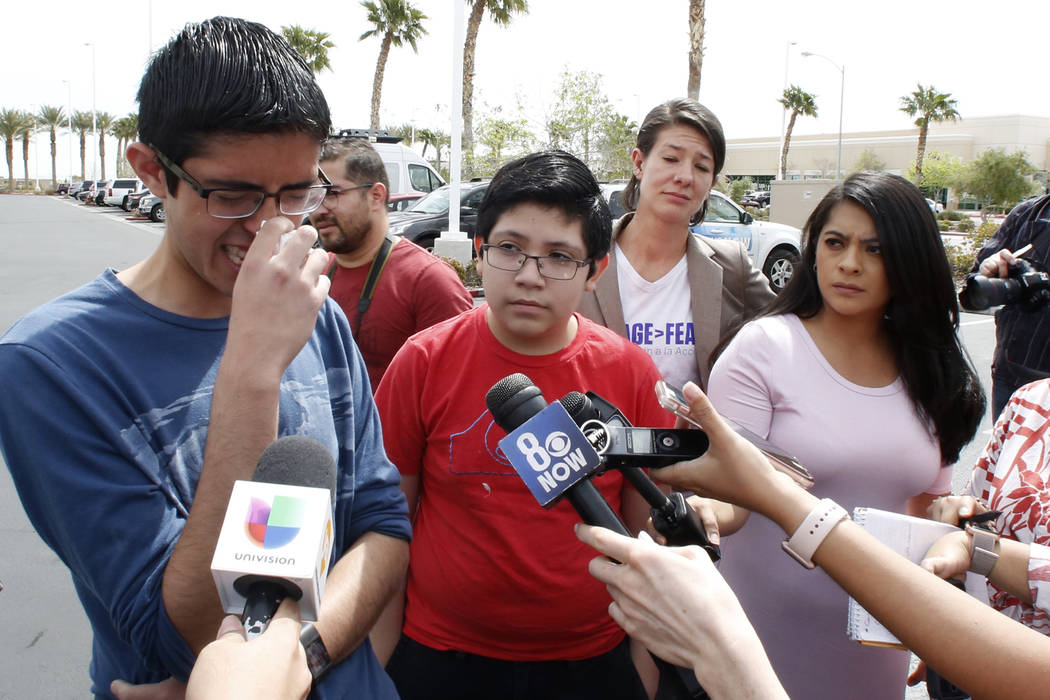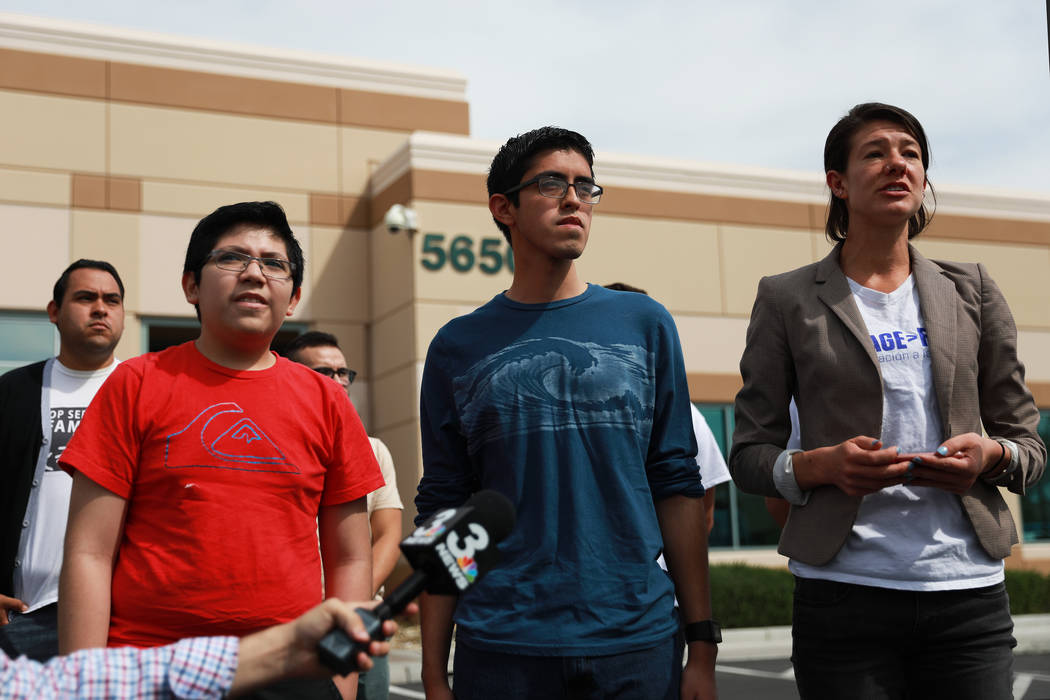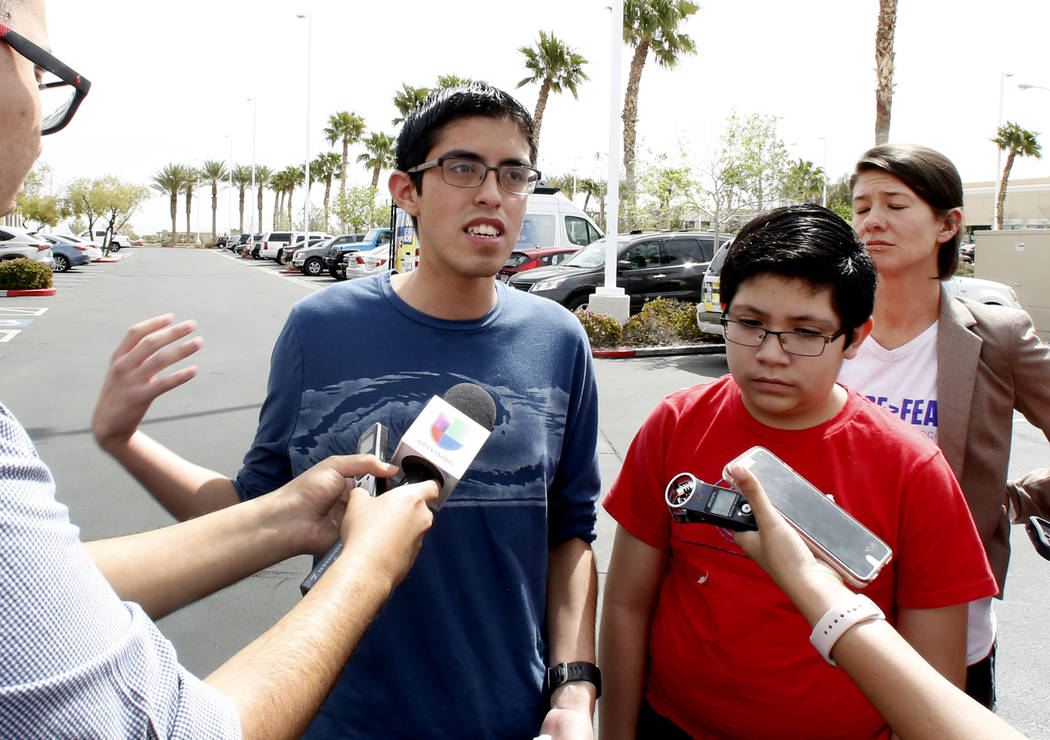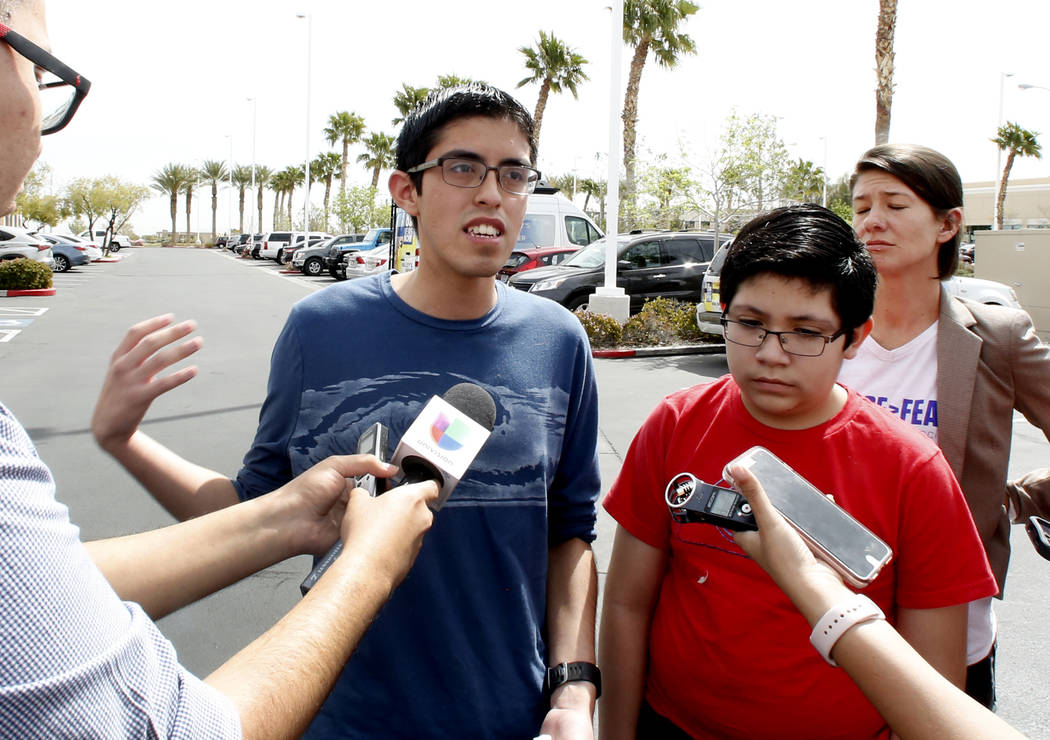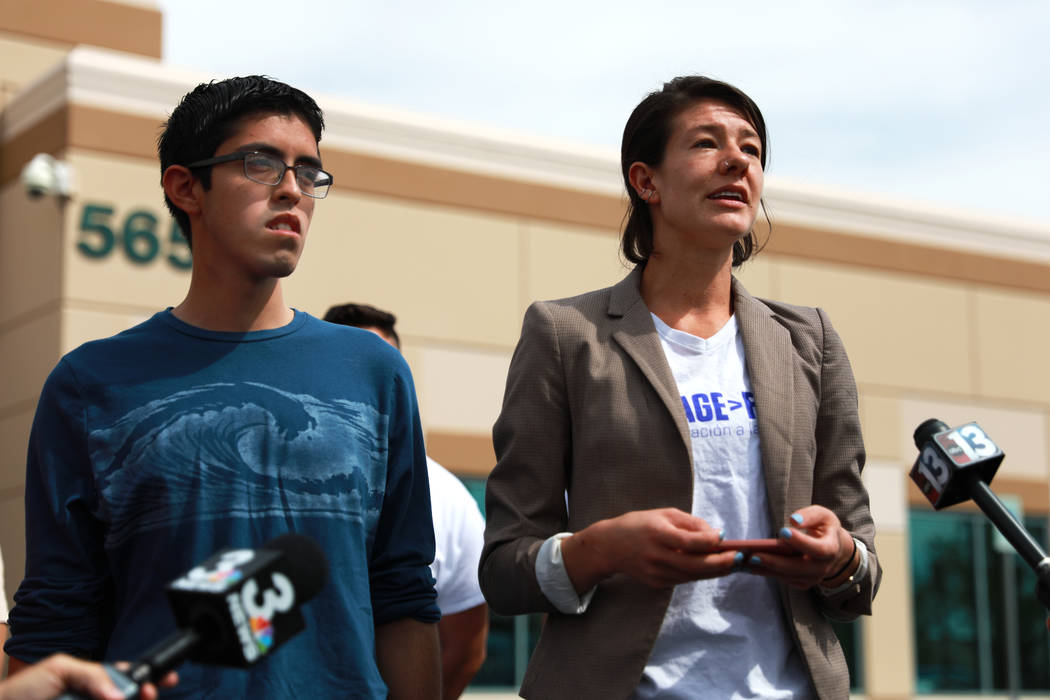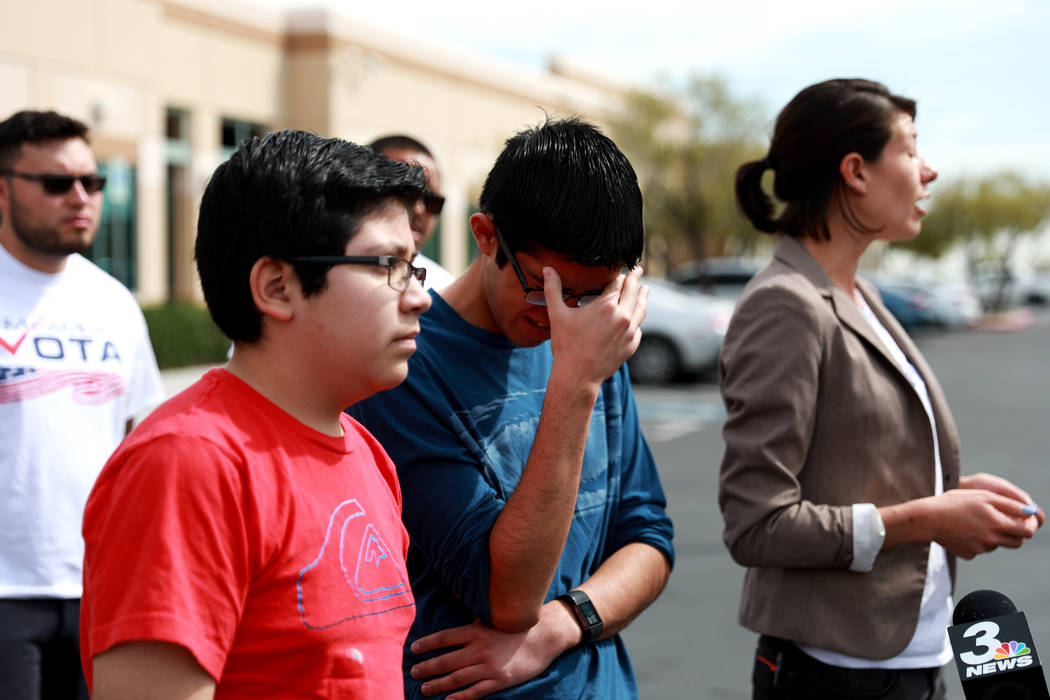 Cecilia Gomez walked into the U.S. Citizenship and Immigration Services office in Las Vegas on March 27 for what she thought would be a routine interview. She was just a hair's breadth away from gaining legal permanent residency, bringing the undocumented Mexican immigrant and mother of three sons a step closer to becoming a U.S. citizen.
"The day before her interview, she was asking me any interview questions they might ask her, and I was like, 'Just talk about the family. You're going to be fine,'" her 18-year-old son Ricardo Avelar-Gomez recalled through tears Thursday at a news conference outside the USCIS office.
The interview didn't happen. Instead, immigration agents informed Cecilia Gomez, 46, that she was the subject of a deportation order issued some 20 years ago. She was then pinned against a table by U.S. Immigration and Customs Enforcement officers, suffering bruises on her ribs and back, according to her attorney, Laura Barrera. A short time later, she was placed on a bus bound for the U.S.-Mexico border.
She would likely be out of the country and the U.S. immigration system if Barrera, at the behest of Gomez's family, hadn't filed a motion to reopen her case and obtained a stay from a judge as the bus was just miles short of the border. Gomez is now sitting in the privately run Eloy Detention Center in Arizona after stops at centers in Las Vegas, Denver, El Paso, Texas and Nogales, Arizona.
Barrera and immigrant advocates said at the news conference that Gomez never received the deportation order because she was a victim of "notario fraud" — an increasingly common crime in which undocumented immigrants are duped by people pretending to have legal expertise or a position of authority.
Sent to a donut shop
"Due to notario fraud, the notice to appear in court (20 years ago) was sent to what today is a donut shop in Los Angeles," said Bliss Requa-Trautz, a local advocate for undocumented immigrants and director of the Las Vegas Worker's Center, adding that Gomez never lived in Los Angeles and did not receive the notice or subsequent deportation order.
"She really had no idea about this. There are no hidden facts here," added Barrera, who works for UNLV's Immigration Clinic. "She really is a mom of three kids, and they're U.S. citizens and they're just trying to get her legal status."
Barrera said Gomez apparently was flagged as undocumented after a woman posing as an immigration official inappropriately listed her on a family member's documents. She was unaware of the nature of the family member's papers.
Apart from that alert, she said, Gomez has no criminal record.
The USCIS declined to comment directly on Gomez's case, but spokeswoman Maria Elena Upson said in a statement to the Las Vegas Review-Journal, "USCIS conducts interviews to determine an applicant's eligibility for the benefit sought, including providing the applicant an opportunity to provide additional details relevant to adjudicating that benefit, while taking the existence of a final (deportation) order into account."
In the last year, Gomez had begun the process to become a legal permanent resident, or green card holder, through her 21-year-old son, Yonathan, who attends college in Connecticut. By U.S. law, he was unable to petition for his mother's legal status before reaching 21, and she had no other avenue to gain legal status.
Ramped-up enforcement
Michael Kagan, director of the UNLV Immigration Clinic, said Gomez's apprehension is not unique.
"We get dozens of calls from the detention center," he said. "There has been a marked increase we've seen in people who call and say they don't have a serious criminal record."
That's reflective of a national trend resulting from the Trump administration's stepped-up enforcement of immigration laws, he said.
"The statistics I've seen indicate there are many, certainly dozens, of people who have been arrested by ICE who don't have a criminal record who previously would've been left alone," Kagan said. "This is a change, basically, in the aggressiveness of ICE."
But Assemblyman Chris Edwards, R-Las Vegas, said Gomez's background is immaterial and it's proper that she be held accountable for living illegally in the U.S. for decades.
"She knew she was illegal. She knew there would've probably been a deportation notice somewhere, and the mere fact it wasn't delivered to her misses the point," he said. "She's known for over 20 years she was illegal, and it doesn't sound like she's done much to fix that."
Gomez's family is still hoping to find a fix that would allow her to stay in her longtime home.
While they wait for an immigration judge to reconsider her case, the family is hoping to arrange for her to be transferred from Arizona to Henderson so they can more easily visit her. Barrera also is working to secure a bond release.
In the meantime, Ricardo is helping to care for his 13-year-old brother, Eric, both of whom are living with Gomez's boyfriend.
The two held each other and cried at Thursday's news conference, saying they miss their mom.
"We are mourning right now," Ricardo said. "We don't know how to handle this situation. I'm trying to be as strong as I can be, trying to handle the situation, trying to handle school, trying to handle (Eric). It's a lot."
Contact Jessie Bekker at jbekker@reviewjournal.com or 702-380-4563. Follow @jessiebekks on Twitter.