Las Vegas pigeons reprise dramatic World War I flight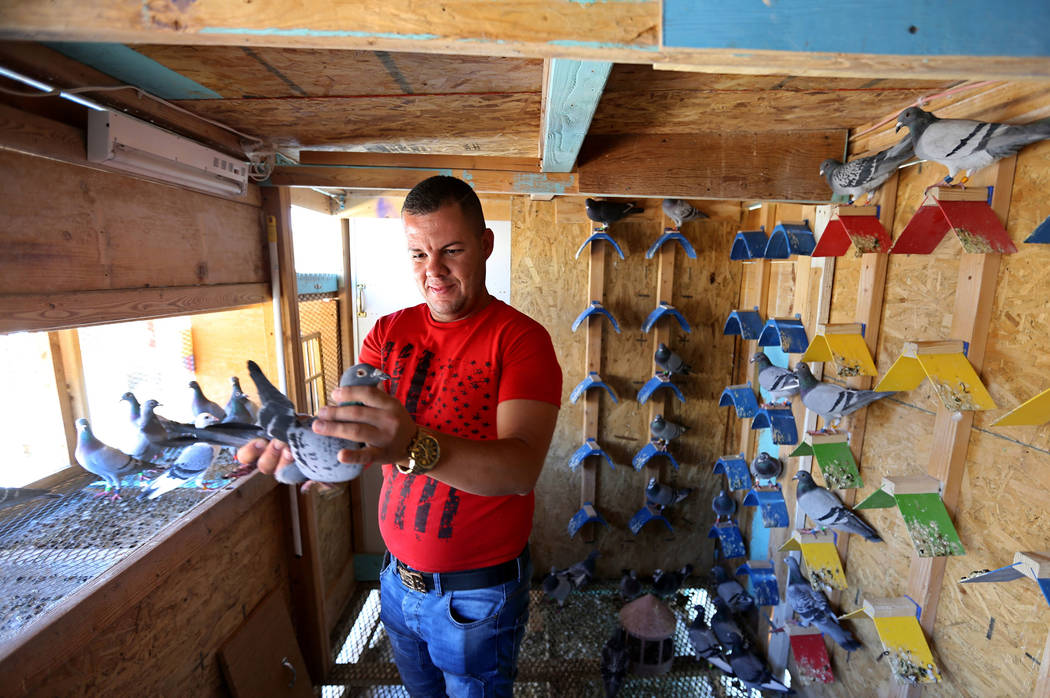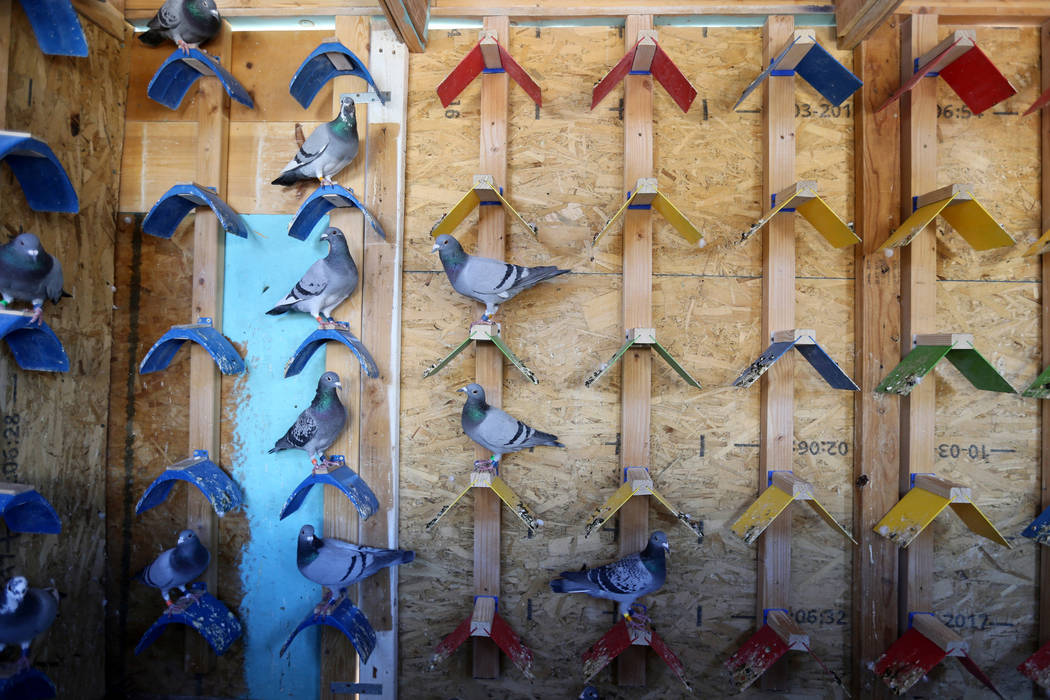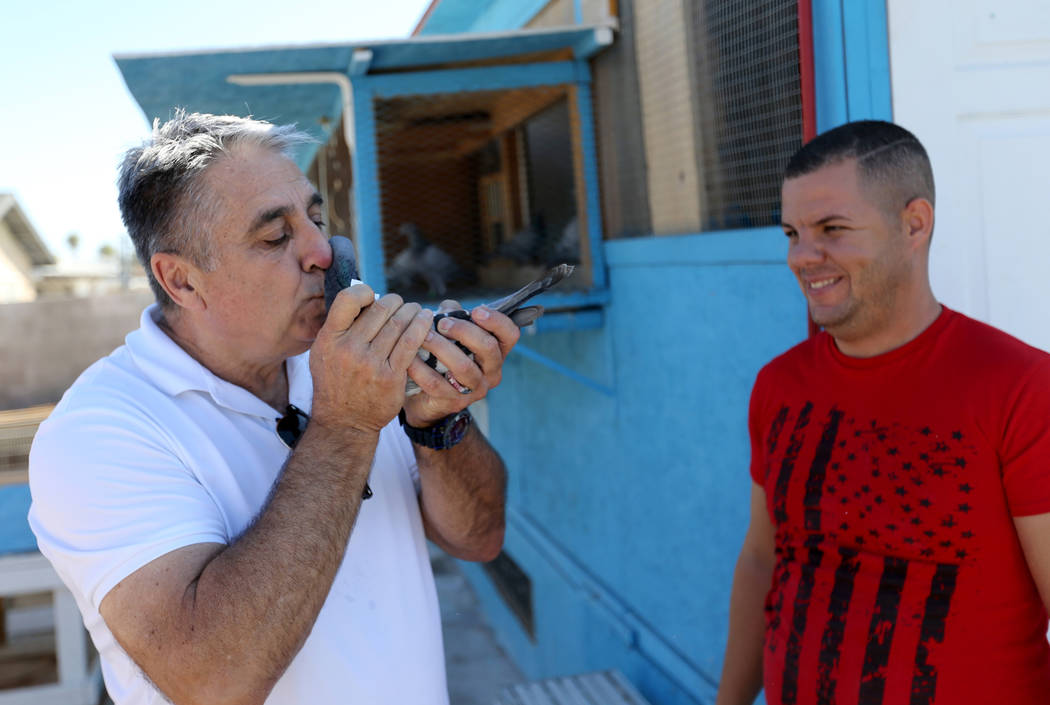 The first racing pigeon to arrive in Las Vegas after a 4 ½-hour nonstop flight from Northern California circled the blue coop in the south valley Thursday, apparently looking to see if it was safe to land.
Below, 32-year-old Rasiel Martinez held two other flapping birds in his hands as he whistled to the one overhead. Finally it alit on the bright blue coop he calls El Grillo — "the Cricket" in Spanish.
Martinez then picked up the unnamed pigeon, unfurled a piece of paper that had been secured to its leg by an orange band and read the same message a famous registered Black Check cock carrier pigeon named Cher Ami delivered a century ago on its last mission during World War I on Oct. 4, 1918.
"WE ARE ALONG THE ROAD PARALLEL 276.4. OUR ARTILLERY IS DROPPING A BARRAGE DIRECTLY ON US. FOR HEAVENS SAKE STOP IT," it read.
The loose re-enactment was the brainchild of John Vance, a Washington state resident who dreamed up the Racing Pigeon Cross Country Relay, a nearly two-month-long exhibition that he hopes will educate a new generation about the wondrous homing ability of racing pigeons and their place in military history while also raising money for wounded veterans.
"There's always been this relationship between soldiers and pigeons, up until the wireless age when they were no longer needed," he said Thursday.
Desperate lifesaving flight
Cher Ami's final flight is one of the most-dramatic examples of that bond.
The bird was dispatched by commanders of the "Lost Battalion" of the Army's 77th Infantry Division to headquarters of the 308th Infantry. The soldiers were isolated from other Allied forces in France's Argonne Forest, engaging the enemy and taking "friendly fire" from artillery.
The pigeon, who flew 20 miles in 25 minutes, was shot in the breast and leg by enemy fire, but made it to headquarters with the message capsule dangling from a tendon on his wounded leg.
Cher Ami's message saved 194 soldiers who were evacuated behind American lines shortly after it arrived. The battalion lost 197 others in the battle, and 153 were missing or taken prisoner.
For his heroic service, Cher Ami was awarded the French Croix de Guerre with palm, a military honor usually reserved for soldiers who distinguish themselves in combat through acts of heroism. The bird was flown back to the United States and died at Fort Monmouth, N.J., on June 13, 1919, from his wounds.
He was inducted into the Racing Pigeon Hall of Fame in 1931 and awarded a gold medal from the Organized Bodies of American Pigeon Fanciers in recognition of his extraordinary service during World War I.
Thursday's flight, while lacking much of the drama of the original, was amazing in its own right.
170 miles in 4.5 hours
At 7 a.m., 59-year-old Vincent Valenzuela, a friend of Martinez's, released 10 pigeons in Victorville, California, about 170 miles southwest of Las Vegas, then drove as fast as he could to get home before they did.
The first pigeon arrived around 11:30 a.m., quickly followed by another. The other pigeons, who always remember their first home base, were expected to arrive by the end of Friday.
Valenzuela and Martinez learned about pigeon racing growing up in Cuba, where many people take part in the sport. Last year, some of his birds traveled from Las Vegas to Reno.
"It's a way of showing respect," Martinez said in Spanish of using some of his 80 birds to participate in the relay. "Always, we hope, they come back, if not tomorrow, the next day."
The racing pigeons are bigger and more muscular than street pigeons, he said, noting that many pigeon racers supplied birds for the American troops to use.
"I have a high level of respect for the veterans because we enjoy this freedom because of them," Valenzuela said. "When you are on the front line, and you're fighting for your country, it's something that touches my heart. Incredible."
Valenzuela held the newly returned pigeon by the feet, kissed it on its fluffy, purple-tinted cheek and spread its gray speckled wings. The bird's heart was still racing from the exertions of the flight.
The relay, which started Sept. 18 in Vancouver, Washington, is scheduled to end in Daytona Beach, Florida, on Nov. 11, Veterans Day. Vance dubbed it the "Old Glory Flight" and aims to use it to raise money for the nonprofit Building Homes for Heroes, which provides mortgage-free homes to wounded veterans with special needs.
"I just thought it was fitting that, 100 years later, we had the birds carry the same message that saved 197 Ally lives," he said. "This can help a vet and at the same time reignite this relationship between the pigeons and the military guys on the front lines."
On Friday, a man from Phoenix will release his pigeons in Las Vegas and then hot-foot it home. His pigeons will be carrying a special message for a Korean War veteran in Arizona.
It will reference this summer's release of American remains from North Korea.
It will read simply, "We're coming home."
Contact Briana Erickson at berickson@reviewjournal.com or 702-387-5244. Follow @brianarerick on Twitter.
How to donate
To make donations for the "Old Glory Flight" Racing Pigeon Cross Country Relay, visit http://oldgloryflight.org/.