Las Vegas police step up ticketing of people feeding homeless
Updated December 3, 2018 - 12:15 am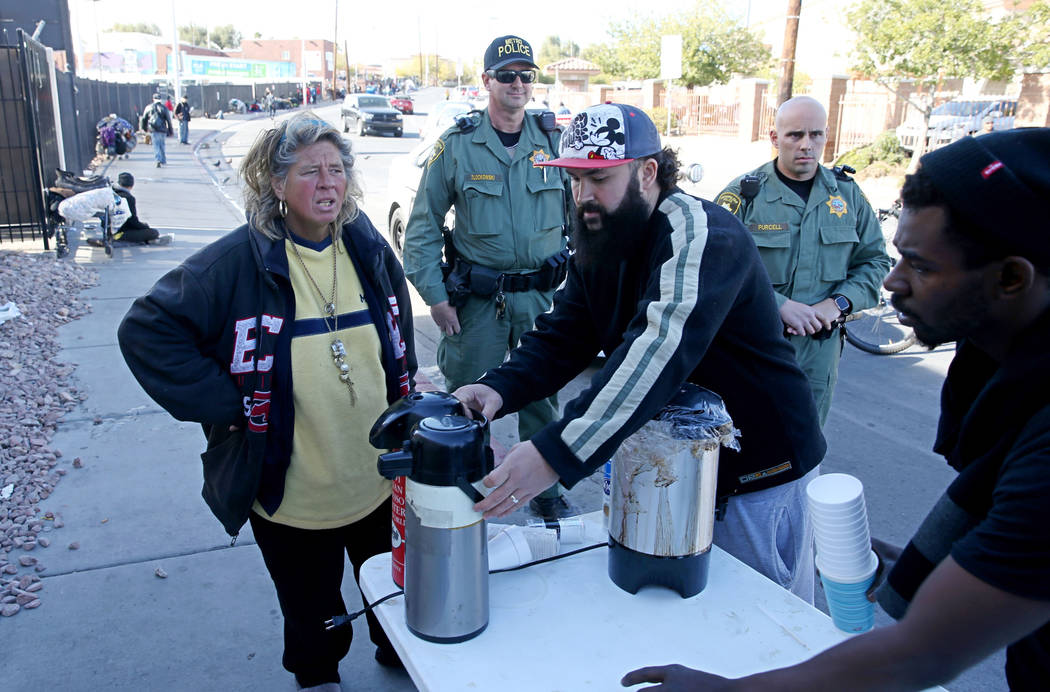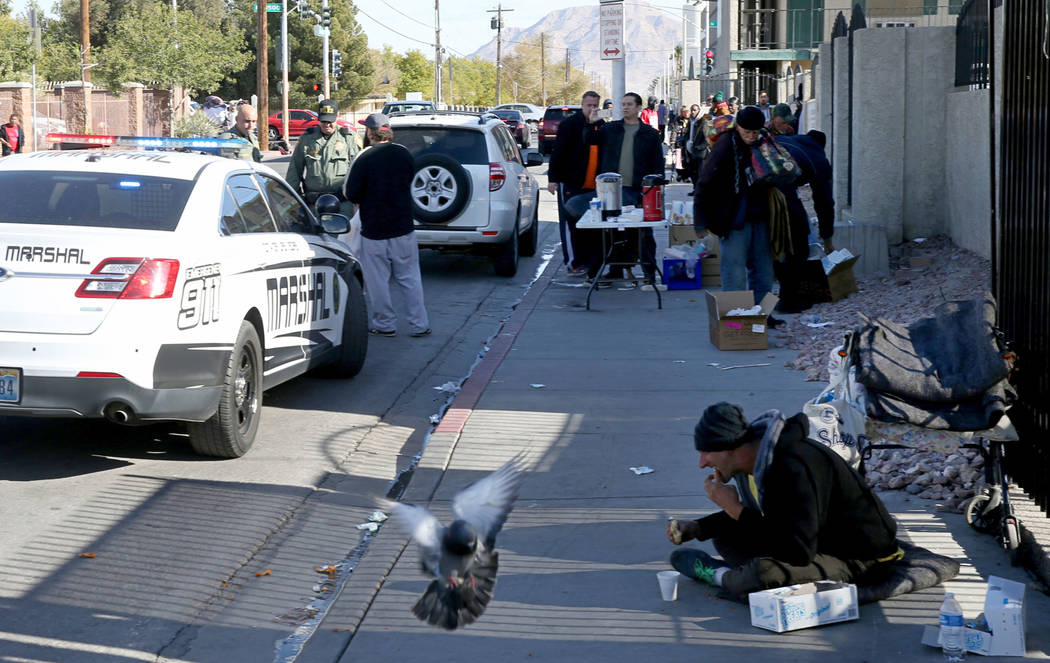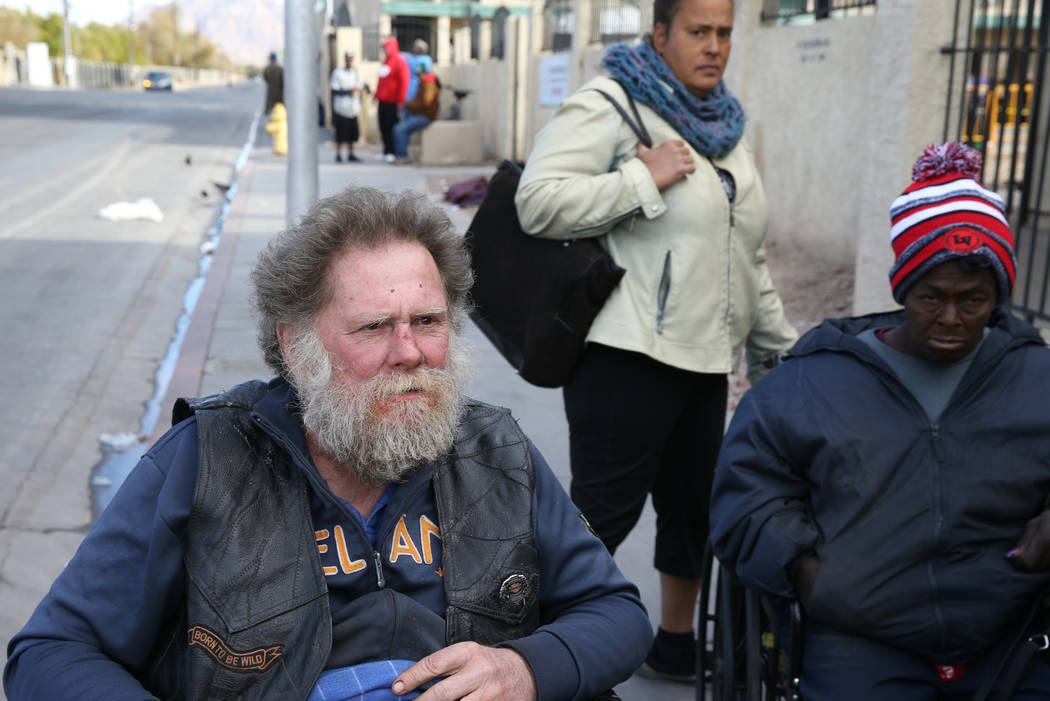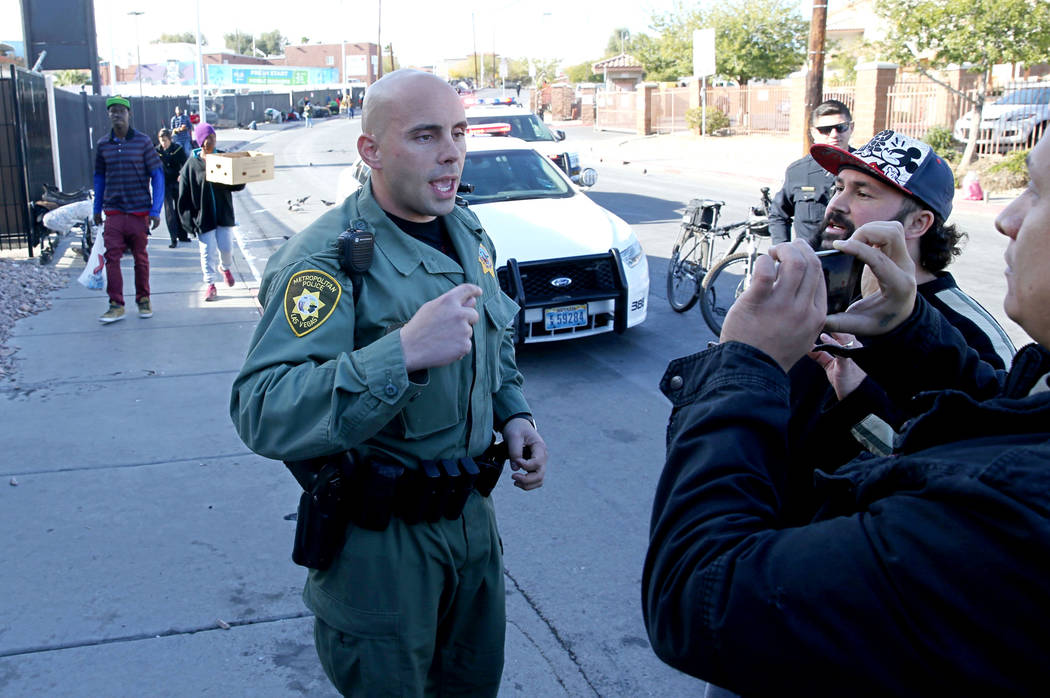 Along Foremaster Lane near the new Las Vegas courtyard for the homeless, multiple white signs with big red letters bear the warning, "No parking stopping or standing anytime."
So Joey Lankowski, 32, knew the risks when he parked his white RAV4 in the red zone on Wednesday. He said he'd been handing out food to the homeless there since the summer and hadn't had a problem.
This time was different.
Within minutes, he received a citation carrying a $200 fine for creating a traffic hazard and blocking a fire lane.
Three marshals from the city and two Metropolitan Police Department officers stood by as Lankowski pleaded with officer John Purcell to look the other way.
"The only bad guys out here are you guys, coming out here and harassing good people trying to do a good deed," he yelled.
Variations of the heated confrontation have been playing out frequently in recent weeks as police and marshals appear to have stepped up a campaign to stop the ad hoc feeding of the homeless by well-intentioned citizens.
At least 17 ticketed
In November, city marshals issued at least 13 citations in that area for illegal parking, compared with just two in October, city spokesman Jace Radke said. The tickets carry a maximum fine of $1,000 and six months in jail, he said.
Metro also has issued at least four tickets there since Nov. 21: three for illegally parking and blocking the roadway, and one for blocking the sidewalk, department spokesman Aden Ocampo-Gomez said.
Radke said the officers aren't citing the do-gooders for feeding the homeless, per se, but for causing a hazard.
"Every year during the holidays, we just get a lot of people out there trying to help and feed the homeless. They're being cited for other laws that they're breaking," he said. "We appreciate when people want to help, that's a great community effort, but we feel there's a better way to do that than street feeding."
Ocampo-Gomez, who once patrolled Foremaster Lane, said that in addition to creating a hazard for drivers and pedestrians, the informal feedings require the city to regularly send in crews to clean the area of spoiled food, feces, urine and trash.
Radke estimated that the cleanup of body fluids, wastes and discarded items and food on Foremaster alone cost the city $100,000 annually. This does not include costs for the regular cleaning of the sidewalks, he said.
There are also serious health concerns related to passing out food, said Larry Rogers, environmental health manager of food operations for the Southern Nevada Health District.
Some homeless individuals' immune systems aren't strong, and if food is not prepared correctly or sits out for a time it can pose a health risk, he said.
The trash also can also bring rodents and other animals that can spread diseases.
"There's also the risk of (waste) getting into our public waterways and introducing pathogens into our community," he said. "The best places that hand out food are those that have a fixed facility and the infrastructure to handle the distribution without causing a trash buildup."
Pushing the courtyard
Though officials aren't characterizing the recent spate of ticket-writing as a crackdown, some homeless people see it as part of the city's effort to funnel them into the homeless courtyard, which was established a little over a year ago and began operating 24-7 in July.
Officials acknowledge that they want to encourage the growing homeless population — more than 6,000 countywide, according to the latest homeless census — to take advantage of the range of services there with an eye toward getting them off the streets. Those services include portable toilets, a shower, medical and mental health services, housing and employment assistance.
Citizens donating to charities and shelters instead of engaging in impromptu feedings can further that goal, Clark County Commissioner Marilyn Kirkpatrick said at a news conference with Las Vegas police the week of Thanksgiving.
"What we want to do is actually ensure (homeless people) get services so that moving forward we can keep them off the streets for the long term and get them the proper care and the tools that they need to be successful," she said.
Many of the homeless living along the street said the tickets became more prevalent for those stopping to donate food right after the news conference.
Wednesday's showdown on Foremaster between Lankowski and the police officers showed how high emotions can run on the charged issue.
After Lankowski accused them of targeting Good Samaritans, Officer Purcell pointed at the sidewalk, as a woman with a walker and headscarf shuffled around the crowd and into the street to pass by, and replied that Lankowski was endangering others.
"If someone gets killed, it's going to be on your hands," he said. "When you obstruct the sidewalk, then you're wrong."
'We're feeding our friends'
But Lankowski was having none of it.
"It's just selective enforcement; those curbs are designed to stop people like us from doing what we do," he said.
Another advocate with Lankowski, Josh Martinez, shouted as he filmed the marshals and officers watching the pair leave.
"They want to give us a citation just for simply helping you," he told the homeless. "We're feeding our friends."
But the battle lines aren't always clearly drawn in the dispute.
At one point a homeless woman in a headband and oversized sweatshirt defended the officers, saying they protect the campers from street violence.
"Do you respect that badge at all?" Kristina Katkus-Smith, 54, asked Martinez. "He asked you nicely to move out of the red zone; you're parked illegally."
Later, she acknowledged that she appreciates the motives of those making donations, but added, "If a semi comes around the corner, it could kill me."
Deacon Tom Roberts, the president of Catholic Charities of Southern Nevada on Foremaster and Las Vegas Boulevard North, said street feeding is not the most dignified way to help the some 1,000 clients who receive meals there daily and urged people to instead consider donating to charities and other organizations working to help the homeless.
"That's the way that God intended to reach out to your brothers and sisters in need, not bologna sandwiches that sometimes make them sick," Roberts said. "We want to get them off the street and get them inside. We don't want to feed them on the street like animals."
The majority of the homeless on Foremaster get their food from each of the three nonprofits in the city's homeless corridor: Catholic Charities, which feeds from 10 a.m. to 11 a.m.; Salvation Army, which offers lunch from 1:30 to 2:30; and dinner at the Las Vegas Rescue Mission from 5 p.m. to 6 p.m.
A meal too far
But for some, the trek up the hill to the Salvation Army on Owens Avenue, or the 25-minute walk to the Rescue Mission on Bonanza Road, is just too far.
And homeless shelters start lining people in at 3 p.m., so those who hope to sleep inside have to forgo dinner to ensure they get a bed.
A high percentage of the homeless who gather around Foremaster Lane also are disabled, making the daily trudge between the charities a nonstarter.
"I can't get nowhere," said Joe Bridges, 59, an Army veteran with a scraggly beard and rotting teeth. Bridges uses a wheelchair that he can't push up the steep incline to the Salvation Army. "I'm at the mercy of people handing food out."
After losing his argument with police on Wednesday, Lankowski picked up the rubbish from the sidewalk and stuffed it in a trash bag. He said the experience wouldn't stop him from doing what he knows is right.
"Next week, we're going back with bikes and trailers instead of cars," he said. "Something tells me they'll show up and find a reason to obstruct us from being Good Samaritans."
He then forcefully plucked the citation off his windshield, climbed into his SUV and drove off. As he did, two pigeons in a flock of about a half dozen noshed on discarded chicken nuggets on the sidewalk.
Contact Briana Erickson at berickson@reviewjournal.com or 702-387-5244. Follow @brianarerick on Twitter.