Las Vegas restaurateur says former fed manufactured a criminal case against him
April 16, 2016 - 10:28 pm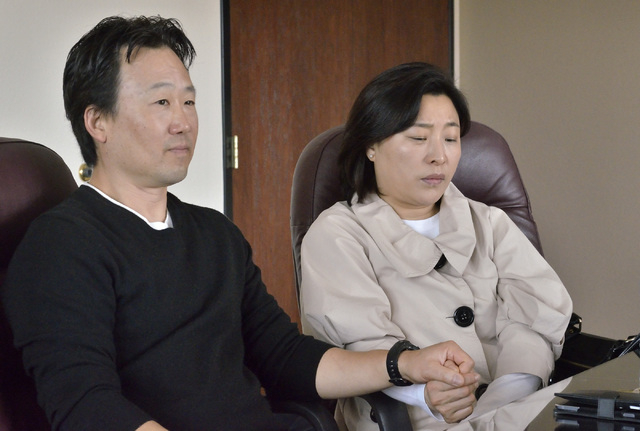 Las Vegas restaurateur Thomas Kim says a former federal homeland security agent convicted of accepting bribes abused his authority and tried to manufacture a criminal case against him.
And when Kim complained to the agent's boss, he was told, "We can do whatever we want," Kim says.
In a federal lawsuit, Kim alleges the agent launched a phony investigation into allegations of drug use, prostitution and human trafficking at Kim's Korean restaurant, Club Yamang, in 2013 to curry favor with a competitor who had given the agent thousands of dollars in free food and drinks.
The competitor identified in court papers was Dong Myung Yu, who owned the rival Club Sonagi. He could not be reached for comment.
The goal was to drive Club Yamang, then a popular karaoke hangout on East Sahara Avenue, "out of business and into financial ruin," the suit alleges.
Kim later learned that the agent, Joohoon David Lee, had come under investigation for taking bribes in an unrelated case in Los Angeles and ended up pleading guilty, the lawsuit states.
No charges were filed against Kim in the Las Vegas supper club investigation, which Kim and his lawyers, former federal prosecutors Paul Padda and Kathleen Bliss, allege violated the constitutional rights of Kim, his wife and his employees.
"I can't believe something like this could have happened here," Kim, 48, said in an interview, adding that the experience was a "nightmare" for him and his family. He said he has managed to keep Club Yamang open, but it has lost hundreds of thousands of dollars because of its damaged reputation.
Lee, 44, led a federal raid "not supported by probable cause" at Club Yamang in July 2013 and detained Kim's South Korean-born fiancée and several employees of the restaurant Kim has run since 2012, the lawsuit alleges.
Then, without a federal court order or approval from an immigration judge, Lee forced Kim's now-wife, Aeja Kim, to wear an electronic monitoring bracelet around her ankle to track her while he tried to build a criminal case against Kim and his club, the lawsuit alleges.
"Had (Padda) and I not intervened, they would have had a tracking device indefinitely on this woman for what we believe to be completely illegitimate reasons," Bliss explained. "The Supreme Court said you can't put a tracking device on a car for an indefinite period of time without probable cause. How can they do this to a human being?"
Lee told Kim he had legal authority to monitor Kim's wife for "as long as he liked," the lawsuit alleges.
Kim said when he asked one of Lee's supervisors to remove the ankle bracelet, the supervisor declined and responded, "We can do whatever we want."
Kim said his wife, who isn't a U.S. citizen and isn't fluent in English, wore the tracker for six months and suffered stress and many sleepless nights worrying whether she would be deported.
Lee in the meantime had become the target of a criminal bribery investigation in Los Angeles stemming from his work with the human trafficking unit of Homeland Security Investigations earlier in 2013. Homeland Security Investigations is part of U.S. Immigration and Customs Enforcement, or ICE. The agency's office of professional responsibility, its internal investigative arm, conducted the investigation.
Lee pleaded guilty in Los Angeles in December to a felony bribery charge and faces a maximum 15-year prison sentence at his May 23 sentencing. He resigned from ICE on Dec. 10, a week after his guilty plea, officials said.
Federal prosecutors in Los Angeles alleged Lee accepted roughly $13,000 in cash, hotel expenses and entertainment from a Korean man accused of bringing a woman to the United States to be a sex slave.
Lee traveled to Korea at the unidentified man's expense and later filed a report aimed at clearing the man of human trafficking allegations, according to prosecutors.
The Las Vegas lawsuit, filed this month, is based on Lee's actions here, but does not name him as a defendant. About $1.3 million in damages are being sought from the lone defendant, the federal government, because federal law doesn't allow Lee himself to be sued, Padda said.
While it became apparent over time that the government had no case, the Kims didn't learn until more than a year after the July 11, 2013, raid at Club Yamang that Lee's investigation "was a complete fabrication and had no proper legal basis," the lawsuit alleges.
"It was a very difficult time," Kim said. "He was constantly keeping us under surveillance and harassing employees."
Lee is accused in the lawsuit of playing up "ethnic stereotypes" — that some Asian entertainment establishments are fronts for sex trafficking — to recruit other law enforcement agencies to "join in the stalking and surveillance" of Kim, his business and his employees.
Kim recalled that Lee interrogated his employees and once brought federal labor department agents to his supper club. After talking to employees, the agents went outside and sat in their car watching people enter and leave the club, Kim said.
When Padda approached Lee about the investigation, the agent acknowledged he had placed the monitoring device on Kim's wife to track her movements in the criminal investigation of her husband, the lawsuit alleges.
"Shocked by this admission, counsel questioned the legitimacy of this tactic and queried whether he had obtained any court approval," the suit says.
Lee responded that before the July 2013 raid at Club Yamang, he discussed his investigative methods with Russell Marsh, then chief of the criminal division of the Nevada U.S. attorney's office, and that Marsh had "approved and sanctioned" the plan, the lawsuit alleges.
Federal ICE agents have the authority to put ankle bracelets on immigrants during administrative detention proceedings, but Padda said no administrative proceedings were brought against Aeja Kim.
Lee, who reportedly was living in Las Vegas in December, could not be reached for comment. His lawyer in the Los Angeles case, Deputy Federal Public Defender Jennifer Uyeda, declined comment.
Marsh, who left the U.S. attorney's office for private practice a month before the Club Yamang raid, and U.S. Attorney Daniel Bogden declined comment because of the pending litigation.
Virginia Kice, ICE's western regional communications director, also cited the ongoing litigation in declining comment.
She said ICE's office of professional responsibility said at the time of Lee's guilty plea that the agency has "zero tolerance for public officials who abuse their authority and violate the public's trust."
Contact Jeff German at jgerman@reviewjournal.com or 702-380-8135. Find @JGermanRJ on Twitter.