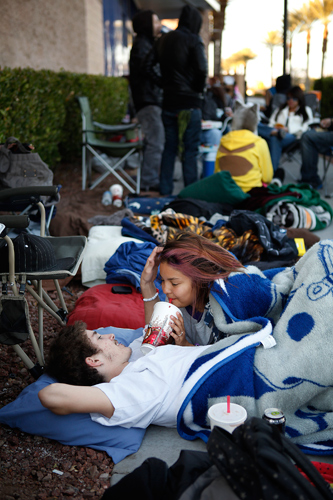 1:30 p.m.
The Meadows mall parking lot is packed. Fantastic Indoor Swapmeet parking lot is just average.
— Laura Carroll
1 p.m.
Drivers are out of control as shoppers leave Town Square. At an exit between of Town Square and Frys, cars are honking and the guy directing traffic doesn't have a handle on the situation.
— Laura Carroll
12:45 p.m.
Apple seems to be the busiest store at Town Square and people actually seem to be purchasing, probably due to Apple's one-day sale. iPad 2s are $40-$60 off and MacBooks are $100 off.
— Laura Carroll
12:30 p.m.
No matter where you are in the valley, a Twitter search for #blackfriday is likely to give you some fresh shopping ideas. Store promotions and electronic coupons are available as long as your smart phone still has some juice.
— Review-Journal staff
11:50 a.m.
The Old Navy store at Town Square was a little crowded, but the checkout line was almost nonexistent. Parking wasn't bad either. Actually, it was easier to find a spot today than it is on a weekend evening.
— Laura Carroll
10 a.m.
At Walmart, it seems televisions and toys are the hot ticket. Gabriela De La Cruz, who left the store with three loaded carts, said those are the best deals inside the discount retailer.
— Laura Carroll
2:25 a.m.
Walmart no longer rules the Black Friday roost. At least it seemed that way Friday morning in Centennial Hills.
Target, Kohl's, GameStop and a few other retailers joined the national trend by opening their stores at midnight to capitalize on the post-Thanksgiving shopping craze. In past years, the Walmart store at Centennial Parkway was the only major store in the area to open at midnight.
The scene at Walmart was frenetic but seemingly less so that in past years, especially last year when the store didn't launch its Black Friday specials until midnight. This year, the specials began at 10 p.m. Another special began at midnight and another was set to begin at 4 a.m.
A few store workers agreed that the atmosphere was calmer than last year.
Across the Walmart parking lot at GameStop, at least 100 people waited in line to buy the latest gaming items.
At Target, there were about 500 people waiting in line as the store opened. And at Kohl's, about 300 people stormed through the front doors at midnight.
In an odd scene, groups of people stayed back from the line and watched the midnight spectacle unfold, even taking pictures. A small group of women briefly jeered at shoppers, yelling at them why they were battling the crowds over the advertised specials when there would be plenty more deals during the Christmas season.
— Mark Davis