Las Vegas Sport Chalet locations said to be closing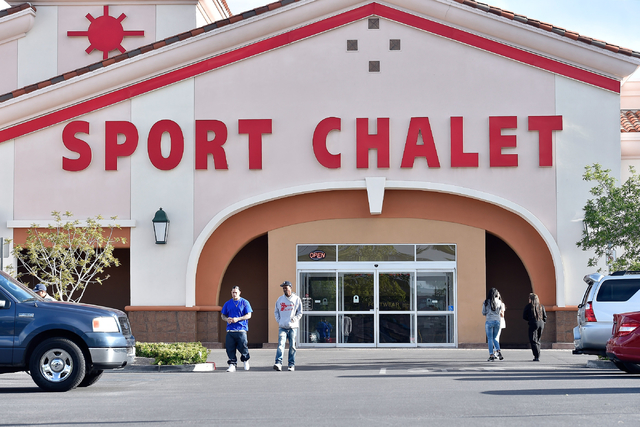 Las Vegans may soon have fewer places to pick up bikes, backpacks and board shorts.
Rumors flew late Friday that Southern Nevada's two Sport Chalet stores would close Saturday.
A man who answered the phone at Sport Chalet's location at 8825 W. Charleston Blvd. said he couldn't comment but that the tip was "100 percent true."
An employee inside the store at 7230 Arroyo Crossing Parkway said he wasn't authorized to discuss the matter, while a customer service representative who answered the retailer's toll-free hotline said word of the closures "is not exactly the case."
Angel Morales, assistant manager of the Sports Chalet location in Peccole Ranch, said that employees at his store were notified Friday that the store would be closing.
Morales declined further comment, saying a press release had been issued.
Sport Chalet's parent company, Vestis Retail Group of Connecticut, had no press announcements on its website Friday. Nor did Vestis Retail's parent company, Versa Capital Management of Philadelphia. Vestis' and Versa's offices were closed late Friday. A woman who answered the phone at Sport Chalet's California headquarters Friday afternoon refused comment and hung up on a reporter.
Friday's rumors came after a week of turmoil for the chain, which has 50 stores in Nevada, Arizona, California and Utah.
Bloomberg News reported on April 5 that Vestis was preparing a bankruptcy filing as soon as this week.
Vestis officials told trade website Footwear News on April 7 that they would look for "opportunities to position … stores for long-term growth and success" and would weigh "a number of strategies to strengthen the business."
Vestis bought Sport Chalet in August 2014 in a $70 million deal that included about $52 million in debt.
Vestis added the chain to its Eastern Mountain Sports and Bob's Stores brands, creating a 150-store group with $800 million in annual sales.
"Sport Chalet strengthens our position in the active lifestyle and outdoor categories, provides scale from which to grow, and diversifies our geographic footprint," Vestis CEO Mark Walsh said in a statement when the purchase closed.
But that bigger footprint came in an already-struggling sector.
Industry giant Sports Authority missed a $20 million debt payment in January and filed for Chapter 11 bankruptcy in March, with plans to close 140 of its stores — about a third of its 450 locations — by June.
Analysts blamed Sports Authority's woes on the shift from bricks-and-mortar stores to online retailers, as well as competition from high-end stores such as Dick's Sporting Goods.
Other sporting-goods retailers that have filed for bankruptcy include Boston-based City Sports and Pacific Sunwear.
Reporter Alexander S. Corey contributed to this report.
Contact Jennifer Robison at jrobison@reviewjournal.com. Follow @_JRobison on Twitter. Contact Alexander S. Corey at acorey@reviewjournal.com or 702-383-0270. Find @acoreynews on Twitter.