Lawyers grill FBI agent about Caesars search warrants
December 15, 2014 - 7:04 pm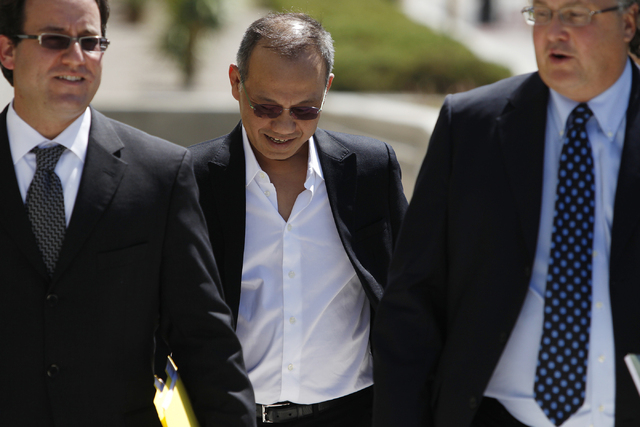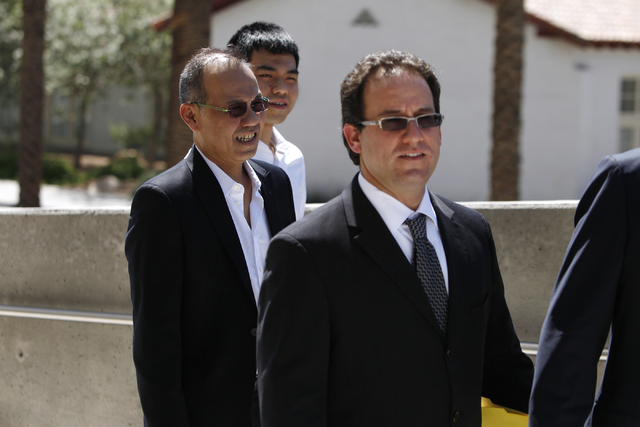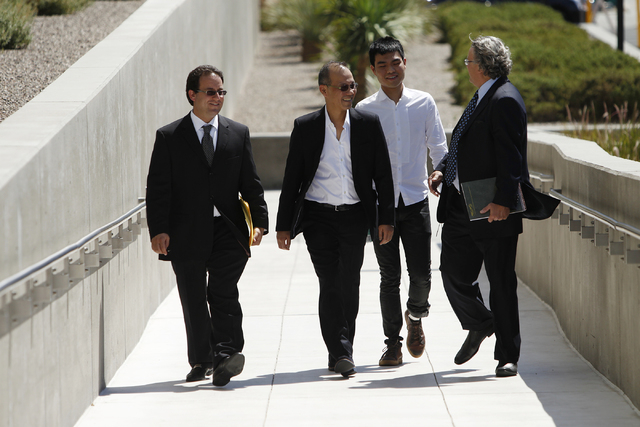 Defense lawyers grilled an FBI agent Monday about whether he misled a federal judge into approving search warrants in a July 9 raid at Caesars Palace on a multimillion-dollar international betting ring.
The agent, Minh Pham, acknowledged on the witness stand that he didn't tell U.S. Magistrate Judge Nancy Koppe that agents had secretly entered Caesars Palace villas under a ruse days before he submitted a sworn affidavit seeking permission to legally conduct the searches.
Agents cut off the Internet service inside the luxury suites and posed as technicians to confirm their suspicions that illegal wagering was taking place on the World Cup soccer tournament, Pham acknowledged.
Under questioning from Assistant U.S. Attorney Cristina Silva, Pham said he didn't deliberately withhold the information from Koppe.
He said he believed he didn't need to inform Koppe in his sworn affidavit because agents had gotten permission from Caesars Palace to disconnect the Internet service. The Strip resort tipped off authorities to the betting operation.
Pham testified that agents had to move fast because word had gotten out that they were on to the betting ring and they feared that might compromise the investigation.
Defense lawyers David Chesnoff and Thomas Goldstein, who represent wealthy Malaysian businessman Paul Phua and his son Darren Phua, are trying to persuade U.S. Magistrate Judge Peggy Leen to recommend suppressing the mass of evidence FBI agents seized in the high-profile raid.
They contend the ruse amounted to a warrantless search that violated their clients' constitutional due process rights.
Last week five defendants pleaded guilty in the scheme — four to misdemeanors and one to a felony — and were fined and sentenced to five years of probation with the condition they stay out of the United States during that period. The case against another defendant was dismissed.
In handing out the sentences, U.S. District Judge Andrew Gordon said the betting operation was "sophisticated and extensive."
Paul Phua, 50, well-known on the international poker player circuit, has been described by authorities as one of the leaders of the operation.
FBI agents agents alleged that Phua was known to be a high-ranking member of the Hong Kong-based 14K Triad, but defense lawyers contend the FBI has little evidence to support that claim.
The hearing continues on Tuesday.
Contact Jeff German at jgerman@reviewjournal.com or 702-380-8135. Follow @JGermanRJ on Twitter. Contact reporter David Ferrara at dferrara@reviewjournal.com or 702-380-1039. Find him on Twitter: @randompoker
RELATED:
Federal prosecutors: World Cup betting suspect may have bribed his way to freedom in Macau
Chinese mob linked to World Cup betting ring bust in Las Vegas
Lawyers: Agents spied on suspects in World Cup betting scheme
Caesars lawyers deny privacy violation in World Cup betting sting
Malaysian man pleads not guilty in World Cup betting case
Prosecutors seek to detain World Cup betting suspects
3 key defendants in World Cup case ordered released
Malaysian businessman charged in betting scheme released
8 indicted in World Cup betting scheme
International mob-connected ring linked to illegal World Cup betting at Caesars