Live animals excite children at Wetlands Park's open house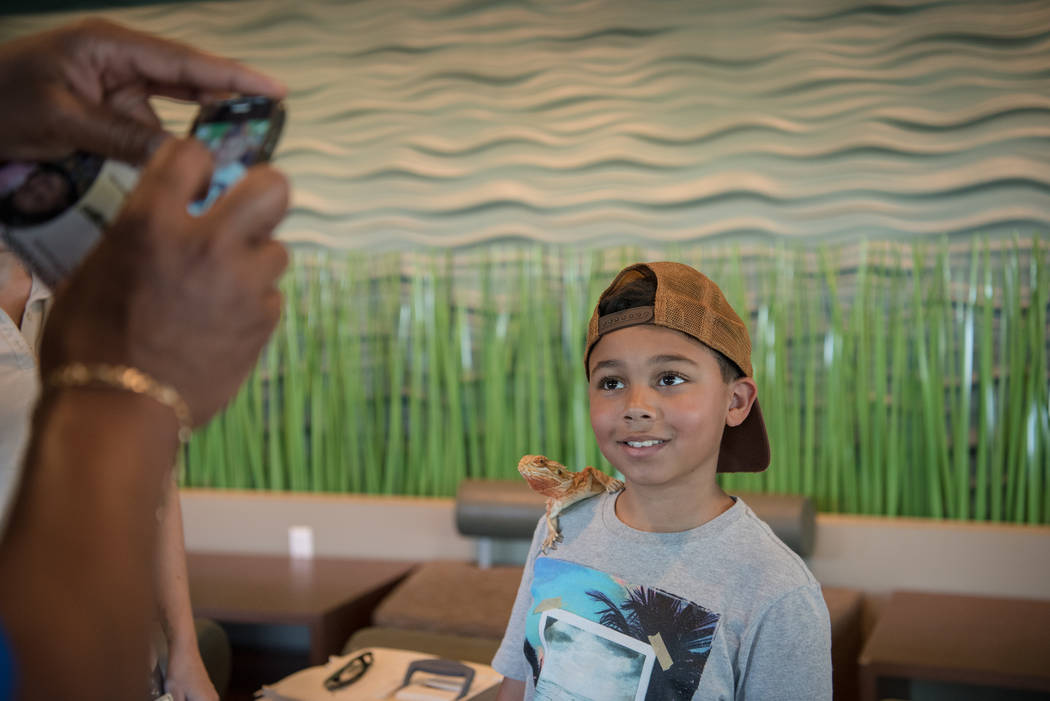 As the hot wind moved through the trees at the Clark County Wetlands Park on Saturday afternoon, dry bean pods fell rhythmically onto the rust-colored shade structures and flush-faced visitors who made their way toward tan buildings nearby, nestled like a mirage in the greenery of the park.
The visitors sought the air-conditioned sanctuary of the picnic café and exhibit hall at the park, which hosted its second annual summer open house.
"When people come to our park, usually they come in the cooler months and they walk the trails and we do a lot of stuff outside," said the event's organizer, Crystalaura Jackson. "But we want to help get the word out that we are open year-round, seven days a week and there are things that you can do inside."
About 176 people attended the open house Saturday, when afternoon temperatures were expected to reach 112 degrees.
From 9 a.m. to 1 p.m., children crafted bunny ears and participated in a game that used bean bags and paper plates to teach them about bunnies' needs (such shelter and water) and the dangers the critters face (such as predators and litter). Children also used molds, plaster and water to make animal-track impressions. In the fall, the park hosts a program that lets children use their impressions to search the wetlands park for real animal prints, Jackson said.
"The exhibit hall is divided into the different habitats you'll find in the park," Jackson said. The hall has interactive museum exhibits for the desert, aquatic, and riparian ecosystems of the 2,900-acre park.
The exhibit hall also features a "larger than life play area," where children could climb through a hollowed log and scramble over giant models of a toad, a duckling, and a snake with a rodent sliding down its belly. A wing-span banner hung in the entryway let children measure the span of their arms against the 90-inch wingspan of the golden eagle.
Athena Morales, a 13-year-old Girl Scout who volunteers at the Wetlands Park, said the children at Saturday's open house were most excited about live animals. Visitors were introduced to a desert tortoise, a bearded dragon and a tarantula.
Athena aid she enjoyed interacting with the children but added that then open house wasn't only for them.
"It not only educated kids about the park and how it's superimportant, and it filters water here," Athena said. "It also introduced adults to the park so that they're aware that it exists … in the hope they would come again."
Contact Kimber Laux at klaux@reviewjournal.com. Follow @lauxkimber on Twitter.