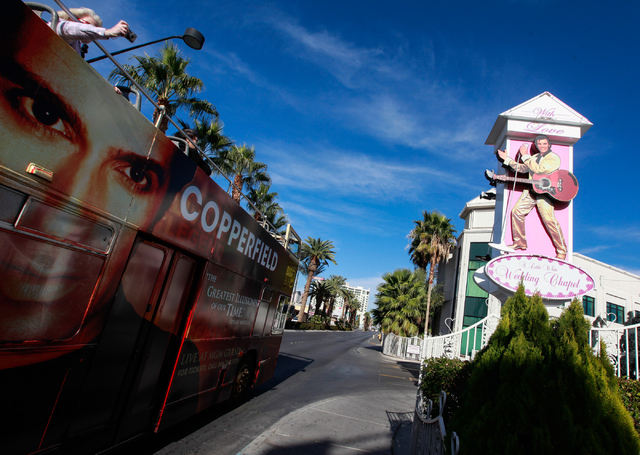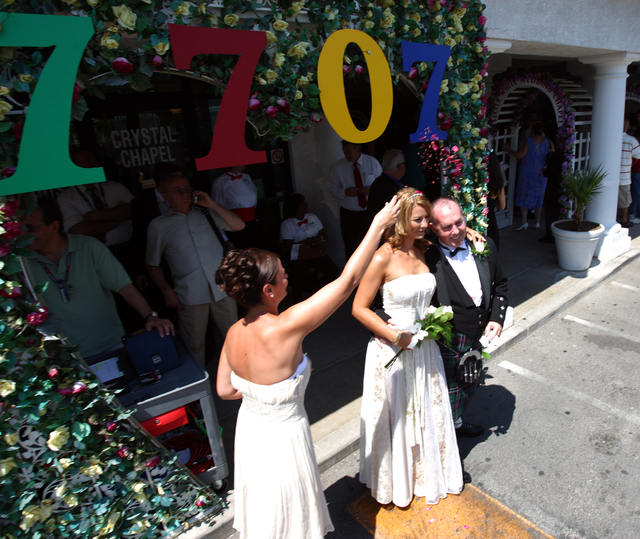 It looks like Elvis may wear out his blue suede shoes Saturday, as out-of-towners flock to Las Vegas to tie the knot on the "numerically interesting" date 12/13/14.
Clark County is predicting an uptick in the number of marriage licenses it will issue for the rest of the week.
And Graceland Wedding Chapel, 619 South Las Vegas Blvd., says it appears the prediction will hold true.
Graceland, where an Elvis impersonator is involved in 90 percent of the ceremonies, has been "booked solid" on the date since early November, chapel manager Mary Soto said.
The chapel extended its daily schedule by two hours, 8 a.m. to midnight, to accommodate the extra weddings Saturday. There, Soto said, "Elvis sings and gives the bride away."
Couples filled with burning love will come from all over the world, Soto said. Some plan to renew their vows and others will say them for the first time.
The county's prediction is based on statistics for "numerically interesting" dates of the sequential and non-sequential variety.
On July 7, 2007 — 7/7/07 — Clark County issued issued 4,333 marriage licenses. And 3,300 were issued on Nov. 11, 2011, or 11/11/11.
Clark County typically sells 7,400 marriage licences in an entire month.
Other popular dates since 2000 have been Jan. 2, 2003, written as 1/2/3, the county said, and the most recent sequential date, Nov. 11, 2013, or 11/12/13.
"This will be the last of these numerically interesting days for us, Clark County Clerk Diana Alba said in a news release Wednesday, when she said she expected longer lines at the Marriage License Bureau to begin.
There will not be another sequential date like Saturday's in the 21st century. Plus it will be the first sequential date since Nevada's same-sex marriage ban ended in October.
"To help lessen wait times, couples can complete a marriage license pre-application online," Alba said.
In order to provide everyone with the most timely nuptials, future newlyweds bound for Clark County should bring their completed online application reference number with proper identification and $60 fee to the Marriage Licence Bureau.
The bureau is at 201 East Clark St., on the south side of the Regional Justice Center. It is open every day from 8 a.m. to midnight, including holidays.
Contact Kimberly De La Cruz at kdelacruz@reviewjournal.com or 702-383-0381. Find her on Twitter: @KimberlyinLV.