Mail carriers guard against rising tide of dog bites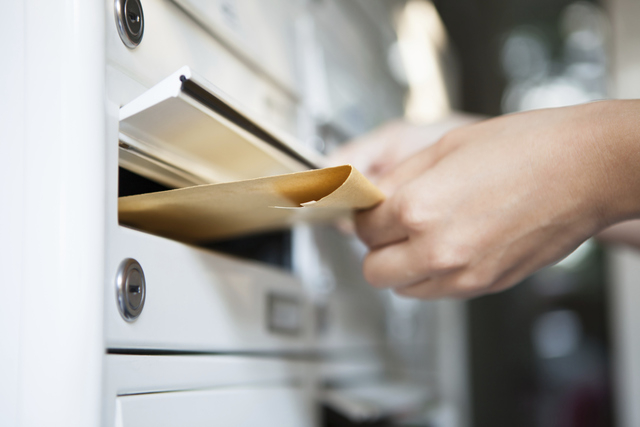 Las Vegas is 33rd on the U.S. Postal Service's annual ranking of cities with the highest number of dog attacks upon mail carriers.
According to information released this month, 19 dog attacks were reported in Las Vegas in 2014. Including North Las Vegas and Henderson, the total reaches 28, the area's most since 2010.
"It's a higher number than we'd like, but we're still delivering to a large population in Southern Nevada" said David Rupert, Postal Service spokesman for Nevada. "With more customers comes more chances for a dog bite."
Los Angeles reported the highest number of dog attacks in 2014 — 74. Houston was second with 62. San Diego was third with 47.
Of the 28 valley attacks, 10 were labeled "serious" by the Occupational Safety and Health Administration, which means the dog attack caused the mail carrier to take time off work to recover.
D.C. Clark, a Las Vegas-based mail carrier, is one of dozens of valley postal employees to be attacked on the job. A 22-year employee with the postal service and instructor at the Las Vegas-based mail carrier academy, Clark says some dog attacks are inevitable, but safety precautions can be taken.
"We instruct carriers to be aware of their surroundings," he said. "When you prepare to deliver mail and you see a dog house or feeding tray in the yard, those are all telltale signs that the customer has a pet."
All Postal Service carriers in Southern Nevada carry satchels for mail and pepper spray for fending off dogs, Clark said. Employees are trained to use their satchels as a barrier for approaching dogs and the pepper spray as a last resort.
"It doesn't matter what type of neighborhood you're in," Clark said. "Wherever you go, customers have pets, and our carriers need to be prepared for that."
The number of dog bites to mail carriers has remained relatively stable in recent years, according to statistics from the Postal Service.
In 2014, 5,729 dog bites were recorded nationwide, up from 5,506 in 2013, but less than 2012's tally of 5,828.
Many Las Vegans and people across the United States are moving to neighborhoods with centralized mail areas, reducing the need for mail delivery to individual homes, Rupert said.
But the increase in parcel service, usually from online shopping, still requires postal workers to frequently deliver to individual residences, he said.
And that's where the dog attacks are happening.
Dogs are protective of their territory by nature, Rupert said, chasing away not just mail carriers, but any unknown person. When dogs are left to roam their property, they chase off people they don't believe should be there.
It's up to pet owners to make sure their animals are contained, Rupert said.
"Property owners should always have a working fence to properly contain their pets," Rupert said. "Mailboxes should be placed outside of that fence to avoid unnecessary confrontation between mail carriers and dogs."
Proper training extends beyond mail carrier safety, Rupert said, as more children are harmed annually than postal service employees. The spokesman encouraged dog owners to consider all of the people on that step on their property.
"It could be your child's friend, it could somebody delivering flowers, it could be a relative the dog doesn't know," he said.
If a mail carrier feels threatened by a dog, its owner could be asked to pick up their mail at the post office, Rupert said.
Contact Chris Kudialis at ckudialis@reviewjournal.com or 702-383-0283. Find him on Twitter: @kudialisrj.