Man arrested in officer-involved shooting near Bellagio
January 23, 2016 - 12:17 am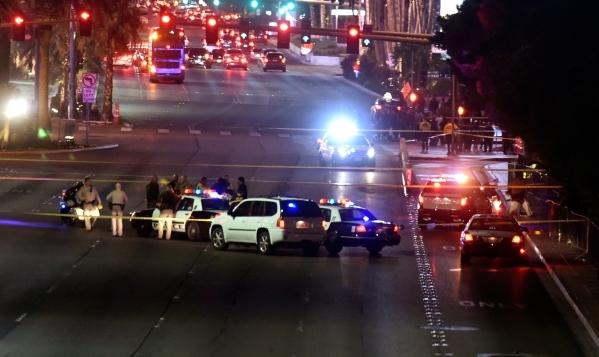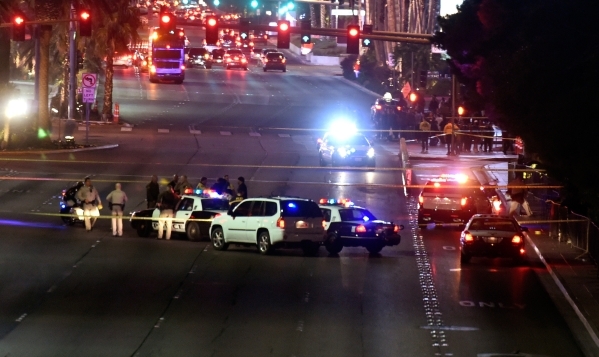 Part of the Strip was closed Friday night as police investigated an officer-involved shooting that occurred on the sidewalk in front of the Bellagio fountains after a man was reportedly waving a gun and pointing it at people.
Metropolitan Police Department officer Larry Hadfield confirmed that the incident was an officer-involved shooting and that the male suspect, whose name was not released, was in police custody.
In a later press briefing on the scene, Metro Capt. Matt McCarthy said at least two people were grazed by bullets during the shooting. The suspect was being booked into the Clark County Detention Center "on numerous charges."
The shooting occurred in front of the hotel-casino's fountains, 3600 Las Vegas Blvd. South, just after 7:15 p.m., Metro Lt. Ken Romane said.
Las Vegas Boulevard was shut down in both directions to both pedestrians and cars from Flamingo Road to Tropicana Avenue, according to police. Signs directing traffic said, "Special event on LV Blvd. Expect major delays."
The east Flamingo exit from Interstate 15 was also shut down. It was not clear when the roads would be completely reopened.
The shooting may have taken place at the same time as the Bellagio's fountain show was occurring. The show was shut down after the shooting and did not play again Friday night.
At least 10 patrol cars could be seen at the scene as pedestrians gathered to try to see what had happened. One patrol car followed an ambulance that left the scene shortly after the shooting. It took off southbound on the Strip without lights and sirens.
Several Twitter users took to the social media platform to talk about what they saw. User @JillHonken tweeted a photo that appeared to show officers putting someone in handcuffs. The user also posted a video that appeared to depict the fountain show as two shots rang out.
In small groups, officers spoke to each other and interviewed witnesses. The clusters of activity stretched between Flamingo and The Cosmopolitan of Las Vegas. Pedestrian bridges in the area were closed, frustrating tourists trying to get to resorts. Officers told those pedestrians to use Koval Lane to get around.
The events were not part of a movie shoot, contrary to what some some tourists initially thought because the Strip had been the scene of filming for the latest "Bourne" movie over the past week, most recently Friday morning.
One man could be heard asking a Bally's security guard if the police tape was for the production of the latest "Bourne" film. "No," the guard said. "Oh, this is for real?" the man told the guard, who responded with a simple, "Yes."
No filming was scheduled Friday night, so the shooting did not interrupt production, Hadfield said.
Contact Rachel Crosby at rcrosby@reviewjournal.com or 702-387-5290. Find her on Twitter: @rachelacrosby Contact Kimberly De La Cruz at kdelacruz@reviewjournal.com or 702-383-0381. Find her on Twitter: @KimberlyinLV Contact Ricardo Torres at rtorres@reviewjournal.com or 702-383-0381. Find him on Twitter: @rickytwrites